A four-point plan for a new international energy cooperation
International cooperation in energy markets has been strengthened in recent years, observes Noé van Hulst, Director of the new Energy Academy Europe and former Secretary-General of the International Energy Forum (IEF). But he also notes that energy markets remain far from stable. More needs to be done. For this reason, Van Hulst has drawn up a bold four-point plan to improve international energy relations: nations should agree on a standardized form of communication about their energy policies, they should try to get some agreement on the "pathways" that they want to follow to a cleaner energy future, and they should set up mechanisms to deal with energy crises as well as conflicts or disputes. The IEF, he says, should take a leading role in this global effort.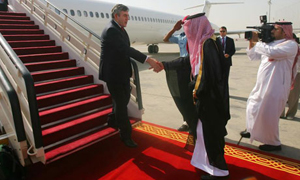 King Abdullah of Saudi Arabia, greets then-UK Prime Minister Gordon Brown in Riyadh in 2008 (source: Guardian)
Since 1991, oil producing and consuming countries (including the blocs of OPEC and the IEA) have been pursuing a permanent dialogue through the International Energy Forum (IEF). In 2003, the IEF Secretariat was founded set up in Riyadh to formalise this dialogue.
Since 2008, the producer-consumer dialogue has been dominated by the issue of oil price volatility. In that "annus horribilis", oil prices first spiked to nearly $150 per barrel in the first six months and subsequently sank to under $40 by Christmas. This
excessive volatility
shook the energy world. In response, apart from a planned 'regular' Ministerial meeting of the International Energy Forum (IEF), two Extraordinary Ministerial Meetings were convened, one by King Abdullah of Saudi Arabia in Jeddah (June 2008) when oil prices were near their peak and one by UK Prime Minister Brown (December 2008) with oil prices at the time in free fall.
By then IEF Ministers had reached a consensus that excessive oil price volatility is bad for oil consuming and oil producing countries alike: bad for consumers because it makes any consistent energy policy planning towards a more sustainable energy future nearly impossible, bad for producers because investment planning is severely inhibited when price signals are all over the map. The Ministers agreed on the need for a two-fold joint policy reaction in order to minimize the risk of repeating such excessive price volatility in the future:
a.
Strengthen the producer-consumer dialogue
in the IEF;
b.
Mitigate energy market volatility
through stronger IEA/IEF/OPEC cooperation.
IEF Charter: strengthening of institutional framework for dialogue
What has been achieved on these two fronts? On the first front, it is safe to say that the IEF Charter signed by 86 countries in an Extraordinary IEF Ministerial Meeting (February 2011) has created a more solid institutional foundation for future producer-consumer dialogue, whilst safeguarding the much-valued informality that characterises IEF gatherings.

All the major oil and gas producing and consuming countries signed up, achieving coverage of roughly 90% of oil and gas supply and demand. This not only includes the key IEA-OECD and OPEC countries, but also the increasingly powerful emerging economies like Brazil, China, India, Mexico, Russia and South Africa. Since the signing, Azerbaijan has also joined the IEF and Kazakhstan and Ukraine are in the process of joining. This unique global coverage makes the IEF an increasingly attractive partner for the G20 where energy matters are concerned.

Although it is not a legal Treaty, the Charter underlines a reinforced political commitment of producers and consumers to aim for greater mutual understanding, improve trust and narrow differences in views where possible, all in the interest of creating greater transparency and stability in energy markets. On a more concrete level – with the experiences of 2008 in mind – the IEF Charter also contains an official procedure to decide on holding Extraordinary Ministerial Meetings if and when market circumstances require this. This may prove to be useful in the future.

Obviously, the proof of the pudding is in the eating. A solid institutional framework is very useful, but it remains up to the players to use the framework for its intended objective of stabilizing markets. Unfortunately, the recent Libya crisis that rocked the oil market in the spring of 2011 is an example of a
A solid institutional framework is very useful, but it remains up to the players to use the framework for its intended objective of stabilizing markets
missed opportunity in this respect. The oil market disruption led to a lack of light, sweet crude that at the time was not easy to replace. Oil producers in the Gulf tried to compensate the loss by increasing their production. IEA countries released some strategic stocks to provide the market with additional supplies of sweet crude oil. However, these efforts were not perceived by the oil market as a coordinated response and hence worked out as weak and confusing signals to the market. Hopefully, producers and consumers will attempt a more coordinated response next time the oil market gets hit by a crisis.
IEA/IEF/OPEC: closer cooperation to mitigate volatility
On the second front, a concrete cooperation programme between IEA, OPEC and IEF has been implemented on three topics: shared analysis of future energy trends, linkages between physical and financial oil markets and data transparency.

On the first topic, the objective is to improve the comparability of the short-, medium- and long-term energy outlooks of IEA and OPEC. It is well-known that these outlooks can generate different projections which sometimes trigger market reactions. However, in the first joint IEA/IEF/OPEC Energy Outlooks workshop (January 2011) one of the conclusions was that there is actually more agreement between IEA and OPEC on many projections than is often suggested in the press, e.g. on the short- and medium term oil market balance and on the ample availability of oil resources. This is even more the case in early 2012 than it was one year ago. However, another conclusion was that IEA, IEF and OPEC could improve the communication with the market by harmonizing some of the definitions, providing more detailed data and explaining better why certain IEA and OPEC projections are different. That would help to minimize the risk that Energy Outlooks themselves contribute to volatility.

On the second topic, IEA, IEF and OPEC already organized two joint events, gathering experts from both the physical and the financial oil market, as well as regulators of financial markets (like CFTC in the US and the European Commission). Unsurprisingly, these events did not generate a consensus on whether 'fundamentals' in the physical oil market are the main drivers of oil prices, or 'financials' in the oil derivatives market, which now is several times larger than the physical market. If anything, one can detect a growing support for the view that it is increasingly difficult to distinguish between the impacts of fundamentals or financials and that both play a significant role in driving prices and volatility. More importantly, there is agreement on achieving a strong international coordination of regulation of the oil derivatives market. It is important to avoid loopholes that would present themselves when regulations between different jurisdictions diverge significantly on key points like position limits.

Regarding the third topic, oil market transparency has traditionally been identified as crucial for limiting volatility. For this purpose, the Joint Organisations Data Initiative (JODI) attempts to provide timely, complete and accurate monthly data on oil supply, demand and stocks. JODI-oil is coordinated by the IEF, and in addition to IEA and OPEC, APEC (Asia Pacific Economic Cooperation), the European Commission, OLADE (Latin American Energy Organisation), and the UN also participate. With nearly 100 countries regularly submitting oil market data now, an impressive coverage has been achieved and progress has been made in timeliness, completeness and accuracy.

However, in the last two years this progress has stagnated and performance even declined on certain aspects. The G20 identified JODI as an important channel to improve oil market transparency and requested the IEF, in cooperation with IEA and OPEC, to submit a report with concrete proposals for
If the dialogue wants to contribute more to security of supply and demand, a more intensive dialogue on diverging energy policies is very much what is needed
improving JODI performance of countries. The IEF report published in 2011 outlines a host of measures to improve the timeliness, completeness and accuracy of oil market data, directed both at JODI organisations and the governments of participating countries. Countries need to step up their efforts, in particular in the area of oil inventories in emerging economies. Unfortunately, the necessary improvement of data transparency in emerging countries has not kept pace with the shift in oil demand in those countries.
Important next steps for JODI also include its extension to annual data on upstream and downstream capacity expansion plans (JODI-investment) and to natural gas (JODI-gas) to improve gas market data transparency, in cooperation with the Gas Exporting Countries Forum (GECF). On both extensions, important work is underway that can hopefully be released to the market in the course of 2012.
What's next?
What are the options for further advancing the producer-consumer dialogue? I can see four promising avenues that may be explored. Consider this my four-part plan to improve international cooperation in the energy market. In all of these initiatives, I can see the IEF playing a leading role.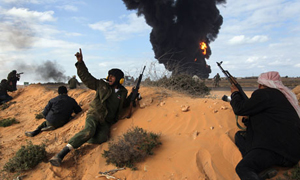 "In cases like the Libyia crisis, it is in the interest of both producers and consumers to have a mechanism to coordinate responses" (photo: J. Moore/Getty)
My
first proposal
is an
Energy Policy Transparency Initiative
. While we now have a coordinated effort to improve oil and gas market data in a harmonised way through JODI, perhaps it is time to do something similar for oil and gas
policies
(i.e. energy policies' impact on oil and gas consumption). Difficult as this may be in practice, it is increasingly necessary that countries engage in a frank and honest dialogue of where they see their policies heading and which impact they think these policies have on oil and gas supply and demand. One superficial glance at the different long-term scenarios published by both IEA and OPEC demonstrates how crucial the impact of different policies on oil and gas investment, transport, renewables and energy efficiency are on supply and demand. If the dialogue wants to contribute more to security of supply and demand, a more intensive dialogue on diverging energy policies is very much what is needed.
My
second proposal
is even more ambitious and builds on an increased level of energy policy transparency. It attempts to build trust around more realistic and
converging pathways to sustainability
. My assessment of the current state of play is that energy policies of many producing and consuming countries are diverging more than necessary. In this context, my recommendation to oil and gas consuming countries is to
stop formulating and chasing unrealistic objectives and targets
regarding energy efficiency, biofuels and renewables. Although this may have been necessary at one time to change the mindset of people and industry, holding on these overambitious targets now risks generating underinvestment in oil and gas producing countries by wrongly suggesting consuming countries require significantly less oil and gas volumes than they do in reality. The additional uncertainty thus created exacerbates oil market volatility.
My recommendation to oil and gas producing countries is to
fully accept the necessary long-term transition to a cleaner energy future
and contribute towards this transition by embarking on an energy policy that includes boosting energy saving and developing renewables and cleaner fossil fuels (including working on CCS).
In the ideal situation where both of these key recommendations were fully implemented, this would greatly contribute to building up the trust of both parties in each other. And, even more importantly, we would, in my view, end up with converging energy pathways to sustainability, bolstered by a more stable investment climate in both consuming and producing countries.
The
third proposal
is create mechanisms that will contribute to
stronger co-operation in energy crises
. In cases like the recent Libya crisis, it would be in the interest of both producing and consuming
If a trusted institution were available to attempt to organize informal mediation, outside of the media spotlight if desired, then this could be a potentially powerful tool
countries to co-ordinate a response that helps to calm down the market. Again, we now live in a different era, where stand-alone or uncoordinated actions by one side (be it producers or consumers) are easily misunderstood. At a time when the producer-consumer dialogue stands on a much firmer footing that in the past, even the lack of a co-ordinated producer-consumer response is noticed by the market and can potentially add to the uncertainty and volatility.
The
fourth proposal
is to create instruments for
informal mediation in severe energy conflicts or disputes
between countries and between countries and companies. We all know the examples of bilateral conflicts that have greatly harmed third parties and that, when sustained, endanger energy security or delay important investments. These conflicts now often drag out over many months, and sometimes years where arbitrage or court cases are concerned. This can be very costly for all parties. If a trusted institution were available to attempt to organize informal mediation, outside of the media spotlight if desired, then this could be a potentially powerful tool. Of course, this can only work if both parties are prepared to at least give mediation a chance and to finance the cost jointly. The IEF could, in my view, act as such a trusted institution, not by undertaking the mediation itself, but by identifying and subsequently engaging a small team of authoritative people trusted by both parties. If the mediation fails, parties can still go to arbitrage or court.
The Way Forward
Summing up, I see a bright future for the producer-consumer dialogue in the IEF. Placed on a more solid institutional foundation since the IEF Charter, its global coverage strengthens its leverage in an increasingly globalised energy market. The IEF is able to deliver concrete results and recommendations for actions by both industry and governments in the key areas of improving energy market data transparency, fostering investment (e.g. guidelines for stronger NOC-IOC cooperation) and helping sustainability (e.g. boosting energy efficiency and tackling energy poverty). In the longer term, the IEF can strengthen its neutral facilitator role by advancing the dialogue along the four avenues I have indicated: improving energy policy transparency, working towards converging pathways to sustainability, closer co-operation in energy crises and informal mediation of conflicts and disputes.
About the author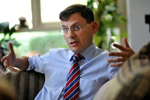 Since the start of this year, Noé van Hulst has been Director of the new Energy Academy Europe (EAE), based in Groningen, The Netherlands. The EAE aims to become an international centre of excellence for education, research and innovation in energy. From 2008 through 2011, Van Hulst was Secretary-General of the International Energy Forum (IEF) in Riyadh, Saudi Arabia. Before that he was Director Long-Term Co-operation and Policy Analysis at the IEA and Director-General for Energy at the Ministry of Economic Affairs in the Netherlands.