BP drives stake through the Southern Corridor
Just when Moscow thought it had sealed the Southern corridor through the nascent South Stream pipeline, BP has thrown a serious spanner in the works. For Brussels, BP's plan to build its own pipeline from Azerbaijan might even be more upsetting.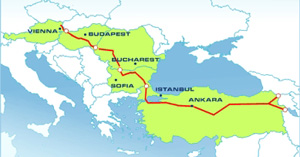 Nabucco pipeline
More or less out of the blue, British oil major BP has come up with a fourth prospective European pipeline option in the Southern Corridor, catchily named the South East Europe Pipeline as an alternative to Nabucco, Trans Adriatic (TAP) and ITGI (Interconnector Turkey-Greece-Italy). This menagerie of European dreams is viewed as lagging behind Russia's South Stream designs. Gazprom has Germany, France and Italy amongst its ranks, not to mention the bulk of Southern European states signed up for transit.
What makes the BP option more serious for Russia, is that Bob Dudley is sitting on actual reserves from the major Azerbaijan gas field Shaz Deniz II, not - like the other European pipelines - on prospective pipedreams. The idea is for Azeri gas to fill one of the three European projects, but none have managed to convince St James' Square so far that they would be 'commercially viable'. BP has made things clearer. It wants to keep throughput costs low by filling the pipes with an initial 10 bcm/y (billion cubic metres per year), only enhancing capacity when production becomes available and demand strengthens. If needs be, it will go it alone.
This has drastically complicated Southern Corridor politics. BP's move isn't just another nail in Nabucco's 31 bcm/y project, but a massive stake driven straight through Brussels' heart. You could think this would tip the balance from Nabucco towards the more modest 10 bcm/y TAP pipeline
BP's move isn't just another nail in Nabucco' 31 bcm/y project, but a massive stake driven straight through Brussels' heart
consortium, particularly as it includes Statoil, the Norwegian major busy developing Shah Deniz II alongside BP. But assuming Oslo knows which way its upstream bread is buttered, and SOCAR, the Azerbaijani national oil company, sees strategic value in following through with London's idea to bring Azeri supplies directly to European markets, then the days of piecemeal European pipeline projects could be rapidly over.
The logic holds water, at least if you take Russia out of the equation. Put her back in, and the picture looks very different. Bigger games may be afoot. In tabling the SEE Pipeline, BP may have decided to have a bilateral discussion with Moscow. BP knows how important South Stream is to Moscow's structural designs over European gas - just as much as Moscow knows how crucial an upstream Arctic stake is for BP. So business can be done.
Obviously there are no guarantees as how this will ultimately play out, but we have clearly entered a whole new game in the Southern Corridor. The first 'transaction' would be a serious Russian offer to buy Azeri gas filling South Stream pipes. BP's 'commercial concerns' would be duly assuaged and transit states (including Turkey) would know where they stand. But to seal the deal, Moscow will need to offer London a major Arctic play to stop BP blowing the Southern Corridor wide open. That will come with 'opportunities' and 'costs' for all concerned. But it might be a price Moscow is willing to pay, and more importantly, one Shah Deniz II players are willing to take, given that South Stream is supposedly going live in 2015, two years before Azeri gas is expected to flow ...