Barents Sea deal enhances EU security of supply – a bit
Russian president Dimitri Medvedev and Norwegian Prime Minister Jens Stoltenberg on Tuesday signed a surprise pact in Oslo on Tuesday April 27 to amicably divide oil and gas interests across a long-disputed Cold War border in the Barents Sea. The agreement may make it possible for Norway to postpone the much-feared decline of its oil production for several decades. Norwegian gas production too might be boosted. In the long term this may be good news for the EU's security of supply situation. However, a quick "energy bonanza" is not on the cards.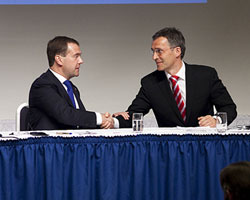 Russian President Medvedev (l) and Norwegian Prime Minister Stoltenberg shake hands on Tuesday 27 April in Oslo, after closing a deal on the ownership of oil and gas resources of the Barents Sea
For more than 30 years Russia and Norway could not agree to the ownership of an important part of the Barents Sea, preventing gas and oil exploration in the area. But on Tuesday, Russian president Medvedev, on a state visit to Norway, and Norwegian Prime Minister Stoltenberg quite unexpectedly announced that the two countries have agreed to 'close the question'. A final, official deal is to be signed later this year.
Medvedev and Stoltenberg beamed as they announced the historic deal – and with good reason. They will divide a slice of the offshore Arctic roughly the size of The Netherlands, Belgium, Luxembourg and Denmark combined, or some 175,000 square kilometres. It is an area which contains considerable amounts of oil and gas.
This is particularly important for Norway – and for the EU. Norway is a significant producer of both oil and gas. The country produces 2.5 mln barrels of oil per day, almost 3% of the world's total, making it the 11th largest oil producer in the world. Norwegian gas production is about 100 billion cm a year, 3.2% of the world's total. With a population of just 4.7 million, most of this oil and gas is being exported – mainly to the European Union.
End of oil
But whereas Norwegian gas production has been growing and still has bright prospects, oil production has been declining steadily in recent years. According to many experts, Norway had just eight years left before "the end of oil". They warned "hyper-production" of gas would then be needed to stave off a national financial collapse. The giant Norwegian bureaucracy dedicated to controlling, monitoring and planning oil production had warned that 40 percent of all the oil and gas theoretically off Norway had already been produced.
No wonder Norwegian energy commentators were euphoric on Tuesday. They were saying a new dawn of giant oil and gas finds was at hand, as they pondered the value of the former disputed zone long sought after by oil companies. The real size of the reserves in the Barents Sea is not known, however. It may be not as much as many people hope for, especially when it comes to oil – and it will certainly not be easy to produce.
Norwegian authorities have long said some 3 billion barrels of oil and 835 billion cubic metres (cm) of gas (= 5.5 billion barrels of oil equivalent) lie in the Norwegian half of the Barents. To put this in perspective: Norway's current proved reserves are 7.5 billon barrels of oil, enough to last 8 years of current production. Norway's proven gas reserves are 2910 bcm, enough for 29 years of current production. By these measures, the reserves in the Barents Sea would only represent a modest increase in Norwegian reserves. They would extend Norwegian oil production by 3 years and gas production by over 8 years.
But other estimates are more optimistic. The Russians say their Cold War era surveys point to 50 billion barrels of oil equivalent of reserves, of which around 17.5 billion barrels of oil and around 5 trillion cubic meters of gas. If this is divided on a 50/50 ratio this would give Norway an extra 12.5 years of oil production and another 25 years of gas production (both at current production levels).
The United States Geological Survey is less optimistic, but still offers some good prospects, at least for gas production. In a 2009 study on the prospects of the Barents Sea (which can be downloaded here), the USGS estimated reserves for the area in which the disputed area is located at around 9.3 billion barrels of oil, around 9105 billion cubic meters of gas and around 1.3 billion barrels of gas liquids. Again, if these reserves were to be split equally between Russia and Norway, this would provide Norway with around 6 years of additional oil production and around 45 years of additional gas production.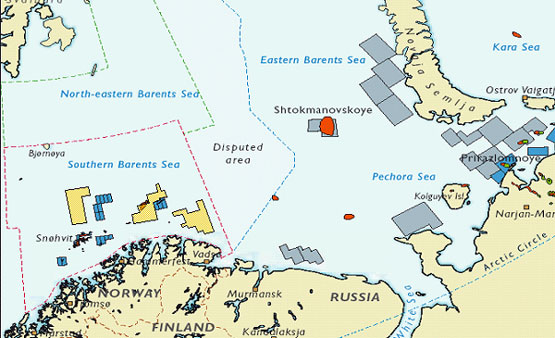 The location of the disputed area in the Barents Sea
Challenges
But getting the oil and gas out of the Barents Sea will be no easy matter. In the past, Anglo-Norwegian agreements in the North Sea have dictated that where most of the reserves lie in a given field determines which country has the rights to royalties and to the field's governance. It is understood much of the locked away oil and gas wealth in the new area will cross the newly agreed meridian line. Judging by other arctic projects in Norway and Russia, it'll be at least five years before Russo-Norwegian cooperation spawns shared oilfield developments in the remote offshore region. Indeed, Jonathan Stern, professor at the Oxford Institute for Energy Studies, warns that the Barents Sea deal will not lead to a 'massive additional energy bonanza', because of the difficulties of production in the Arctic region.
Then there are the huge technical and economic challenges involved. At current gas prices, gas production in the region will not be viable for a long time to come. Still, the Norwegians may be expected to start exploring the area. Norwegian oil industry lobby group OLF said exploration could already start in 2012 or 2013, according to Reuters. Statoil too immediately expressed its interest in exploration. Norwegian Oil Minister Terje Riss-Johansen said the deal would make it possible to 'map out' the region's resources. 'We can define parts of this area as our own, we can search the sea bottom and map out the resources, and we can foresee activities in this area we could not do before.'
The chill
Politicians in Norway have been feeling the chill brought on by the spectre of no oil by as early as 8 to 12 years. The fear in this Scandinavian country — where 5 million people divide as much petro-wealth as Russia shares between 150 million citizens — is that the economy has not diversified enough ahead of oil's demise. About one in every two Norwegians — or 48 percent — works in a public-sector job. Oil has created government jobs that don't exist anywhere else.
Investments in oil exploration and production have been growing in recent years. Last year saw a "record-high" amount of offshore oilfield investment (€17 billion) as well as a record number of offshore licenses that were given out. Yet oil production in Norway keeps on falling. In 2001 it was 3.3 million barrels per day. The Norwegian Petroleum Directorate predicts oil production to fall to 1.8 mbpd by 2011 and to 1.6 mbpd by 2013, the year the EIA sees world oil demand outstripping supply.
The problem with oil is exacerbated by the prohibitive costs associated with smaller deposits of oil being left in the ground due do Norway's high-cost operating environment.
Mobilizing
Norwegian gas production, too, is down in 2009 compared to 2008. But it won't be for long. To compensate for slumping oil production, industry has been mobilizing for more gas exports to Europe. Bureaucrats have urged oil company cooperation in offshore oil and gas fields (by issuing licenses near infrastructure) if it would mean more oil and gas production sooner.
Unlike oil, gas production has been on a steady rise even before bureacrats began prodding oil companies to key in on gas production. Norwegian energy champion Statoil, Germany's Wintershall, Eon Ruhrgas and VNG Norge, France's Total and Gaz de France and Polish PGNIG all have interests in Norwegian gas. To give just one example, Eon Ruhrgas and Verbundnetzgaz have been growing their offshore field stakes in Norway since mid-2008, despite the €60 million price tag of some deepwater wells. Experts expect that gas production will overtake oil production in Norway in 2013.
In 2009 Norway exported 96.6 billion cubic metres (bcm) of gas from 30 offshore platforms into eight subsea gas pipelines and six coastal terminals in 2009. Of this, 47 bcm went to Germany, 25 bcm to the UK, 15 bcm to France and 13.5 bcm to Belgium.
Exports to Poland had been in the works were it not for the scrapping of the Skanled pipeline that would have taken Norwegian gas along the Swedish coast to Denmark and perhaps Poland. It was scrapped out of fear for the competition that will come from the Nord Stream pipeline, that will bring much cheaper Russian gas to Germany. For despite the spirit of cooperation shown on Tuesday between Russia and Norway, the two countries remain competitors vying for the same market – with Russia looking to have much of the advantage.