Europe is banking on Brazil
Biofuels market about to turn the corner
After having gone through a difficult phase, the worldwide biofuels market seems about to turn the corner. The image of the sector is slowly improving. And whereas the market suffered from oversupply until recently, analysts expect strong demand growth for the rest of the decade, particularly for ethanol. Indeed, the main question that is starting to worry market players is where the necessary supplies will come from in the coming years. There is only one country that could possibly fill the gap: Brazil. But what if Brazil won't be able to deliver?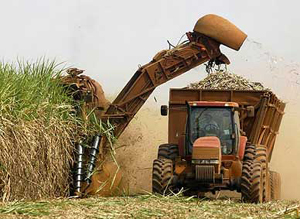 Harvesting for biofuels (photo: Biodiesel.com)
At the recent World Biofuels Market (WBM) conference, a large annual gathering of the biofuels industry in Rotterdam, visitors had to walk by activists of Greenpeace dressed up as monkeys. Their target was Neste Oil's NExBTL biodiesel, which is made from Indonesian palm oil and is alleged to contribute to tropical deforestation.
Such protests are nothing new of course. Biofuels have received a lot of criticism, both from academics and environmental activists, and not just for environmental reasons. The production of ethanol and biodiesel is also said to contribute to food price rises across the world. In particular the heavily subsidised production of ethanol by corn farmers in the US has come under heavy fire from critics.
But the news for biofuels has not been all bad lately. There are some trends that are working in their favour. For one thing, technological innovation has not stood still. Many companies are working to develop 'second generation' biofuels, based on non-food raw materials, such as urban or agricultural waste. They are particularly hunting for low-cost cellulosic sugars to be produced from agricultural residues.
Then there are the high oil prices. Investment bank Barclays sees the oil price reach $185 a barrel by 2020, which provides a strong case for alternatives. Brazilian sugar cane ethanol in particular has gained wide acceptance in the world as a viable alternative for high-priced oil. As one report on the World Biofuels Market conference put it: 'The name of the game is low-cost sugars, or affordable
'Our forecasts are not based on how much ethanol might actually be available globally. We see this as a bottleneck'
syngas that competes with natural gas. For those who don't make or use syngas and need low-cost sugar cane: India's short, Pakistan's iffy, Australia's underwater, Hawaii's gone condo, the Philippines and Thailand are small, so you learn the samba and head for Brazil.' It added that if 'somewhere, someone will come up with low-cost cellulosic sugars, Brazil is still fine – there's all that sugar cane bagasse'.
No plan B
There are those of course who have never lost faith in biofuels. 'Back in 2008, I was already convinced that the controversy about biofuels was a rearguard discussion', says Joost Kanen of Amsterdam-based Gryphon Carbon Consultancy, which is active in carbon markets worldwide. 'In Brazil, ethanol had already become a standard car fuel after the introduction of the flex engine in 2002. The discussion in Europe was fuelled by a lack of good information and perhaps influenced by oil companies who wanted to keep out competition from biofuels.'
Renowned environmentalist author Jeremy Rifkin, a keynote speaker at the World Biofuels Market conference, has also continued to back biofuels as a credible alternative to fossil fuels. 'Bioenergy is going to play a significant role as we move out of carbon based fuels and uranium and into renewables, no doubt about it', Rifkin said at the conference.
Andrew Owens, CEO of Greenergy International, a prominent supplier of oil and biofuels in the UK, echoed this sentiment in Rotterdam. 'There is no plan B to biofuels', he said. Alan Shaw, President and CEO of Codexis, a technology company focusing on the conversion of renewable resources into
'Biofuels can make the biggest contribution to tackling CO2 emissions in the next two decades'
transportation fuels, pharmaceuticals and biobased chemicals, with research centres in California and Budapest, predicted that in terms of energy the 21st century 'will be the age of biology'. Codexis entered into a joint-venture with Shell in 2009 for the development of super enzymes that can turn cellulose material into ethanol.
Action plans
Governments too continue to push for a greater share of biofuels. In large part because of strong government mandates in the US and Europe, analysts predict growing worldwide demand for biofuels in the next ten years. According to the 'Global Biofuels Outlook 2010-2020', an authoritative market research report published recently by US consultancy Hart Energy, global demand for biofuels will reach 250 billion litres in 2020, as against 95 billion litres in 2010.
The biofuels market will be dominated by ethanol, says Hart, which will account for some 184 billion litres or 73% of the total. Ethanol will represent 13% by volume of 'the global gasoline pool' by 2020, according to the report. Demand for biodiesel will also grow strongly, from about 20 billion litres in 2010 to 65 billion in 2020. By this time, biodiesel will represent some 6% of the 'on-road diesel pool'.
Whereas global ethanol supply still outpaced demand in 2010, by 2015 and in particular 2020, demand will outpace supply as a result of government incentives. Hart has calculated that there will be a potential 'net deficit' in global supply of about 5.5 billion litres in 2015. This will increase to 19 billion litres by 2020. According to the report, demand will grow fastest in North America (driven by the U.S. federal Renewable Fuel Standard (RFS2) and California Low Carbon Fuels Standard (LCFS) programs) and Latin America, driven by the 'tremendous growth' in Brazilian ethanol demand both internally and for global export. In addition, Hart expects countries such as China, Japan, Germany and the UK to experience significant demand growth for ethanol.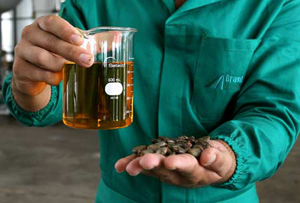 A worker shows castor-oil plant at the Brasil Ecodiesel factory in Iraguara, Brazil (Xinhua Photo)
Europe currently consumes an estimated 19 billion litres on an annual basis. Based on the projections in the Member States National Action Plans (NAPs) this will rise to 41 billion litres in 2020, says Hart. That would give biofuels a 9.3 % share in the EU transport sector. Within Europe, Germany and the UK, among others, will see significant demand growth for ethanol. Hart expects Germany ethanol consumption to increase by 34% between 2010 and 2020.
Serious trouble
The Hart report notes that in 2010 some 50% of the production capacity for ethanol was utilised in the EU. It expects the utilisation rate to rise to 57% in 2015 and, assuming no new capacity will be built, to 69% in 2020. Even so, imports, which now represent 28% of demand, will rise to 40% in 2015 and 47% in 2020. Germany, the UK, France, the Netherlands, Italy and Finland together will require 8.8 billion litres in imports to meet the targets set under the EU's Renewable Energy Directive.
For biodiesel, the balance between supply and demand is a bit more favourable than for ethanol. In 2010 there was a significant oversupply, which will be gone by 2015. By 2020, demand will outpace supply by about 13 billion litres. Most of this shortfall will occur in Europe, where many countries, including the UK, Italy, Germany, Spain, Poland and the Netherlands, will need to increase imports or build additional capacity.
It is, however, the ethanol market which is headed for the most serious trouble, says Hart. According to Maëlle Soares Pinto, Director Europe and Africa of Hart's Global Biofuels Center in Brussels, the world may want to consume a lot more ethanol, but that does not mean it is going to get it. 'Our forecasts are not based on how much ethanol might actually be available globally. We see this as a bottleneck.'
One possible solution for Europe would be to 'realign' its biofuels policies, says Soares Pinto. What form such realignment will take, is uncertain. 'Maybe some targets will be lowered, or advanced biofuels will be promoted in a stronger way. It could even lead to lower import tariffs. I cannot say what measures will be taken in any given region at this moment in time.'
Bullish mood
One thing is clear from Hart's research: virtually all of the increase in global imports will have to be met by Brazil. Brazil is already the world's top exporter of ethanol, and Hart thinks the country will further strengthen its leading position in the coming years, as its production capacity continues to expand. By 2020, Brazil will be in position to export a minimum of 13.2 billion litres to the world market, as against 5 billion litres now.
According to Hart, no country even comes close to reaching these potential export volumes. 'Most
'Ethanol derived from Brazilian sugar-cane offers the best hope of replacing oil as the world's main source of fuel when it runs out'
countries will either be in a potential supply deficit by 2020, or will be able to produce just enough volumes to satisfy internal demand. Only Thailand is expected to have a very small surplus supply of 586 million litres, which we expect could be exported within the region. Colombia is another country that may experience a small supply surplus by 2020.'
Brazil also has the advantage that its sugar cane-based ethanol production is generally perceived to be sustainable. Sugar cane crops occupy just 1% of Brazil's arable land, which is moreover far away from the Amazon forest. Brazilian ethanol also has a four times higher energy content than corn-based ethanol. Hence the bullish mood about Brazil at the World Biofuels Market.
Big Oil has clearly come to the same conclusion. Companies like Shell and BP are investing heavily in Brazilian ethanol production. Shell has entered into a $12 billion joint venture, called Raizen, with Cosan, the world's largest producer of sugar cane-based ethanol. This company, which controls 800,000 hectares of sugar cane in Brazil, is an aggressive player in the consolidation of Brazil's fragmented ethanol industry, regularly buying up family owned plantations and sugar mills. Cosan also became the main ethanol distributor when it acquired all the 1300 petrol stations of ExxonMobil in Brazil. Shell is investing $1.6 billion in Raizen, which plans to ramp up its production capacity from 2.2 billion litres now to 5 billion in 2016.
Shell top executives Malcolm Brinded and Simon Henry said in a presentation in Cambridge in November 2010 that the company sees the large-scale production of biofuels in Brazil as one of four key ways to develop a secure and sustainable energy supply. Shell considers the expansion of the biofuels industry as critical to the transport sector. 'Biofuels can make the biggest contribution to tackling CO2 emissions in the next two decades. We expect their share of the road transport fuel mix to increase from somewhere approaching 3% today to around the 9% mark by 2030', the Shell executives said.
BP has also recently entered the Brazilian market, although in a smaller way. In March 2011 the British oil company announced that it is paying $680 million for an 83% interest in the ethanol and sugar producer Companhia Nacional de Acucar e Alcool (CNAA). BP already owns a stake in another Brazilian
'Blending and distribution are in the hands of Big Oil, which wants to keep competitors, including ethanol suppliers, away from European car drivers as much as possible'
ethanol company, Tropica BioEnergia. 'Ethanol derived from Brazilian sugar-cane offers the best hope of replacing oil as the world's main source of fuel when it runs out', BP's CEO Bob Dudley explained in an interview with a Brazilian magazine that was quoted in a British newspaper. 'It is cheaper, less polluting and more efficient than that from corn, for example, produced in the US. Brazil has also a huge advantage in relation to its competitors. The climate and soil are ideal and the sugar cane crop does not have to compete for areas with food crops, as happens in the case of America.'
Incidentally, as far as soil and climate concerned, there is another area that is very favourable to planting sugar cane, and that is Sub Saharan Africa. Philip New, President of BP Biofuels, told EER at the World Biofuels Market that BP had looked very closely at the prospects offered by this region. 'The yields are better than in Brazil', he said. 'And the import tariffs for Europe are nil. But Brazil scores so much better on logistics and country risk that we have decided to avoid Africa for the time being.'
Downside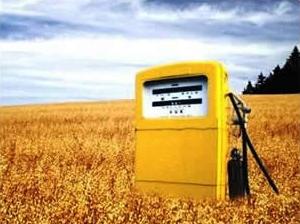 photo: The Market Oracle
With all eyes turned to Brazil, the question is, will the country be able to deliver? Brazil is already struggling to keep control over its overheated economy. The government is putting measures in place to cool down the economy and put the brakes on the influx of foreign investments. Infrastructure is also a big concern. 'Getting projects moved forward in Brazil and bringing capacity online has been much slower than anticipated', notes Hart Energy's assistant vice-president Tammy Klein. 'The sugar market is also very strong again so some producers are making sugar instead of ethanol, further tightening supplies. In the US billions of gallons of capacity was brought online in an amazingly short period of time – two, three years or less. The same will not happen in Brazil. It comes back to capital inflow, lack of infrastructure and actually, regulatory barriers or slowness.'
The Brazilian authorities are worried about rising sugar and ethanol prices, which may provoke government intervention into the market. After Brazilian mills cut down on ethanol production and switched to sugar in recent months, Brazil's President Dilma Rousseff said she considered raising taxes on sugar production to keep up the production of ethanol. Such measures may scare investors away, according to some analysts.
Then again, if financial investors are scared away, this may be good news to the oil companies. As Philip New of BP Biofuels put it: 'The future of biofuels can't rely on the investment community, but will need to look to companies with large balance sheets.' New's implicit message is that the massive investments of Big Oil in Brazilian ethanol production will guarantee a sufficient supply of ethanol to European and other markets.
There is, however, a downside to the oil companies' involvement in the ethanol market, as Joost Kanen of Gryphon Carbon Consultancy points out. 'Ethanol conquered the automotive market in Brazil as a result of the introduction of cars with flex engines and the ample distribution of ethanol at independent local gas stations', he says. 'The Brazilian consumer is free to choose petrol or ethanol, depending on personal preference and price. It is the flex engine which is doing the blending. That is not the case in Europe. We do not have flex engines yet and ethanol is not freely available. Blending and distribution are in the hands of Big Oil, which wants to keep competitors, including ethanol suppliers, away from European car drivers as much as possible. The EU and European governments should keep in mind that the oil companies have a big strategic interest in preserving control over blending and distribution. Whether this is in the interest of consumers is up to politicians to decide.'
Biofuels can provide up to 27% of world transportation fuel by 2050, IEA says
A new report from the International Energy Agency says that the widespread deployment of biofuels can play an important role in reducing CO2 emissions in the transport sector and enhancing energy security, when produced sustainably.
With the transportation sector growing considerably, and demand for transport fuels rising globally, the IEA assesses biofuels - liquid and gaseous fuels derived from biomass (organic material derived from plants and animals) - as one of the key technologies to reduce CO2 emissions and reduce dependency on liquid transport fuels.
The report shows how global biofuel consumption can increase in a sustainable way - one in which production of biofuels brings significant life cycle environmental benefits and does not compromise food security - from 55 million tonnes of oil equivalent (Mtoe) today to 750 Mtoe in 2050; this would mean that the global share of biofuel in total transport fuel would grow from 2% today to 27% in 2050.
"While vehicle efficiency will be the most important and most cost-efficient way to reduce transport-emissions, biofuels will still be needed to provide low-carbon fuel alternatives for planes, marine vessels and other heavy transport modes, and will eventually provide one fifth (2.1 gigatonnes of CO2) of emission reductions in the transport sector," Bo Diczfalusy, the IEA's Director of Sustainable Energy Policy and Technology, said at the launch of the report today in Washington.
The IEA prepared the Technology Roadmap Biofuels for Transport in consultation with representatives of government, industry, academia and non-governmental organizations. The roadmap provides an overview of the current status of different conventional and advanced biofuel technologies and the latest research on sustainability issues related to biofuel production. It also charts a course for expanding the production and use of biofuels to 2050, in a sustainable way.
This report is the latest in the IEA's series of technology roadmaps, which aim to guide governments and industry on the actions and milestones needed to achieve the potential for a full range of clean energy technologies.
Efficient technologies needed
Biofuels can provide transport fuel with substantially lower CO2 emissions than conventional gasoline or diesel when comparing the entire "life cycle" of production - that is, from the field to the vehicle. But there are caveats: it is important to reduce the use of fossil energy during cultivation, transport and conversion of biomass to biofuel. It is also important to avoid direct or indirect land-use changes, such as converting forests to grow biofuel feedstocks, which release large amounts CO2 and could offset the CO2 reduction potential of biofuels.
Most conventional biofuels (produced mainly from starch, sugar and oilseed crops) must therefore be improved in terms of conversion- and land-use efficiency to achieve considerable greenhouse-gas reductions. In addition, advanced biofuel technologies currently at the demonstration stage (produced mainly from lignocellulosic biomass such as wood and straw), need to be commercially deployed within the next ten years and will provide the major share of biofuels in 2050.
"Further support for advanced biofuel research, development and demonstration is still needed to improve conversion efficiencies and reduce costs. In addition, investments in commercial-scale production units will be a key to enable advanced biofuels to reach full market maturity," said Mr. Diczfalusy at the launch in Washington. "Government action is needed to provide a stable, long-term policy framework for biofuels that allows for sustained investments in biofuel expansion. Specific support measures that address the high investment risk currently associated with pre-commercial advanced biofuel technologies will be vital to trigger industry investments in first commercial plants."
With these substantial investments in place, most biofuel technologies could get close to cost-competitiveness with fossil fuels, or even be produced at lower costs in the longer term. In total, the report assesses the expenditure on biofuels required to meet the roadmap targets between USD 11 trillion to USD 13 trillion over the next 40 years, depending on the actual production costs. "This figure may seem large, but in fact even in the worst case biofuels would only increase the total costs of transport fuels by around 1% over the next 40 years, and could in fact lead to cost reductions over the same period."
Sustainability is key
"With world population growing by more than 30% to 9 billion people in 2050, and food demand increasing approximately 70% according to estimates by the Food and Agriculture Organization of the United Nations, competition of biofuel production for land with food, fodder, as well as fiber production needs to be carefully addressed to avoid negative impacts from biofuel expansion on food security," said Mr. Diczfalusy.
There is a great potential for using low-risk sources that require limited land expansion, and should not compete with food production, to provide feedstock for the expanding biofuel industry. The report says the use of residues and high-yielding energy crops as feedstocks, and the efficient use of biomass, for instance through integrating biofuel and bio-material production (so-called biorefineries), will be vital to reduce land competition. In addition, sustainability certification of biofuels, following internationally agreed sustainability criteria, will be an important step towards ensuring that biofuel production and use have a positive environmental, social and economic impact.
Around 3 billion tonnes of biomass per year will be needed in 2050 to produce the amount of biofuels envisioned in the IEA roadmap. The report assesses that 1 billion tonnes of biomass residues and wastes would be needed, and this would need to be supplemented by production from around 100 million hectares of land - around 2% of total agricultural land. This would be a three-fold increase compared with today, but the yield of biofuels could increase by a factor of 10 through the use of wastes and residues and through the use of more productive crops and processes.
The report stresses that governments should adopt mandatory sustainability standards for biofuels, and ensure they are internationally aligned, to avoid acting as barriers to trade. Since many points of criticism on biofuels' sustainability are in fact issues concerning the whole agricultural sector, the report concludes that biofuel policies should be aligned with those in agriculture, forestry and rural development. An overall sustainable land-use management strategy for all agricultural and forestry land will be the only way to avoid land-use changes with negative impacts on the environment and CO2 emissions, and to support the wide range of demands in different sectors.
International collaboration is vital
The report stresses that reducing tariffs and other trade barriers will be important to expanding the trade in biomass and biofuels to reach the levels necessary to meet emerging demand in different regions of the world. International co-operation will also be needed to further develop analyses of sustainable land and biomass potentials, and obtain detailed regional data on suitable feedstocks for biofuel production. To ensure developing countries can successfully adopt sustainable biofuel production, international collaboration on capacity building and technology transfer will be necessary, the report stresses. Developing countries interested in introducing biofuels can profit from the experience of other regions, including lessons learned and best practices for biofuel production, as well as the government policies that can help ensure that required investments are beneficial for local economies.
You can download a free copy of the report here.