EER Monthly December 2013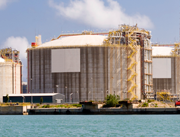 In a recent three-part series on LNG, European Energy Review reports extensively on this much acclaimed game changer of the gas markets. First, our UK correspondent Alex Forbes focuses on the large-scale exports of US LNG, making them much more than just another supplier. Second, our Asian contributor Rudolf ten Hoedt digs into the Japanese struggle to bring down LNG prices. More competition and liquidity should do the trick, as you can read in his piece. And third, Gert van Wijland writes that even though the European LNG-imports have plummeted by several tens of percent over the last eighteen months due to a surge in Asian demand, the gas sector and policy makers see a bright future for liquid natural gas in the European Union.
The Ebook EER Monthly is available for download (save to your local hard drive or open with pdf-reader). Please follow the link below.