Energy comes to Brussels
They came from far and wide and their achievements were quite impressive. No, this was not a meeting of European heads of state, but the night of the annual EU Sustainable Energy Europe Awards. These may be considered Europe's energy Oscars, where Brussels generously rewards projects from all over Europe for real, measurable reductions in energy use, switching to renewables, or increasing awareness of green energy.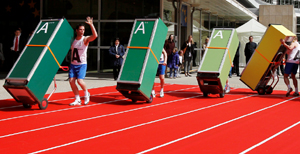 Labelled fridges raced against each other in front of the Berlaymont. (photo: EC/CE - Patrick Mascart)
It's hard to pick a favourite, but mine this year is Strawberry Tree, winner in the "Consuming" category (getting consumers to think about their energy consumption and find innovative ways of reducing it). A study in simplicity, the "tree" offers passers-by shady seats beneath a canopy of solar panels, whose power they can use to recharge their mobiles, cameras and i-pods. The brainchild of a Serbian NGO, with a first exemplar installed in Belgrade, the aim is to let people see for themselves what solar energy can do. Keep an eye out for future plantings.
Other winners ranged from the 'world's cleanest car plant', built by Renault on the outskirts of Tangier in Northern Morocco (category Producing), to 'energy detectives' (a school programme in Austria 'empowering student teams to detect wasted energy and to challenge their peers and adults to change bad habits', in the category Learning) and cycling city counsellors in a town in Germany (category Travelling).
The Award Ceremony was the highlight of the annual EU Sustainable Energy Week, a whirlwind of over 700 events in 44 countries covering every conceivable facet of green energy use and production. The normally quiet halls of the Commission's Charlemagne building were buzzing with activity and, outside, there was everything from the world's first electro-active sidewalk (from Toulouse) to a race between seven fridges straining to prove their efficiency!
Not that renewables always have it easy in Brussels. From a new study last month for the Commission's energy department, it appears that their cost of adapting to climate change is three
A study in simplicity, the "tree" offers passers-by shady seats beneath a canopy of solar panels, whose power they can use to recharge their mobiles, cameras and i-pods
times as high as that for nuclear power and over twice as high as for fossil fuel plants. In other words, renewable energies – in particular hydropower, offshore wind power and electricity grids – are most vulnerable of all to the effects of climate change, and extreme weather events in particular. It seems ironic indeed that renewables are threatened by the very problem they are helping to solve...
Diesel versus Petrol
Sustainable Energy Week is also of course the perfect occasion for new policy announcements. This week, the European Commission made two: one on the longstanding, highly sensitive issue of energy taxation reform and the second on the sexier if complex subject of smart grids.
Taxation of any sort has always been a national prerogative in Europe and successive EU energy taxation laws have taken forever to agree. The last one in 2003 took six years! And the new proposal goes beyond any of its predecessors. For the first time ever, Brussels is proposing to regulate real taxation rates, rather than just set minima that most member states exceed by a mile anyway. The Commission's proposal says that by 2023 EU member states will have to charge consumers more for diesel than petrol. Currently petrol is the more expensive fuel in most of Europe. The shift derives from a fundamental restructuring of how fuels are taxed – the Commission wants to see motor and heating fuels taxed according to their energy content (how much energy they generate) and CO2 emissions, rather than by volume. In practice this means diesel should cost 15% more than petrol since it generates more energy and emits more CO2 per litre. The German car industry for one is up in arms.
With the power sector and industry more or less covered by the EU Emission Trading Scheme (ETS), transport has received increasing climate scrutiny from Brussels lately. In a long-anticipated white paper on transport, published at the end of March, the Commission already raised the hackles of the
It seems ironic indeed that renewables are threatened by the very problem they are helping to solve
car industry by calling for conventionally-fuelled vehicles to be phased out of cities by 2050. In the same paper, it called for 40% biofuels in aviation by the same date. These may be noble aims, but set far into the future. Their realisation will depend on policy initiatives emanating from the EU and national capitals in the next few years. The aviation sector, for example, says it has no clarity over what fuel blends will count as zero emissions biofuels from 2012, when the sector becomes part of the ETS. And where is the EU's strategy paper on electric cars?
Stress-test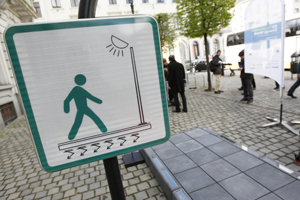 Toulouse electric sidewalk (photo: EC/CE - Patrick Mascart)
Earlier this week, the Commission for the first time issued a policy paper dedicated to
smart grids
. Its first purpose is to help get the initial steps towards smart grids – the deployment of smart meters – on track. The third liberalisation package mandates that 80% of European consumers should have smart meters by 2020. Yet only 10% of households have them today, according to the Commission. The new policy paper should speed up their deployment plus it sets the scene for the future by requesting member states to produce national action plans with targets for the roll-out of smart grids. A planned revision of the Energy Services Directive – which will in effect be the new Energy Savings Directive announced in the Energy Efficiency Plan 2011 in March – due by summer could be used to create regulatory incentives for grid operators, the Commission adds.
In making his smart grids announcement on Tuesday, Energy Commissioner Günther Oettinger was given brief respite from the Fukushima-affair. With the nuclear threat level raised to that of Chernobyl by the Japanese government, Oettinger could only repeat that it was 'more important than ever' that European governments would 'stress-test' their own plants. He has become much more careful with his language after more passionate statements about the Japanese disaster last month reportedly triggered stock market tumbles (never mind a lot of irritation in nuclear-is-okay insistent France).
In concrete terms, the only thing Europe did last week in the nuclear arena was to temporarily lower radioactivity limits for food imports from Japan to meet Japanese standards (to reassure a worried European public?). Earlier, Climate Commissioner Connie Hedegaard suggested her 2050 decarbonisation roadmap may require reworking if countries drop nuclear power. Countries could require greater use of fossil fuels and renewables as a result, depending on what is calculated to be the most cost-effective way of meeting EU climate goals. But there is no question of the goals themselves being altered.
Actually, the Commission has become quite reticent on EU nuclear policy recently. The role of nuclear power in a member state's energy mix is a national prerogative, but Europe has some competencies. One is the setting of basic nuclear safety standards in the field of radioprotection. A proposal to revise these standards was on the Commission's agenda for the first quarter of this year – but it seems to
The German car industry for one is up in arms
have disappeared somehow. The only nuclear legislative proposal currently in play is one on
radioactive waste
, dating from last autumn. This is currently being debated by the member states, with the Hungarian EU presidency eyeing an agreement in June. But this proposal is hardly something to get worked up about. It is more or less an empty shell made up of principles but no substance, just like its sister nuclear safety directive agreed last year which leaves all the important decisions to member states. The divisiveness of nuclear power is evident nowhere better than in the European Parliament, where MEPs last week spectacularly failed to pass a resolution on nuclear safety in the aftermath of Fukushima.
Carbon bank
One technology that has suddenly raised its profile since the Japanese disaster is carbon capture and storage (CCS). 'CCS is more important than before', Oettinger told reporters at Sustainable Energy Week. If Europe's pilot projects deliver as planned by 2015, he said, CCS should be realised in all coal plants before 2020. This seems an almost fanatically optimistic viewpoint. Either Mr Oettinger has not been reading European Energy Review, or he knows more than we do. The next deadline in the CCS calendar is 9 May, when member states must submit CCS and renewables projects they want to put up for EU carbon market funding to the European Investment Bank for evaluation.
Behind the bright façade of Sustainable Energy Week, the EU emission trading scheme (ETS) continues to exercise industry lobbyists. Policymakers are considering taking out – "setting aside" – several hundred million carbon allowances from the scheme's third phase from 2013-20. The proffered
Either Mr Oettinger has not been reading European Energy Review, or he knows more than we do
rationale is that this is to compensate for energy efficiency improvements, but to the industry it looks more like compensation for the recession, which sent emissions plummeting and left many spare allowances in the system. Industry is set against this perceived attempt by the Commission to create a "carbon bank". They are also worried over the impact of a carbon price floor the UK has announced it will introduce from 2013. Meanwhile, European steel industry association
Eurofer
has said it will challenge a European Commission decision on how many free carbon allowances the sector is to get from 2013 in the European Court of Justice. The decision is due to be adopted by the Commission in mid-April. EER will have more to say about the ETS struggles in the coming weeks.
Well, if you think we have covered most of the EU's energy policies by now, think again. We have barely scratched the surface. The list goes on and on. Before the summer we expect proposals for an Energy Saving Directive, the financing of energy infrastructure, and new safety rules for offshore oil and gas drilling. The Commission is also expected to come forward with proposals for the next EU budget for 2014-20 by June. After this, proposals on financing energy efficiency are due. On other issues, Brussels' energy community is still awaiting publication dates. This goes for proposals on oil sands' greenhouse gas emissions and indirect land-use change, both controversial questions. A decision on the equally controversial gas pipeline Nabucco is also long overdue.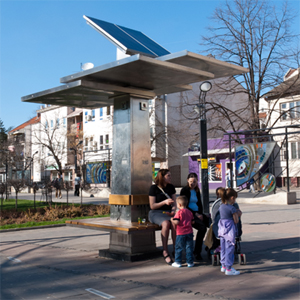 The Strawberry Tree in Obrenovac, Serbia (photo: Strawberry Energy)
Meanwhile, work on "eco-design" regulations and energy labels for consumer products continues apace. A Commission review of the voluntary Energy Star eco-label programme for office equipment is expected this month. Like the projects of EU Sustainable Energy Week, these more low-key initiatives are not always sexy but at least they deliver concrete results. Maybe more results at the end of the day than something like the informal energy ministers' meeting on 2-3 May in Budapest. Here, the 2050 roadmap for the energy sector will be discussed, which Commissioner Oettinger is planning to release in November. Hopefully by that time – I mean 2050 – most of the happy faces from EU Sustainable Energy Week 2011 will be sitting under a Strawberry Tree.
EER's Brussels Energy Blog by Sonja van Renssen
In this new regular feature, our correspondent Sonja van Renssen reports once a month on the energy affairs going on in and around the EU's institutions. In this first edition, Sonja finds herself in the middle of EU Sustainable Energy Week, when Europe's upbeat clean energy crowd paints the EU capital green. Sonja notes that the European Commission is keen to make use of this opportunity to make some grand policy announcements. Meanwhile, back in the corridors of power, some of the tougher legislative battles continue to be fought. To contact Sonja, mail svr.envi@gmail.com