Reality check at the borders of the Pacific and Indian Ocean
Europe competes with Asia
Europe was already destined to engage the ever more energy guzzling Asia on the international markets for oil, gas and coal. The worrying developments in Ukraine may speed up this encounter. Should Europe attempt to replace Russian supplies as a result of the troubled political upheaval in Kiev, all the sooner would it have to fasten its seatbelt even tighter for competition with China and the rest of Asia as the emerging epicentre of global energy demand.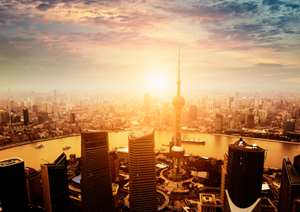 (c) Fuyu Liu
Only a smog-alarm can deter visitors from flocking to The Bund at night, the city's famous and historic river promenade. Their eyes and cameras are focused on the opposite bank of the Huangpu River with the iconic Oriental Pearl TV Tower and other high rises in the business district bursting into light. Fascinated by the triumphant scenery in the distance, most people overlook what's happening in the dark river right below.
An endless stream of barges goes by, with just a single green or blue dot barely marking their presence. Each one of the ships sits deep in the water, the black heavy freight pointing well above deck level to the skies. It's the Chinese armada of King Coal, silently and almost unnoticed sailing past. Loaded along the two-and-some kilometre long coal terminal nearby, the stretched convoy is headed for the Yangtze River delta to deliver its hard cargo to industrial sites and power plants in Shanghai's hinterland.
China overtook the United States as the world's leading energy consumer and it's expected to double current consumption by 2040. Its share in global energy demand will increase from 22 percent to 27 percent in 2035. The world's biggest port of Shanghai is the dynamic proof of it. China currently consumes almost half the world's coal. Its production and import of this commodity are the biggest globally. Energy-heavy industries in China absorb three-quarters of electricity,
If you want to talk Energiewende in China, natural gas and nuclear should be your main stay. Not renewables.
67 percent of which is provided by coal fired power plants. These overwhelming - or perhaps devastating - figures are all set to rise even further, in spite of alarming domestic pollution levels. The Government is taking measures to push back coal's share in the energy mix. It will drop to 57 percent by 2035, according to the latest BP figures. That will be the result of a massive nuclear program and a huge influx of gas fired power stations. If you want to talk
Energiewende
in China, natural gas and nuclear should be your main stay. Not renewables. Renewables other than hydro will play a supporting role in this great energy theatre, but nothing more than that. Despite amazing absolute growth figures of investments in renewables and a world record 12 GW of installed solar in 2013 alone. A record the Chinese will break this year, by the way.
China will rapidly expand its nuclear programme. There are 20 reactors in operation on the mainland and another 28 under construction. And China will double its gas consumption. China is to overtake Russia as the world second largest gas consumer by 2025, outdone only by the U.S. The transition to gas is serious. "China is working in earnest to shift from coal to natural gas out of environmental considerations," according to a senior economist and China energy expert at a Japanese O&G company. Aided by this huge surge in Chinese demand, gas will supply 27 percent of global energy demand by 2040 and 22 percent will end up in Asia. The continent will increasingly depend on imports, and that is primarily where it will meet Europe, currently the biggest importer of energy worldwide.
Import will become key to accommodate China's stellar growth in energy demand, as well as in the rest of Asia.
The continent will increasingly depend on imports, and that is primarily where it will meet Europe, currently the biggest importer of energy worldwide.
Overall Asian dependence on fossil fuel net imports (import minus export) will increase substantially and is expected to nearly double from 830 Mtoe in 2010 to 1,515 Mtoe in 2035. Asia currently accounts for approximately 75 percent of global LNG demand already. According to Wood Mackenzie, Asian demand for LNG is set to rise 45 percent by 2020. So energy will increasingly flow to the East with China at the very heart of this shift. The growth trend in import dependence by region over the same period of time shows remarkable figures. Net import of
East Asia
(China, Japan, S-Korea) will almost double towards 1,339 Mtoe. East Asia will have to import 61 percent of oil demand up from 54 percent four years ago. That will drive Asia's increasing dependence on crude from the Middle East.
South Asia is playing its part as well. India, the biggest energy consumer in 2035 with 7 percent of global demand after China (27 percent), is also facing growing import dependence. The increase in consumption (132 percent) will outstrip the expected rise of local production (112 percent). Reflecting India's growing deficit, net energy imports of South Asia will triple from 191.9 Mtoe to 571.8 Mtoe. South East Asia (including O&G producing Indonesia and Malaysia) will transform from a net exporter into a net importer, according to the ADB. The region will embrace LNG imports like the rest of Asia. Gas exporting Indonesia will receive its first LNG shipment from US based Cheniere Energy in 2018. Malaysia will lose its self-sufficiency towards 2020 and is looking to secure supplies from Australia and Canada.
This enormous rise in Asia's import dependency on the demand side and the revolution of North-American shale gas on the supply side are all fuelling structural changes in the global energy markets. Not only will it shift energy flows but it will also result in transformations in geo-politics and on the corporate level. Asia's dominance in the energy field will be played out on various levels at the same time.
Asia's growing dominance in energy is globally felt on various levels at the same time.
Oil & gas producers in the Middle East are increasingly looking South.
Russia tries to jump on the Asian train out of their Far East. Russia's failure to anticipate properly on the Asian growth story is even forcing the restructuring of its energy sector with increasing Chinese participation.
The Chinese are increasingly nervous about their maritime supply routes and recently started a program for the construction of aircraft carriers, while fostering their growing network of import pipelines over land.
In order to handle China's push forward, India and Japan seem to be destined to join forces, possibly also forging a nuclear alliance.
On the global ranking lists of energy companies, Asian enterprises are closing in on established corporate oil & gas that faces increasing competition from this side of the globe.
Long established business models are becoming unstable. Growing demand from China and other Asian countries makes it easier for an oil exporter like Abu Dhabi to cut Asian deals itself and make it depend less on Western oil majors. Japanese trading house Mitsui and oil company INPEX are said to have ramped up long-term import contracts, resulting in a nearly 30 percent drop in Abu Dhabi crude trading on the spot market, raising concerns over possible price hikes.
Where the increasing global amount of energy flowing to Asia will leave Europe is unclear. Significant shifts in supply and demand will affect major economies including Europe, says the Energy Information Agency in its Annual Energy Outlook 2014. While the EIA expects the US to become a net exporter of gas by 2018 and to drop its energy import to 25 percent of demand by 2016, China, India and OECD Europe will become increasingly reliant on imported oil and gas. By 2020, both Europe and Asia's twin engine China/India will import at least 65 percent of oil and 35 percent of natural gas consumption.
According to BP, China will overtake the EU as the world's largest energy importer by 2030. This may seem far away yet, but we are already living in its shadow. Looking at Asia's rising energy demand is like facing a Tsunami on the open seas. We have already been lifted by the first tidal waves and while we can only see the next one, it should be obvious that there's a lot more to come. One of the first Chinese rollers hitting our coast contributed to ship-wrecking Europe's dream of a fat Southern Corridor stream of Caspian gas through Turkey straight into central Europe. Desperate EU diplomats flying back and forth between Brussels, Baku and Ashgabat in 2008, seeking to feed the proposed Nabucco pipe line with additional gas from Turkmenistan, never stood a chance. In no time, Beijing transformed the former Soviet Republic into a Chinese gas province so to speak, without even the Russians being able to prevent it, although they tried hard. Nabucco was finally buried in 2013.
Before the Ukrainian crisis and the possibility of freezing relations with Russia, things did not look too bad for Europe in the short run.
Before the Ukrainian crisis and the possibility of freezing relations with Russia, things did not look too bad for Europe in the short run.
"Except for Europe, there is strong potential for new LNG production on almost all continents" Beate Raabe, secretary-general of Eurogas in Brussels, told EER in February. "Global gas resources are plentiful. Europe will import more gas both by pipeline and as LNG and will compete for LNG supplies with the rest of the world." Midterm LNG supply will depend on the development of demand in Asia and the development of exports from the U.S., Mrs. Raabe said. "Future demand of gas in Asia will depend on economic growth and decisions in Japan on nuclear power."
In the long run however, things are looking precarious and competition with Asia will heat up, should Europe decide to turn part of its Russian energy supplies down. Europe is expected to need roughly an additional 150 bcm/y in the decades ahead. Globally there is talk of approximately 500 bcm/y of additional gas production, including projects under construction and ones for which final investments decisions still have to be taken. Although these figures look good for gas buyers, it is highly uncertain when these supplies come online and at what price it will be available to Europe. Greenfield projects in Australia are increasingly uncertain as a result of rising costs and shortages on the labour market. While big Western international oil companies are scaling back projects, some Asian oil majors led by Chinese NOC's continue their international expansion. Spot market deliveries to Europe may not be their first priority.
As far as Europe is counting on unconventional energy exports from the US as an alternative for Gazprom, it will have to compete with Asia there as well. Asia is desperately waiting for the start of US export of LNG in order to bring high gas prices in the region down. Asian companies already have secured gas supplies from some of these projects through contracts and participations. There is a considerable lobby in the US of resource nationalists and energy-intense industries against generous export. But the mood in the US to increase the award of export licenses is improving, as politicians consider gas exports as an option to bind international allies against the Russian bear. However, it remains to be seen whether the companies involved in the North American energy explosion want to waive higher Asian gas prices for deliveries to Europe and even then, they will need time to set up Atlantic export lines.
In the Russian camp, the current tensions on their Western border will put even more pressure on Moscow to conclude a historic gas deal with the Chinese and make itself less dependent of supplies to Europe. Negotiations about the piped supply of 38 bcm/y of Siberian gas for a period of 30 years have dragged on for almost a decade.
In the Russian camp, the current tensions on their Western border will put even more pressure on Moscow to conclude a historic gas deal with the Chinese and make itself less dependent of supplies to Europe.
Last December there were rumours all over the place that the contract would be signed before Chinese New Year. But again, no agreement over the price of gas was reached. A conclusion has been postponed till May this year. Sealing the deal would be an important breakthrough for both Russia and China and has potential for weakening Europe's position in its price negotiations with Gazprom about gas deliveries. Furthermore it is likely that president Putin will increase Russia's other efforts to seek even more Asian exits for East Siberian gas, be it by pipe, shipped as LNG or even disguised as electricity. The Japanese for instance under Prime Minister Abe have substantially improved their relations with Moscow in order to bring more urgently needed Russian energy supplies closer.
So Europe should prepare for increasing competition with Asia. The Asian energy Tsunami will hit our coasts even harder when we decline Russian energy supplies. Europe is going to feel sooner or later anyhow that Asia has become the turning point of the future energy balance of the world and an important driver of the strategic dynamics among major global energy consumers and producers. Reuters reported that China has already outstripped Germany as the largest buyer of Russian oil in January. Simultaneously, the first contracts for U.S. oil deliveries for Europe are said to have been signed. This is a developing story. We'll keep you posted.