European leaders, aren't you forgetting something?
When EU heads of state and government met in Brussels on Friday, 4 February, for a first-ever high-level summit dedicated to energy and innovation, they paid scant attention to their energy ministers' recommendation last December that efficiency should be Europe's number one energy priority. They thereby forgot to prioritise the one measure that is best-suited to improve not only security of supply, competitiveness and sustainability, but also their citizens' energy bills. However, a draft version of the European Commission's upcoming energy efficiency action plan that is circulating in Brussels shows the Commission has plans to repair this omission.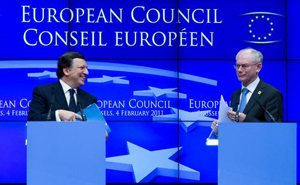 José Manuel Barroso (left) and Herman van Rompuy (Picture: European Union)
European leaders picked completion of the EU's internal energy market as their number one priority for EU energy policy. In their
conclusions
, they call for the 'speedy and full implementation' of the EU's third energy market liberalisation package 'in full respect of the agreed deadlines'. They set a target date of 2014 for completion of the internal market (although actually the deadline for transposition of the package into national law is 3 March 2011!). They also call for technical standards for electric car charging systems by mid-2011 and for smart grids and meters by the end of 2012.
Priority number two is infrastructure: leaders look forward to a European Commission proposal on streamlining and improving authorisation procedures for building new energy infrastructure. No member state should remain isolated from the European gas and electricity grid by 2015. Some 'limited' public finance may be required to help certain infrastructure projects get off the ground, they acknowledge. The Commission is invited to put forward cost estimates and funding ideas in a policy paper in June.
Energy efficiency and renewables follow. The EU's energy efficiency goal of 20% savings by 2020 must be met, leaders say (according to the Commission, we are currently on track to deliver a mere 9% by 2020). As expected, they do not propose making this target legally-binding, but instead suggest that from 2012 member states include energy efficiency standards in public procurement for 'relevant' public buildings and services. Other initiatives are awaited in the Commission's new energy efficiency action plan (due on 2 March). Leaders propose a next review of energy efficiency policy in 2013.
The leaders promise that 'the EU and its member states will promote investment in renewables and safe and sustainable low-carbon technologies' (i.e. including nuclear – a victory for France). National renewables support schemes should be 'consistent', but the leaders do not say they need to be harmonised (a victory for Germany). Europe's potential for 'sustainable extraction and use of conventional and unconventional (shale gas and oil shale) resources should be assessed'.
There is little new on external relations in energy nor on the 2050 decarbonisation roadmap the European Commission is preparing for the sector. This is probably because the summit was premature for these topics – a public consultation on the former runs till the end of February and one on the latter till early March. The Commission will present a policy paper on energy external relations in June. For now, the EU leaders invite member states to inform the Commission of all new and existing bilateral energy agreements with third countries, starting in 2012.
About the decarbonisation strategy, the leaders simply recognise that reducing EU carbon emissions by 80-95% by 2050 will require a 'revolution' in energy systems. The 2050 decarbonisation strategy for the energy sector that was originally expected from the Commission in March, but is now planned for November.
Plight of consumers
A day before the summit, Belgian daily Le Soir reported that the average household energy bill in Belgium has increased by 18.9% for gas and 6.3% for electricity over the last 12 months. Higher oil prices are cited as the main reason, as gas and electricity prices tend to follow the oil price. Another cold winter and market concerns over the instability in northern Africa and the Middle East will do little to help the situation.
Tariffs have also gone up, notes Le Soir. It does not say the next obvious thing: they will continue to go up. The European Commission has estimated that €1 trillion needs to be spent to update, expand and strengthen Europe's ageing energy grids by 2020. The bulk of this investment, or €900bn according to the Commission, will have to be delivered by the market, with costs recovered through tariffs. Electricity prices will increase by a quarter from 2010-20, estimates the Commission in its Energy 2030 Scenarios.
All this does not bode well for the consumer. Last December, energy ministers under the leadership of the Belgian presidency called for more account to be taken of consumers in energy policy. They asked
Le Soir reported that the average household energy bill in Belgium has increased by 18.9% for gas and 6.3% for electricity over the last 12 months
for renewed efforts to inform and engage consumers, and to help those at risk of, or suffering from energy poverty (one in seven households, according to a study by the EU-funded European Fuel Poverty and Energy Efficiency (EPEE) consortium). Better consumer empowerment is one of the five headline goals in the Commission's 2020 energy strategy.
But the EU leaders mention the plight of consumers only in passing. They merely say that the Commission will pay attention to consumer issues 'including the more vulnerable ones' in its regular reporting on the functioning of the internal energy market and that impacts on consumers should be taken into account in setting tariffs. Head of Communications Johannes Kleis at the European Consumers'Organisation (BEUC) is frustrated. 'It is necessary to take account of who's going to pay these billions and trillions,' he says.
Using less energy is the most obvious way of cutting down on energy bills – as implied in EPEE's name. European Commission president Jose Manual Barroso said as much in a press conference after last Friday's summit. Energy efficiency 'is the quickest way to... cut consumers' bills by 1000 Euros per household', he said. But energy efficiency is also central to better security of supply, competitiveness and lower carbon emissions.
In their December meeting, the EU energy ministers were much clearer on this topic. 'Of the five priorities identified by the Commission [in its Energy 2020 strategy], energy efficiency is clearly endorsed by all delegations as the top priority,' they announced. Belgian energy and climate minister Paul Magnette repeated this message in the days leading up to the summit. 'Europe has the capacity to be number one in the world, in purchasing power, competitiveness, jobs, growth etc. Now let's decide we want to be the world leader in energy efficiency.'
But European leaders chose to endorse the completion of the EU's internal energy market as their number one priority. In a Power Point presentation to the EU leaders, called 'Energy Priorities for Europe' Barroso also led off with the importance of the internal market. Completing the internal market will create five million jobs by 2020, said Barroso. He expects energy efficiency to contribute another two million.
These are high expectations, probably too high, in view of the modest endorsement of energy efficiency by European leaders. Green groups have long called for binding targets. This was never a realistic possibility for this summit, but the lack of verbal and written priority given to efficiency has energy
'It is necessary to take account of who's going to pay these billions and trillions'
efficiency advocates worried. Even the one concrete measure that leaders proposed, efficiency standards for 'relevant' public buildings and services from 2012, has been met with derision by stakeholders. 'What is a 'relevant' public building?' asks Jan te Bos, Director General at Eurima, the European Insulation Manufacturers Association. He also points out that public buildings only make up about 8% of existing European building stock (the Commission estimates 12%).
Energy audits
Energy efficiency may, however, make a comeback of sorts in the political priorities list. The European Commission will present a new energy efficiency action plan on 2 March. A draft version of this plan is already circulating in Brussels. In the new plan, the Commission says it intends to issue proposals for a new energy savings directive that would get member states to impose binding energy efficiency targets on the public sector and energy savings obligations on utility companies. However, the Commission stops short of suggesting binding efficiency targets on member states as a whole. It merely says it will consider proposing binding targets by spring 2012 if by that time the EU is still unlikely to meet its target of a 20% improvement in energy efficiency by 2020. This is nearly a year earlier than European leaders' pledge to next review energy efficiency measures in 2013.
In its energy efficiency action plan, the Commission goes much further than European leaders in its recommendations for public procurement. It suggests public authorities should be required to refurbish at least 2% of their buildings (by area) each year, which amounts to nearly twice the current rate for all buildings. Each refurbishment should bring these buildings up to the level of the top 10% of the national building stock. The Commission would lead the way, bringing the energy performance of all its buildings up to the highest standards by 2015.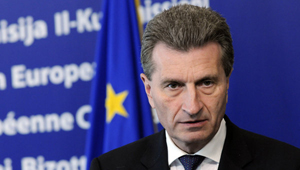 'This summit will be our benchmark for the years to come', Oettinger stated (Picture: AFP/ Stringer)
National energy-saving obligations for utilities are already in place in several member states including the UK, France, Italy and Denmark, as well as in Flanders. These have delivered good results, the Commission says: savings of up to 6% of final energy consumption by the companies involved. Now it wants other countries to follow suit. If applied Europe-wide, this could save 100 million tonnes of oil equivalents in 2020, it estimates.
Further into the future, the Commission says it may issue proposals for member states to make Best Available Technology (BAT) mandatory for the authorisation of new energy generation capacity. This could come with a requirement that wherever cost-effective, existing installations should be upgraded to BAT levels whenever their operating permit is up for renewal. The Commission says it could propose such measures if energy efficiency improvements in this sector prove inadequate.
Other proposed initiatives include plans to make combined heat and power mandatory when there is sufficient demand, set minimum consumer information requirements for smart grids and meters, and legally require member states to address the problem of split incentives whereby neither tenants nor owners are sufficiently incentivised to invest in efficiency. The Commission also intends to require energy audits for big companies.
Lower bills
Energy efficiency advocates like the draft plan, although they of course do see room for improvement.
The German government last week announced it would spend €2.5bn a year on energy efficiency, including doubling the renovation rate for ALL buildings
Eurima's Director General Jan te Bos applauds the buildings proposals but points out that the German government
plans to spend about €1 bn a year on energy efficiency in buildings
in 2011-2012 and aims to double the renovation rate for ALL buildings from 2020. Brook Riley from Friends of the Earth Europe praises the ideas on energy savings for utilities and promoting energy performance contracting. But he notes too that there are no suggestions on how to make the latter work for the residential sector.
Te Bos from Eurima points out how far removed the draft energy efficiency action plan is from the 4 February summit's declaration. European leaders embraced investments in the internal market and infrastructure, the supply side of energy policy, but neglected the importance of efficiency and consumers, the demand side. The challenge now will be to see the Commission's ambitious efficiency plans endorsed by those who can make or break them: member states. "You can't sell savings", efficiency activists often lament. Maybe not, but you can sell lower energy bills.