View from Brussels
Günther Oettinger: a friend of industry
The Minister President of Baden Württemberg Günther Oettinger could hardly have failed to pass his confirmation hearings before the members of the European Parliament last Thursday in Brussels. After all, he was perfectly briefed by his compatriot, the current Director General of Energy and Transport, Matthias Ruete. He also showed that he was broadly familiar with the issues, but made sure that he did not venture too far into the specifics. A very cautious three-hour hearing resulted.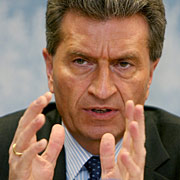 Günther Oettinger
However, a couple of things are worth drawing attention to as they reveal a lot about how the future five-year mandate of Mr Oettinger in the EU's executive will look. The first is that he will be very open to industry positions right from the outset. On several occasions during his hearing in the European Parliament, he made it clear that he was not going to take on the European energy industry. He made it clear that 'pragmatic solutions' that could ensure 'transparency and fair prices' in the energy market are to him more important than ownership unbundling. As everyone knows, ownership unbundling was the big battle the European Commission lost in its third liberalisation package against German industry interests in particular.
Nor does Oettinger aspire to binding targets for energy efficiency. He said that he sees binding targets as a 'last-resort solution'. He has already put back the publication of the new action plan on energy efficiency by a year, to early 2011. The target (20% of energy savings by comparison with the business as usual scenario by 2020) will remain indicative rather than binding.
He admits he has personal relationships with the CEOs of the two biggest German energy companies but dismissed the idea that there is any potential conflict of interest. He added that people can always 'complain if they have doubts about his objectivity'. Despite his assurances, MEPs do have serious doubts about his objectivity.
Another very different aspect worth noting is Oettinger's distinctive style, which is quite different from the usual style of European Commissioners. Apart from the President of the European Commission, whose standing is equivalent to that of a Prime Minister, the other Commissioners are generally former ministers. But Mr Oettinger was Minister President of one of the top-ten economic areas of Europe, Baden-Württemberg. That means that he is used to having a lot more power than his predecessors and colleagues at the Commission have ever had.
This is perhaps what might explain his personal style, which is a mixture of charm and savoir-vivre, a bit of arrogance with a touch of humour, a marked ability to give vague replies to specific questions, a tendency to promise funding where none is available and a lot of attention paid to industry concerns.
It's a new style which for now seems to have charmed the MEPs. Oettinger even went so far as to suggest to the MEPs, against all the rules in force in Brussels, to get together one evening, informally, for a discussion. An unprecented gesture in the formal atmosphere of the European capital.
Whatever happens, the energy industry will be able to sleep soundly. Günther Oettinger will not start a revolution. However, there is one catch. The new European Commission for the first time also has a Climate Commissioner, the feisty Connie Hedegaard of Denmark. It seems likely that the relations between Oetttinger and Hedegaard will become highly charged.
The first job for Hedegaard will be to pass an integrated transport-climate package (along the lines of the energy-climate package). It is highly probable that she will meet some resistance from Mr Oettinger, who in the past supported the German automobile industry in its battle to fend off EU proposals to restrict CO2 emissions from automobiles. In Oettinger's view, a crisis is not the time to impose more taxes on the automobile sector and certainly not on big German companies.
Ms Hedegaard is known for her assertive character, a style that is worlds away from that of Mr Oettinger. European Commission President José Manuel Barroso will have a tough job on his hands to get these two to work together – and work together they must, because neither of them can do much without the other.