Gazprom: back in the game - and ready to take on Brussels
Russia's Gazprom is aggressively expanding its presence in Europe by building new pipelines and buying up gas storage capacity. After a difficult period, the Russian gas company is oozing confidence and convinced it can further conquer the European market. And it is challenging the European Commission in the process. 'The gas industry has been too shy with politicians and regulators,' Gazprom vice-president Alexander Medvedev recently said in Austria.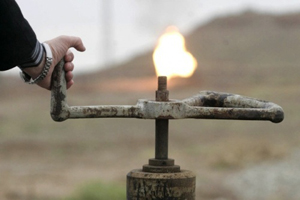 Photo: BGNES
The festive opening at the end of May of the newly expanded gas storage facility in Haidach, Austria – a joint-venture of Gazprom, German-Russian Wingas and Austrian RAG – was a clear demonstration of the intimate German-Russian gas relationship, as well of defiance of "Brussels", which has been trying to diversify gas supplies and limit Gazprom's dominance of the European market. After the Jugend Kammerorkest of the St Petersburg Conservatoire had played Mozart's Divertimento in D KV 136, Gazprom's head of Exports Alexander Medvedev took to the stage for a rousing speech. 'Natural gas is back in the arena', he announced. 'Fukushima has forced politicians to look at the structure of energy consumption and production. The Third Energy Package should not affect Gazprom and other investors.' And in an unexpected show of theatricality, he went on to take off his jacket and loosen his tie, saying: 'I just heard from Brussels. The unbundling of jacket and tie is allowed.'

In its "Third Energy Package", the European Commission has set down rules requiring gas companies to "unbundle" (though not split off) their transport (pipeline and storage) activities from their production and sales activities. This is a hindrance to Gazprom's strategy which relies heavily on vertical integration. But Medvedev made it clear that he is not yet ready to throw in the towel when it comes to the issue of ownership of pipelines and storage facilities. 'The gas industry has been too shy with politicians and regulators,' he said in the boiling hot party tent in Strasswalchen near Haidach, in a clear warning to Brussels.
Strong enough
Gazprom's new-found confidence has everything to do with political and economic developments in the European energy market. Russia's prospects on the European gas market are looking up again. The Nord Stream gas pipeline linking Russia with the European Union is nearing completion. Germany is planning to phase out its nuclear power. Competing LNG is looking to find its way to China and Japan (after Fukushima), while doubts about the viability of future supplies of Caspian gas via the Nabucco pipeline are growing by the day. And serious competition from shale gas will not be a factor for a long time, in Gazprom's view at least.

Gazprom expects gas prices to reach $400 per 1,000 cubic metres by the end of the year, as against an average of $306 in 2010. Even though European gas consumption has stagnated this year and even declined during the first four months of 2011 compared to the previous year, Russian gas exports to Europe have increased. Gazprom is counting on sales of 155 billion cubic metres (bcm) to Europe in 2011, up from 139 bcm in 2010, Medvedev told a group of journalists in Austria.

What's more, the growing Russian gas exports are sold under long-term contracts, and thus remain relatively unaffected by the lower prices on spot markets. Medvedev made it clear that Gazprom feels
'I just heard from Brussels. The unbundling of jacket and tie is allowed'
that its position is strong enough to resist price pressures in renegotiations of long-term contracts. For this reason it recently broke off talks with ENI of Italy. No one gives a fig for spot markets, Medvedev suggested. 'The spot market doesn't play a dominant role in Europe. Customers don't believe in the liquidity of spot markets and are banking on higher prices.'
Aggressive strategy
An important role in Gazprom's European strategy is played by gas storage. Hence the significance of the event in Haidach. The Russians recognise that storage is becoming of key strategic importance to the European market, which is increasingly set to import more gas and to produce less gas domestically. With sufficient storage capacity, companies can bridge the fluctuations between supply and consumption. In future, stored gas can also act as a buffer for renewables, which are characterized by fluctuations in supply. The storage facilities can further be used to store methane and other gases from biofuels.

Gazprom has unleashed an aggressive strategy to boost its storage capacity in Europe. In the short term, the Russian company aims to almost double its storage capacity in Europe from 2.6 to 4.9 bcm in 2015. (To compare: total storage capacity in Western Europe was 66 bcm in 2009 and is expected to grow to 125 bcm by 2025.) Thanks to the €300 million investment, capacity at Haidach, whose ownership is shared evenly between Gazprom, Wingas (which itself is owned 50% by Gazprom) and the facility's Austrian operator RAG, has increased from 1.2 bcm to 2.6 bcm. Together with Bergermeer in The Netherlands, the Katarina storage facility in Germany and Serbia's Banatski Dvor, Gazprom's storage capacity will reach 4.9 bcm in 2015.

In addition, Medvedev unveiled plans for a further seven European underground storage projects, including storages in France, Belgium and Britain. Following the Haidach expansion, the Russians are already rated number five by France's Societé Générale bank in a ranking of the biggest storage operators in Europe. The expansion of its storage facilities puts Gazprom in a position to 'trade extra gas and so boost energy security in Europe', said Medvedev.
Gazprom's tool
In its European operations, Gazprom is cooperating closely with German chemicals giant BASF, through BASF's energy subsidiary Wintershall. Gazprom and Wintershall work together in their joint venture Wingas. In 2007 Gazprom boosted its stake in Wingas to 50%, while BASF in turn acquired a 35% stake in the Russian Yushnoye Russkoye gas field in Siberia. Wingas is currently the second largest reseller of Russian gas and has become one of Europe's biggest gas importers. The company commands a 20 percent share of the German gas market and 10 percent in Belgium and is determined to jack up its market share in countries such as the Netherlands, France, the Czech Republic and Britain.

Wingas can be seen as Gazprom's tool in breaking open the European market, although Wingas CEO Gerhard König denies that agreements exist with Gazprom on carving up the market. 'Nein', he responded curtly when this question was put to him in Salzburg. With a capacity of more than 6 bcm,
'The spot market doesn't play a dominant role in Europe'
Wingas ranks high in the top five of European gas storage players. In addition the Russian-German venture owns stakes in 2000 kilometres of existing pipeline through Europe and is involved in the construction of the NEL and the (just-completed) OPAL pipelines that will be used to transport Gazprom gas from Siberia via Nord Stream further into Europe. In total Wingas is investing €1.7 billion in new infrastructure projects over the coming four years.
For Gazprom, Germany and Austria are important gateways to the European energy market. At the same time, energy interests in those two countries seem to be driving parties inevitably into the arms of the Russians. OMV, Austria's biggest power company and a leading shareholder in the competing Nabucco project, is nonetheless teaming up with Gazprom to build the Austrian sector of South Stream – the pipeline with which the Russians are looking to thwart the Nabucco plans. Like Nabucco, the South Stream pipeline is planned to terminate at Austria's Baumgarten gas storage facility. Currently some 30 percent of Russian gas is already piped via Baumgarten further into Europe's hinterland.
Austria is very keen to expand Baumgarten further into a key physical trading hub for gas supplies to Central Europe. In order to ensure sufficient liquidity for the recently established Austrian gas exchange, which is connected to the physical hub, OMV is constrained to reduce dependency on Gazprom and guarantee supplies from other gas suppliers. However, the Russians wield a great deal of clout. For years there has been talk of Gazprom taking a stake in Baumgarten.
Sign of appreciation
Countries in Central Europe tend to be far less happy with Russia's increasing influence in Austria. In 2009 OMV unexpectedly sold its 21 percent stake in the major Hungarian energy company MOL to the Russian Surgutneftegaz company. (The Austrians did so after OMV's own attempted hostile takeover of MOL had failed.) Due to a lack of transparency Surgutneftegaz was forced to give up its stake in MOL in May of this year – a development hailed by some as a triumph for Europe and particularly for Hungary. But the ties with Russia are too strong to keep Gazprom at arm's length. The Russians have even started eyeing Austrian banks.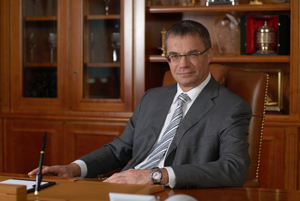 Alexander Medvedev: 'Gazprom deserves to be called a pioneer of competition' (photo: Shtokman)
Germany and Russia have of course been on very good terms for a long time when it comes to energy. Last year the Germans literally took a saw to the table at which BASF and Gazprom signed the agreement in the early Nineties to set up Wingas – not out of anger or frustration but, on the contrary, as a sign of appreciation for their close energy ties. From the hacked-up wood Berlin selected a piece of table top measuring 10 by 15 centimetres and had it beautifully framed as a memento. In his new role of promoter of the German-Russian gas lobby, former German chancellor Gerhard Schröder subsequently presented the souvenir to BASF CEO Jürgen Hamperecht and Russian Gazprom chief Alexei Miller. 'There's no getting round Russia, we can't ignore them', Schröder said. The recent decision by the German government to phase out nuclear power looks set to increase German dependency on Russian gas even further over the coming years. But Gazprom's German partners seem unconcerned about the implications of this. Wintershall has already made a commitment to South Stream.
Reason to celebrate
Given these developments it's becoming increasingly difficult for the EU to rein in Russian dominance of gas supplies. Hence, one may question whether Europe should unreservedly welcome the Russian-German offensive in underground gas storage. But according to Wingas chief König the EU has every reason to celebrate. 'Europe needs more imports in the future. In order to secure a constant import flow, we need more storage close to the customer. If clients want competitive offers, they need storage as well. Haidach is perfect—it's not just booked by Wingas or Gazprom. Other traders and energy companies can book capacity in Haidach as well.'

It's not Gazprom that's jeopardizing energy security but the EU itself, says König, due to regulations that make life difficult for investors. Haidach is a good example. Austrian authorities blocked a direct and exclusive connection between the storage facility and Wingas' German network, König points out.

'An internal market with a level playing field is still not a reality,' König says. 'I believe there are still fifteen countries where end user prices are set by the government or regulators. That was never the intention. And now authorities are looking to sever the link between ownership of gas and ownership of the pipeline. As a gas trader I'm being hampered in my ability to supply gas to the consumer.'
Higher returns
König's words echo those of Medvedev. At home Gazprom may be a politicized export monopoly controlled by the State, in the European arena the company views itself as the ultimate market player. 'We are a full-key market player in the UK, Germany, France, Belgium and Austria', says Medvedev.
'As a gas trader I'm being hampered in my ability to supply gas to the consumer'
'Gazprom deserves to be called a pioneer of competition. We back liberalisation of the European gas market if it's done well and gas producers suffer no adverse effects. But if the aim is to rein in our role and have us sell our gas at the border, then that's not economically viable. Following on from Nord Stream, Wingas has two pipelines, OPAL and NEL. The pipelines' capacity has all been contracted. We're now being pressured to give up some of that capacity and to open it up to others. But how do we meet our commitments in a situation like that? Hopefully the European Commission will come up with a solution that guarantees security (of supply) for our clients. This is risky.'
König warns that European regulation has now reached the point that investors in gas storage could start pulling out. 'Look at my two shareholders: Gazprom has several other projects in which it can invest with much higher returns,' he says. 'And as a globally operating company, BASF is constantly reassessing its allocation of resources. Regulations have reduced incentives for investment in more pipelines and storage to a level where they may stop or be delayed.'