Germany's coming civil energy war
Germany's Environment Minister Norbert Röttgen calls the new German energy strategy a 'civil revolution', but he could just as well have described it as the making of a future civil energy war. The extremely ambitious strategy is pitting the coddled renewable energy sector against the neglected gas sector. It requires the building of large new power grids, which are being sharply opposed by the public. And it is setting up Germany's four major utility companies, which demand an EU-wide renewable energy policy, against the German Environment Ministry, which wants to create renewable energy jobs – in Germany.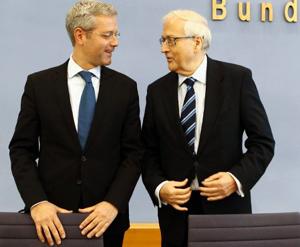 Ministers Norbert Röttgen (Environment) and Rainer Brüderle (Economy) (Photo: Frankfurter Rundschau)
The new German energy strategy is nothing short of a 'civil revolution', Germany's Environment Minister Norbert Röttgen said in mid-January at the Handelsblatt Energy Conference in Berlin, a three-day meeting of around 1,000 high-level officials from politics, science and industry in Germany. His colleague, Rainer Brüderle, Germany's Economy Minister, who was also there, called the strategy, quite correctly, 'unique in the world'.
Over the past months, the highly ambitious strategy, which was unveiled in September, has sparked a heated debate over its pros and cons. Initially, most of the debate was focused on the controversial decision by the Merkel government to extend the running times of Germany's 17 nuclear reactors by an average of 12 years – a major issue in anti-nuclear Germany. Lately, the nuclear question has subsided somewhat and other elements of the strategy have come to the fore. Analysts and stakeholders have taken stock of what is in store for them – and taken up positions.
Euphoria
To begin with, the renewable energy sector is largely happy, and has every reason to be. The strategy contains plans to boost the share of renewables to no less than 80% of the power consumption by 2050 (up from around 16% now), and promises major funding for offshore wind farms.
The solar energy industry, Germany's green problem child, has been careful not too applaud too loudly. Germany's system of uncapped feed-in-tariffs for renewables has led to an unprecedented boom of green power installations – mainly solar panels. But the cost of this boom is now beginning to come home to ordinary Germans, who fund the feed-in-tariffs via their electricity bills. After at least 7 GW of solar power capacity was added to the German grid in 2010, the so-called eco-tax jumped from 1.5 cents to 3.5 cents per kilowatt-hour at the start of this year. As subsidies are guaranteed for 20 years, Germany faces billions of euros in costs for decades to come. This year alone, German consumers subsidize renewables with €13 billion, most of it for solar panels, Brüderle said at the conference.
Well aware that ballooning costs could dampen the euphoria for the green energy transformation, the German solar power industry earlier this month approached the government to talk about voluntary
'Germany is pretty much alone in Europe with this strategy to exclude gas and it actually counteracts the European Union's targets of creating a European-wide gas market'
subsidy cuts. Citing the cost explosion because of the ongoing boom in solar panel installations, Röttgen on January 20 announced the final deal – a reduction of the solar feed-in-tariff by up to 15% to take effect on July 1, 2011, six months earlier than planned.
The fossil-fuel based industry has long attacked the government for what it sees as too vigorous support of renewables. The massive funding schemes not only distort markets but also render the de-carbonisation of the energy mix unnecessarily expensive, Johannes Teyssen, CEO of Eon, Germany's largest utility, said at the Handelsblatt conference. His colleague Tuoma Hatakka, CEO of Vattenfall Europe, warned that a renewable energy-based mix would be more volatile than the current one.
Alone
The gas industry is especially unhappy. 2010 has been a difficult year for the European gas industry. The aftereffects of the economic crisis, new shale gas finds in the United States and more LNG from the Middle East have reduced prices, with the European market currently oversupplied. So what does the German energy strategy have to say about the position of gas in the energy mix of the future? In one word – nothing. The strategy aims to boost renewables, lends a lifeline to nuclear power and even supports coal by supporting carbon capture and storage (CCS). It doesn't even mention gas.
That the German energy strategy 'lacks a perspective for gas is very disappointing', Jens Schuhmann, head of Gasunie Germany, said at the conference. 'Germany is pretty much alone in Europe with this strategy (to exclude gas), and it actually counteracts the European Union's targets of creating a European-wide gas market', he said.
Torsten Indebro, head of the International Gas Union (IGU), an industry association of up- and
'A clear yes or no is better than years
of insecurity'
downstream companies, said gas could play a key role in a low-carbon energy mix as it's the cleanest fossil fuel and perfectly suited to balance out the fluctuating renewables. That Berlin hasn't realised the potential of gas as a clean and cheap alternative to coal and oil 'is a problem we need to address and solve', Indebro said.
Yes or no
Meanwhile, the German government has its own problem to solve. Whether its renewable energy targets can be realised depends largely on whether Germany succeeds in modernising the country's aging power grid.
Renewables aren't just intermittent energy sources, they are also often producing power far away from big consumption centers (think of offshore wind farms). At the same time, many smaller, decentralised biomass or photovoltaic plants need to be integrated efficiently into the grid.
To do this, Germany needs up to 3,600 kilometres of new high-voltage power lines, the German energy agency Dena said in a major study released late last year. This would not only require billions of euros in investments, but also lots of planning stamina. Many grid modernisation projects have been undermined by opposition from the affected local communities, and have been delayed by years or even decades. Only 80 kilometres of new power lines were built in 2010. 'We hardly have time left to realise all the necessary modernisations', Hattaka, of Vattenfall Europe, said at the conference.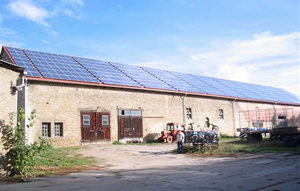 Solar roofs in Dardesheim (Photo: MetaEfficient)
Knowing about those difficulties, Berlin has identified grid modernisation as the key issue to tackle during the coming years. Brüderle said he regretted the lengthy planning times for grid modernisation and vowed to introduce incentives and policies to speed thing up. Brüderle said the German government by the end of this year aims to
institutionalise a platform that keeps up a dialogue with state and power grid officials to reduce potential friction during the planning process of grid installations
create incentives to facilitate the construction of new energy storage facilities
launch an information campaign to communicate to ordinary Germans that modernising the grid is vital to green the power mix
strike an agreement with the relevant network operators over a binding ten-year plan to modernise the network
If decisions over large infrastructure aren't taken by the local and regional authorities within four years, then 'I'm in favour of letting the people decide,' in the form of referenda, he said. 'A clear yes or no is better than years of insecurity.'
Conflicting policies
Germany's four main utilities – Eon, RWE, EnBW and Vattenfall Europe – have by and large reacted low-key to the new energy strategy. The companies apparently do not yet see it as a threat to their business model – or at least they don't say so openly. They are above all happy that they managed to keep nuclear in the mix until at least the mid-2030s, a major negotiation success.
Still, this does not mean that the energy companies are without serious concerns. Teyssen, of Eon, lauded the German energy strategy in general as a basis for dialogue, but added he didn't believe that the government's clean energy targets are realistic.
What German policymakers and opinion-leaders do not sufficiently appreciate, is that the big German
'Europe should completely abolish, by the end of this decade, its different national energy policies'
energy companies do not think primarily in national strategies. They think bigger – in terms of international and European markets. Teyssen made the important point that the sometimes conflicting national policies are hurting the European energy industry's competitiveness, preventing technology advancements and slowing a necessary modernisation of the continent's energy grid.
'Europe should completely abolish, by the end of this decade, its different national energy policies', Teyssen said at the conference. 'I don't see any other way to reach our ambitious targets in Europe without overburdening its economies.'
A truly European energy strategy and an integrated market, he added, would create much-needed investment security and could even be 'the basis for a succesful Europe'. Teyssen said he expected EU leaders to re-evaluate the EU's current energy strategy and to push for more European integration at the February 4 energy summit in Brussels.
Chilly Germany
The energy companies have good reasons to promote European integration. A continent-wide framework for renewable energy subsidies would put them at an advantage over the many smaller renewable energy companies that don't have the resources to operate at a European scale. The likes of Eon and RWE have the capital and the know-how to operate internationally. That's why they are in favour of 'Europeanising' the funding of renewables, as proposed by EU Energy Commissioner Günther Öttinger.
Because of the solar power cost explosion, politicians are now more likely to support a move towards a European-wide clean energy funding scheme. Brüderle is supportive of such a move, and so is Chancellor Angela Merkel, her spokesman suggested earlier this month. For the utilities, it would mean they have continent-wide investment security and the chance to roll out large projects their smaller rivals are incapable of handling.
The German renewable industry opposes this development. They are aware that a European-wide renewable energy support scheme would move solar power installations away from chilly Germany and into southern Europe. They are backed by Environment Minister Röttgen, one of the key authors of the
'A European-wide clean energy funding scheme would undermine and derail everything the German Environmnet Ministry has planned for until 2050'
energy strategy, and a fervent supporter of the German renewable energy industry. A European-wide clean energy funding scheme, he said, would undermine and derail everything his Ministry has planned for until 2050. The German energy strategy, he told German radio WDR earlier this month, is aimed at greening Germany's energy mix and at the same time facilitate the creation of new technologies, markets and jobs – in Germany. 'If it were to happen that German money will develop markets in southern Italy and Spain and we end up importing our energy, then the whole transformation wouldn't make sense and it would lose its backing in Germany,' he said.
The super-targets set by the German energy strategy
In its new energy strategy, the German government has stipulated targets and measures to
boost the share of renewables to 80% of the electricity consumption, and 60% of the primary energy consumption by 2050
reduce CO2 emissions by 40% by 2030 and 80% by 2050
halve Germany's primary energy consumption by 2050
double the yearly rate of building upgrades to increase energy efficiency in the built environment from 1% to 2% per year
reduce energy consumption in the transport sector by 40% until 2050
use all the additional income – an estimated €2 billion per year – from the emissions trading scheme, which comes into full force in 2013, for measures to boost climate protection, energy efficiency and renewable energy research
launch a monitoring scheme that is to check every three years whether the strategy is on track