"A Japan without nuclear industry is almost impossible"
Japan's "Nuclear Village": too big to fail?
This year will be decisive for the future of nuclear energy in Japan. Japan had built its industrial, economic and political future on nuclear power. Up until the Fukushima disaster in March 2011 nuclear reactors provided close on 30 percent of national electricity supply. Moreover, Japan had far-reaching plans to significantly boost its nuclear capacity, both domestically and in the form of exports. Now there's a chance that due to maintenance and inspections there won't be a single plant in operation in a few months' time. For a significant minority of the population that's fine - they'd like to see an end to nuclear power for good. But it would be premature to write off Japan's nuclear industry. The political and economic stakes are too high for the nuclear power lobby to give up without a fight. Rudolf ten Hoedt reports from Tokyo.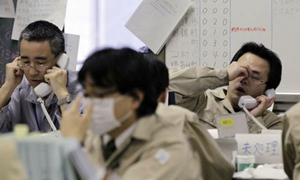 Overtime at disaster response headquarters in Fukushima after the nuclear meltdown (source: Yuriko Nakao/Reuters)
Japan's 66 years of nuclear history are punctuated by iconic moments of disaster. Gathered in the press room of Tokyo's stylish Foreign Correspondents' Club of Japan, survivors of the nuclear age recently told their stories. A former army doctor, now aged 92, described how on the 6th of August 1945 he was called away for an emergency operation just before Little Boy hit and so narrowly escaped the fire storm that engulfed Hiroshima. A 77-year-old former crew member of the fishing vessel Lucky Dragon recalled how in 1954 he'd inadvertently witnessed one of America's many post-war atomic tests in the Pacific. An ex-worker of a nuclear power plant who was exposed to radiation in the previous century said he was still fighting for compensation. And an emotional woman of 40 from Fukushima recounted how she has lost all faith in the government after the meltdown of three reactors in March 2011. She has become the public face of Japanese parents from the stricken area who are concerned about their children's future health.
The stories of these
hibakusya
or radiation victims all come down to a single intriguing question: How can Japan, a country which like no other has experienced the devastating potential of nuclear fission first-hand and which is so vulnerable to earthquakes and tsunami's, have dotted its coastline with nuclear plants and built up a world-scale nuclear industry?
The fact is that Japan has been in the grip of a hugely powerful nuclear lobby - known as the
nuclear village
- for several decades. In what critics vilify as a 'uniquely closed system', government bureaucrats, academics, an occasional media tycoon and a monopolistic cartel of electricity companies, reactor manufacturers and suppliers have for years engaged in mutual patronage. The nuclear village is a black box, not only for the public, but also largely for politicians and supervisory authorities. Only a handful of politicians developed nuclear expertise. They were called
kazoku
, family. Together the partners in the nuclear village convinced government to invest billions in nuclear energy after the Second World War.
Japan hasn't a drop of oil and no natural gas. To compensate for the lack of natural resources, the country erected a proud nuclear bastion on the basis of U.S. and British licences. At its height it numbered 54 nuclear plants producing 300 TWh – more than 10 percent of world nuclear power production. "We are a unique industry, supported by government" says Takuya Hattori. He's president of the Japan Atomic Industrial Foundation, the manufacturers' lobby."Our industry is driven by utility companies. They request, we build, they operate."
Nuclear renaissance
Cheap nuclear energy was a key contributor to the Japanese economic miracle. The country's high standard of living is built on nuclear foundations. Japan's electricity provision ranks as one of the most reliable in the world. This allowed the nuclear lobby to shrug off its critics for thirty years. Small-scale nuclear accidents were smoothed over. Nuclear village convinced Japan of its rock-solid record. "The reputation of the nuclear industry in Japan was built on safety and reliability," says Arthur Mitchell of White&Case, one of the first western legal firms to establish a base in Japan.

Bolstered by the solid reputation of its nuclear industry Japan went a step further in 2006. Threatened by the prospects of economic stagnation at home and the meteoric rise of other Asian economies, Japan
"We have to admit that it was a mistake to combine the promotion and regulation of
nuclear energy in one hand"
made haste with a strategy for further expansion of its nuclear industry. That way the country could kill three birds with one stone. It would have to import less gas and oil. It would boost export opportunities for the Japanese nuclear industry in the surrounding countries. And last but not least, it would bolster Japan's political influence in the region.
The plan comprised the construction of 14 new nuclear reactors at home, set to drastically increase the share of nuclear power in Japan's energy mix to 50% by 2030. These construction projects also represented a major shot in the arm for reactor manufacturers such as Toshiba, Hitachi and Mitsubishi, which badly needed economies of scale in order to stay competitive on the international market.
The 15 metre tsunami of 9 March 2011 that wreaked havoc on Japan wiped out these ambitions. In the days that followed the monster wave, the world watched breathlessly at what later transpired to be the meltdown of three of Fukushima's nuclear reactors. The 40-year-old power plants were defenceless in the face of a tidal wave of such size. Since then there have been increasing indications that the power plants' operator Tepco repeatedly ignored safety warnings and misled government regulators.
Errand boy
The disaster has had far-reaching political and economic consequences. The exploded reactor vats and melted uranium rods have brought Japan's nuclear lobby into severe disrepute. Nuclear Village was not only brought down by the tsunami, but also by its own culture of arrogance, carelessness and failing supervision built up over the last 55 years. "We have been overconfident", admits Masakazu Toyoda, chairman and ceo of The Institute of Energy Economics of Japan (IEEJ), a think-tank closely associated with the Nuclear Village. "We have to admit that it was a mistake to combine the promotion and regulation of nuclear energy in one hand. (The nuclear plant operators) did not prepare for the unpredictable because they didn't think it economically viable. Their attitude has to change."

Politicians, who for years have effectively acted as errand boys for the mighty nuclear lobby , are up in arms. They have little choice: according to a recent poll conducted by Japan's Nikkei business newspaper, 57 percent of the Japanese population now opposes nuclear energy. The new government under Yoshihiko Noda is under pressure and is prepared to reduce the number of nuclear plants. Noda has expanded the investigations into nuclear safety and the storage of spent fuel rods and is subjecting the entire infrastructure to stress tests.

In mid-January just five nuclear plants in Japan were in operation. If no power plants are restarted, the entire nuclear park will have shut down by May. Anti-nuclear protestors disrupted discussions on the
"Japan won't abandon nuclear power,
but I don't think they will ever build any
new additional plants"
results of the first stress tests last January and it remains uncertain if and when various plants will be taken back into operation. The International Atomic Energy Agency (IAEA) in Vienna has been monitoring and approving test pocedures. But permission is also required from local authorities in Japan. Conventional strategies of deploying subsidies to buy the support of the local population in areas surrounding nuclear plants are no longer 100 percent effective. For the first time various local authorities have requested government to block the start-up of nearby nuclear plants due to public pressure.
"Japan won't abandon nuclear power, but I don't think they will ever build any new additional plants," opines lawyer Arthur Mitchell, a specialist in local energy market regulation. "Japan has had its fingers badly burned. But dismantling the plants will cost an enormous amount of money; around a billion euro's or more per plant. That's why some power plants will be restarted, although not all. They may be technologically ready, but politically it could prove impossible."
Solar energy
Observers say that Tepco's influence and that of the rest of the nuclear industry is on the wane. Bureaucrats holding key positions in the Nuclear Village have been sacked. The regulation of the nuclear industry will be transferred from METI (the Ministry of Economics, Trade and Industry) to the ministry of the Environment. In this way Tokyo hopes to have closed a key loophole. In addition Japan's METI minister Yukio Edan has pledged his willingness to break the monopoly of the electricity companies on power generation, transport and distribution. This would reduce the might of the utilities and make it easier for renewables and other forms of energy to enter the market.

Not only public pressure is operative, there's also pressure coming from the business sector. The Japanese billionaire Masayoshi Son has pledged to invest heavily in boosting solar energy and has called for unbundling of generation and distribution in the electricity market. Son, who has made a lucrative career out of challenging the Japanese establishment in recent years, previously played a key role in breaking the state monopoly in Japanese telecoms.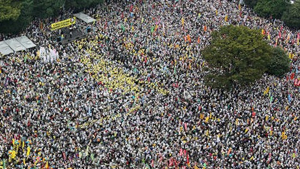 Tokyo, September 2011: 60,000 Japanese demonstrated against nuclear energy (source: NDJ World)
But the nuclear establishment cannot be counted out yet. It has launched a counter-offensive to preserve its market position. After the initial shock the nuclear lobby is frantically working to repair the cracks in its facade and to regain control over its future. The stakes are high. According to the Japan Center for Economic Research, a sudden switch-off of nuclear energy will result in a sharp decline in gross domestic product up to 2020. "Exports will decline, fossil fuel imports will rise and consumption will erode, causing real GDP to fall," it says. What's more, nuclear power's increasing replacement by thermal power generation would lead to an increase in CO2 emissions. And in the short term the country is already set for a considerable energy squeeze. The Institute of Energy Economics calculates that without nuclear power Japan is looking at an energy shortage of 7 percent this summer.
"We need nuclear power plants" says chairman Masakazu Toyoda of the IEEJ thinktank, "and they should be restarted as soon as safety is secured. That is key. With a new regulatory system we are heading in the right direction. Japanese technology can deliver safe nuclear energy. Next to a strong rise in renewables and a lot of conservation, we recommend a 25% share of nuclear in Japan's future energy mix. That's half of what we originally targeted for 2030." And according toTakuya Hattori of the Japan Atomic Industrial Forum, "Japan without nuclear energy is almost impossible.We're hoping that by the time summer comes 40 plants will be back in action, but that will be very difficult."
Delay and hesitation
Alongside the economic necessity of nuclear power there's a second and possibly decisive factor working to the nuclear lobby's advantage. There is a strong body of thought within Japan's political and industrial elite that holds fast to earlier predictions and – despite Fukushima – believes that nuclear power is set to take off in the rest of Asia. Chairman Hattori of the Japan Atomic Industrial Forum believes the original estimates of up to 350 new nuclear plants in the period to 2030 are too high. He's readjusted the outlook to 100 to 150 new installations. Expectations are that some 80 percent of these will be built in Asia. This view is shared by the Institute for Energy Economics Japan, which also sees nuclear energy taking off in the region. The thinktank has set up a whole new department to look at future developments in Asia. "After what happened in Fukushima there may be one or two years' delay and hesitation," opines Toyoda. "But it's just a matter of time before Asian countries realise they need nuclear energy and this nuclear renaissance takes place."

The Japanese have not relinquished their hopes of obtaining a significant share in this market. Japanese plans for nuclear plant exports are still on the rails. Only last September prime minister Noda
There is a strong body of thought within Japan's political and industrial elite that holds fast to earlier predictions and believes nuclear power is set to take off in the rest of Asia
was able to sign an agreement with Vietnam for the supply of nuclear reactors. A big Japanese insurance company is already putting in place an insurance facility to cover possible damage as the result of a future nuclear accident. An international consortium with Mitsubishi Heavy has signed a contract for the construction of a reactor in Jordania. Malaysia, Indonesia and Thailand also feature on Japan's list of potential buyers, along with Lithuania, Poland and Turkey.
But not China. The Chinese are looking to implement nuclear technology, but they don't want the complete reactors the Japanese are proposing to deliver. For the Japanese manufacturers that's a no go. Instead they're looking to India, which they regard as their most important potential market, together with the United States. The Japanese government, anxious to prevent a further decline in Japan's industrial export base, is smoothing the way for nuclear export with credit facilities. Hattori explains: "We don't have any raw materials. Our population is ageing. We have to have something that makes us competitive. Technology is our most important pillar. That's why nuclear export is our strategy for the future."
Geo-political significance
Geopolitically, nuclear energy is an arena in which several issues with international implications come together. Firstly there's Japan's determination not to become overly dependent on oil and gas from the Middle East, which not only requires transportation through the Strait of Hormuz but must also travel via Indian and Pacific coasts where China controls an increasing number of ports. Secondly nuclear exports help consolidate Japan's industrial power. Japan is experiencing heavy competition from South Korea and frequently loses out. Not long ago, for example, the South Koreans managed to secure a contract to supply a nuclear power plant to the United Arab Emirates, stealing it away from under the nose of their Japanese rivals.

In short, Japan thinks its nuclear capability will help it maintain an important position in a region where the balance of power is being reshaped. As such the nuclear disaster in Fukushima represents not only
"We don't have any raw materials. Our population is ageing. We have to have something that makes us competitive."
a dramatic blunder but also a major political setback. Fukushima has confronted the Japanese government with a terrible dilemma. "With a view to safety and stability in South East Asia it's important that Japan maintains its own nuclear industry," says Takuya Hattori. But a national nuclear industry is unlikely in the absence of a domestic market. "If we were to give up our own energy plants, the nuclear industry would lose its export ability," believes Masakuzu Toyoda.
The question now is whether the Japanese government wants to press ahead with a public message emphasizing the necessity of nuclear energy when around half its population is in anti-nuclear mode. The good news is that only reforms and complete transparency in the energy sector will serve to restore confidence. And to achieve that the electricity companies' power base will need to be dismantled and the windows in Nuclear Village opened to public scrutiny. But in Masakazu's view, Nuclear Village is not inclined towards liberalisation. "If the break-up of our monopolistic electricity sector guarantees a stable energy supply and makes energy cheaper and plants safer, then it's inevitable", he says. "But the question is if unbundling right now meets this purpose. Market liberalisation is a tool, not an end. Improving the regulatory system and overhauling safety standards tops our agenda."
Analysts expect a rocky road. "There are conflicts in various areas," says legal expert Mitchell, "but in Japan they won't be fought out in public."