Japanese utilities may snub Putin's plan to feed Asia with LNG
DISPATCH FROM TOKYO: "LNG from Vladivostok is no go -STOP- utilities not buying -STOP- Gazprom needs to change strategy." Friday February 22nd, this news dispatch from news agency Nikkei exploded in energy circles in Japan's capital Tokyo. Nikkei had just suggested that Russian gas export monopoly Gazprom had taken the final decision to build a liquefied natural gas plant (LNG) in Vladivostok on the Pacific coast of Russia's Far East. That morning telephone lines from Tokyo to Moscow were red hot. The LNG plant in Vladivostok is scheduled to start operations in 2018, Nikkei reported, and is meant for export to customers in Asia, including Japan.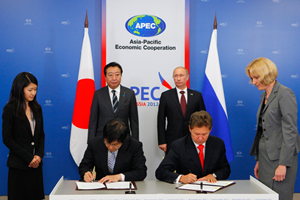 Gazprom and Japan's Agency for Natural Resources and Energy sign Memorandum on Vladivostok-LNG project, September 2012 (c) Gazprom
But the dispatch soon turned out to be full of hot air. Gazprom approved the Investment Rationale for the project, which is still a far cry from a Final Investment Decision. However, the uproar in Tokyo was a perfect illustration of the importance and sensitivity of the subject. Russian eastbound gas exports are a corner stone of its energy strategy and should decrease Gazprom's dependence on Europe. Japan is the biggest LNG importer worldwide and a potential key customer of a considerable amount of Russian gas. But the Japanese appetite for LNG from Vladivostok has decreased. Gazprom has been negotiating with the government and a consortium of Japanese companies for some years now about the plant, but the underlying worries that the Russians won't be able to deliver at competitive prices haven't been assuaged. Gazprom has no agreement with any customer so far, sources in Tokyo tell
European Energy Review
. They do not expect Japanese buyers to flock to Vladivostok either, unless the Russians lower their LNG price to a loss making level.
Their
dispatch comes down to this: "Japanese utilities not buying -STOP- LNG from Vladivostok is no go -STOP-Gazprom needs to change strategy."
Choke points
Russia is increasingly turning to the East. The East Siberian Pacific Ocean (ESPO) oil pipe line, overcoming extreme low temperatures and a hostile geography, became fully operational after its second leg reached the port of Kozmino on Russia's Pacific coast near Vladivostok late December last year. The first leg had already made it to Daqing in north-eastern China in 2010. Oil comes from Western Siberia while Russia's arctic may feed into the pipe line later. ESPO will extend the access for Russian oil to the Pacific Basin, decrease Russia's reliance on depressed European oil markets and add to the economic development of Russia's long neglected Far East. Asian buyers will depend less on the crisis-prone Middle East and enjoy the advantage of supplies circumventing the choke points of the Hormuz and Malacca Straits. Simultaneously, EPSO may leave Russia's European clients with less oil and higher crude prices.
Russia would like to repeat this strategic oil exploit with a gas pipeline to Vladivostok. Last fall president Putin ordered Gazprom to accelerate plans for the development of the Chayanda gas field in East Siberia, build a 3200 kilometre pipe line for the evacuation of the gas all the way to Vladivostok and construct a LNG plant on Russia's Pacific coast in order to ship super cooled gas to Asia's growing and energy hungry markets. The aim is threefold again. First, decreasing Gazprom's dependence on Europe and counterbalancing price erosion and the growing pressure to undo oil-indexed pricing. Second, getting (late) access to Asia's attractive gas markets and securing a piece of the pie before green gas projects from Australia, Canada, East Africa and future LNG supplies from the US take it all. Last but not least, strengthening Russia's turn to Asia by giving another push to the development of East Siberia.
Last year's decision by president Putin was seen by many analysts as proof that the lengthy negotiations with China for the delivery of natural gas by pipe line were going nowhere. But it looks like there is still life in the tussle between Gazprom and China about prices. On February 25th Russia's deputy prime minister Arkady Dvorkovich was reported to have said that Beijing and Moscow will finalize an agreement in March for the delivery of 38 bcm (billion cubic metres) of Russian gas annually through an east pipe line, starting in 2015. That won't prevent the Vladivostok exit for East Siberian gas to remain the centre piece for Russia's hope of more export to Asia, already home to the world's fastest- growing gas market and expected to become the second largest by 2015. Japan, facing Vladivostok right across the Japanese Sea, is a natural and key buyer of Vladivostok LNG.
Russia, along with Shell and Japanese trading houses Mitsui and Mitsubishi, is already shipping 10 mt/a of LNG out of East Siberia's Sakhalin II into Asia and last year covered 9% of Japan's immense and growing LNG consumption.
The uproar in Tokyo was a perfect illustration of the importance and sensitivity of the subject
But it is Russia's one and only LNG train in the Far East. Japan is the world's biggest LNG importer. Its position as market leader strengthened when it put nuclear plants on hold after the nuclear debacle in March 2011 and compensated this with power generated by gas fired plants. In 2012, the island nation scored a historic import record of 88 million tons of LNG, paying $17/MMBTU on average, considerably more than its regional competitors China and S-Korea, far above European level and five times the Henry Hub spot market price for gas in the US.
Negotiations between Japan's powerful ministry of economic affairs METI and Gazprom about future LNG deliveries from Vladivostok are a no-brainer. Japan needs a lot of gas and is paying attractive prices. In 2010, the initial plan spoke of a 5 million mt/year Vladivostok LNG project that was to start up around 2017. But the stakes grew. In January 2011, Gazprom and a Japanese consortium led by trading house Itochu and oil company JAPEX signed an agreement to study the feasibility of a 10 million mt/year LNG project, as well as CNG and gas chemicals projects at Vladivostok. In September 2012 Japan's then Prime Minister Yoshihiko Noda and Russian President Vladimir Putin confirmed the plan and signed an agreement at the Asia-Pacific Economic Cooperation Summit in Vladivostok in order to make a decision later that year. Most of the LNG produced at the future plant was expected to be exported to Japan, according to Japan's trade ministry. In November 2012, news agency Reuters cited Victor Timoshilov, the head of Gazprom's Oriental Projects Coordination Directorate, saying Gazprom would take the Final Investment Decision (FID) in the beginning of 2013.
But nothing had been heard of the promise since, until February 22nd notice that Gazprom "would like to execute an official agreement" with Japanese partners to build the LNG plant.
However, Gazprom may be in for a surprise. Sources in Tokyo have told European Energy Review that Japanese utilities have declared the plan to be economically dead. Some sources declined to talk on record because officially, METI is still pursuing an LNG deal with Russia and these sources cannot afford to hamper the ministry. But they claim that when push comes to shove, the power industry will not follow METI into this deal. "I would be very surprised if Gazprom would make a Final Investment Decision", one of the most senior Japanese experts on Russian gas issues said. That does not mean Gazprom won't take the decision after all. It still might decide to build an LNG train in Vladivostok for political reasons. President Putin has committed himself to a large extent to a Vladivostok hub. But the project would start on weak business grounds. It is highly unlikely that Japanese buyers will show up in Vladivostok. "Originally Gazprom thought to sell oil-indexed LNG to Japan" says one of our sources. "But that is now impossible. Japan is not going to buy. But we are not sure that Gazprom understands." The biggest power companies like financially drained TEPCO and LNG addict Chubu Electric, consider the price too high. The following are their calculations.
Developing Chayanda and bringing gas to Vladivostok through a 3200 kilometre pipe line will cost $11/MMBTU. Transforming the gas into LNG will cost $4/MMBTU. Transport will add another buck. So Vladivostok LNG would arrive in Tokyo Bay or Osaka Bay at $16 or $17 per MMBTU. That is around the price the utilities on average were paying in 2012. But these prices are not sustainable anymore.
As a result of skyrocketing costs of emergency imports of LNG, Japan is mirrored by a trade deficit
They were acceptable before March 2011 when government allowed utilities to pass on rising operational costs to consumers. Not exactly an encouragement, to say the least, to keep labour costs in check and seek for the lowest import prices of LNG. However, after the Fukushima disaster, when a tsunami revealed shocking mismanagement of Japan's nuclear power plants, government blocked utilities to pass the bill of expensive fossil imports to the customers, forcing them to review their business model. Methods to tackle this issue include reducing costs by skipping middlemen in the form of Shell and Japanese trading houses, seeking cheaper LNG deals and participating directly in green and existing gas fields.
One Japanese source that was willing to talk on record is Nobuo Tanaka, the former excutive director of the International Energy Agency (IEA) who was succeeded by former Dutch minister Maria van der Hoeven in September 2011. Tanaka is now a relatively independent opinion maker and advisor of the influential Institute of Energy Economics Japan. "METI has long been supporting LNG from Vladivostok, playing the cards of the utilities" Tanaka said in an exclusive interview in his discrete office on the banks of the Sumida river in Tokyo. "Utilities could buy at whatever price, putting everything under costs and charge back to the consumers. That is no longer the case. Japanese utilities are no longer benevolent and friendly to suppliers. They cannot merely accept what trading houses offer. Japanese government is really pushing very hard on the issue of gas prices."
Swallowing Gazprom LNG at $16/MBTU or more does not fit into the post-Fukushima picture. Not in the picture of the utilities, nor in the macro-economic picture of Japan. As a result of skyrocketing costs of emergency imports of LNG, Japan is mirrored by a trade deficit which rose to a record Y1.6tn or €15 billion in January. Abenomics, Japan's Prime Minister Shinzo Abe's policy of inflating the yen by monetary easing and fiscal spending, will drive LNG import cost even higher, offsetting the benefits of a cheaper yen for Japanese export. It would therefore be no surprise if the bureaucrats at METI's Agency of Natural Resources who are in charge of the Vladivostok LNG project negotiations, would come to their senses and change course, if they haven't done so yet.
But even if LNG deliveries from Vladivostok are a no go for the Japanese, they remain highly interested in Russian gas. "Although Japan is well diversified, I think we will need East Siberian gas somehow" says Nobuo Tanaka. "With almost all of our nuclear plants on hold, we need gas from anywhere, and Russia is the largest exporter of the world. Australia is good but expensive because of high infrastructure and labour costs. East Africa is fine but it will take time to build up enough infrastructure. The Middle East yes, but too much dependency brings geo-political risks. Japan already gets 20% of its gas imports through the Strait of Hormuz. That is why I am promoting the idea of connecting Japan to Russia by pipe line, either from Vladivostok or from Sakhalin or from both."
Indeed, what Japan's gas community is waiting for is Gazprom to change its strategy from LNG to a natural gas link by pipe line. Gazprom wants to avoid it. According to AP, Gazprom president Alexei Miller in July 2012 rejected the option of a pipe line. But times have changed. "If the Russians skip LNG and go for a pipe line,
A quick break through is necessary. Japanese utilities are seriously considering the possibility to emigrate from gas fired power plants to coal on a big scale
Gazprom would be very competitive with a price around $12/MBTU" according to one of our sources. "In case they do so, some of the Japanese utilities who still have financial clout, trading houses and gas companies would even be interested to participate in the development of Chayanda and the construction of a pipe line to the Pacific coast." On the Japanese side the port of Niigata on the Japanese Sea would stand a good chance. The distance between Vladivostok and Niigata is approximately 800 kilometers. A large-diameter trunk line would cost Y300 billion or € 2,5 billion, less than half the amount needed for an LNG plant. Niigata is attractive because it has depleted gas fields where natural gas from Russia can be stored and can serve as a gas cushion for Japan.
More gas pipe line options are being tested. Tokyo Gas, a rising competitor of the established utilities and already one of the biggest gas importers of Japan after power company TEPCO, is eying a 1,400-km sea pipe line from Russia's Sakhalin. The proposed pipe line would run along the Pacific coast of Japan's mainland and be brought on shore near Kashima port, north of Tokyo. Tokyo Gas has finished a preliminary feasibility study together with Nippon Steel and is now probably waiting to see what happens next with Vladivostok. The pipe line should be fed with gas from Sakhalin I. Operator Exxon Mobile is sitting on its hands, willing to develop gas fields but leaving the evacuation to Japanese parties.
The Russians are thinking of an alternative for Vladivostok as well. According to Nobuo Tanaka, they have been testing the water for the export of electricity by sea cable for the last six months. Three days after this interview on February 20nd news broke that Softbank Corp (led by Japanese telecom tycoon Masayoshi Son who has convinced himself he has to crack the power establishment of Japan) and trading house Mitsui plan to import electricity from Russia in cooperation with Inter Rao, the Russian monopoly for power import and export. Partially state owned Rao is already exporting electricity to 11 foreign countries. The companies would have agreed to launch a feasibility study on a project to build a power cable linking the countries via nearby Sakhalin, with an eye toward starting Japan's first-ever electricity imports in 2016. Although there are issues to be settled before this plan can materialise, things seem to be moving now in a faster pace.
A quick break through is necessary. Japanese utilities are seriously considering the possibility to emigrate from gas fired power plants to coal on a big scale. The Americans may save the situation by allowing LNG export to Japan later this year. The U.S. Energy Department has so far received 16 applications. Japanese trading houses and utilities are involved in three of them with a planned annual export volume of 15 mt/a, 17 percent of Japan's current imports of LNG. The Japanese are "99% sure" of getting the green light for at least one or two US export projects and expect a minimal of 10 mt/a to float to Japan and arrive in Tokyo and Osaka at approximately $12/MMBTU. These US imports would give Tokyo two trump cards in its efforts to bring prices down and gradually wipe out the Asia premium on the gas price they are paying. US LNG exports may be a deadly blow to the Vladivostok LNG project in the first place and open up cheaper access to East Siberia gas through pipe lines. As a consequence, that will also have an impact on the price formula of many of Japan's (and other Asian countries) long-term contracts with projects in Australia and elsewhere that will be renegotiated within 3 to 4 years. That may leave Europe to think whether this is good or bad news.