Nabucco cancellation has sunk
EU's energy security plan
By blowing off the Nabucco gas pipeline project as Europe's fourth energy road, the BP-led Shah Deniz consortium sank a flagship of the EU's energy security plan. This decision has left Southeastern European countries more vulnerable to Russia's energy monopoly than ever. It has jeopardized the EU's action plans for energy security, while reinforcing the growing power of energy companies in the European energy market.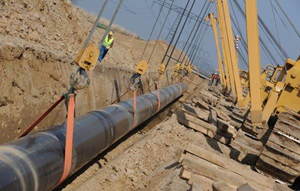 (c) APA
After a decade of negotiations, the consortium's selection criteria were two-fold: economic and political. The final decision's influence over European energy security also proved to be both economic and political. "Commercially, we should make sure that we have the right gas prices and the right transportation. Politically, we are looking for strong governmental support," said Al Cook, the vice president for the Shah Deniz Development at BP, in Istanbul at a meeting in November 2012.
Strengthening supply roads to Southern Europe
The announced decision laid out that the fourth energy road would consist of three partite gas pipelines delivering Azeri gas to southern Europe. The first leg is the existing South Caucasus Pipeline (SCP), running across Azerbaijan and Georgia. In Turkey, Shah Deniz gas will then be transported through the Azeri-Turkish joint Trans-Anatolian Pipeline (TANAP). In Europe, the Trans-Adriatic Pipeline (TAP) will deliver Azeri gas through Greece and Albania to Italy.
The SCP/TANAP/TAP joint pipeline would supply gas to Italy--the third largest gas consumer in OECD Europe after the United Kingdom and Germany. Italy is, however, not on the EU's list of energy security vulnerable countries—i.e., those having a need to multiply supply sources. Italy has a well-equilibrated gas supply map. Its main supplier Algeria's share is only 36.6% of Italy's domestic gas consumption. Russia (19.6%), Libya (12.5%), and the Netherlands (4.2%) also supply gas to Italy. In addition to this well-structured supply system, Italy has a reliable storage capacity of 14,417 mcm, the second largest for the EU trailing only Germany.
By welcoming TAP, the European Commission (EC) renounced the principle of solidarity among member states. After all, the EC supports an already well-established Italian system instead of working to help the vulnerable countries in Southeastern Europe such as Bulgaria, Romania, Croatia, Austria.
Lessons drawn from 2006 and 2009 gas crises
Some Southeastern European countries met with a high disruption in gas supply during the 2006 and 2009 crises - Bulgaria met 100% supply disruption, as did Serbia and Bosnia-Herzegovina, while Greece saw 80% disruption, Croatia 40%, and Romania 34%. In his analysis of the crisis, "The Impact of the Russia–Ukraine Gas Crisis in Southeastern Europe" (Oxford Institute for Energy Studies), Aleksandar Kovacevic drew the conclusion that a future energy crisis could easily devastate the financial standing of Southeastern European countries. Energy security planning in this region is still lacking.
As a proactive measure to ensure energy supply continuity security, the EC developed the European Energy Programme for Recovery. The programme aimed at multiplying gas supply sources for Southeastern European countries. The Nabucco gas pipeline project was the flagship of this plan.
Nabucco, running from Turkey's Eastern border to Baumgarten in Austria, was supposed to meet the need for integrated European energy security.
To some degree, the debate was already moot
The political and governmental support Nabucco received from transit countries alongside the EU and EC over the past years seemed an especially important asset. Even though Nabucco became a symbol of Europe's energy security plan, its weakness, high costs, heavy processing, and inflexibility put it on stand-by for more than a decade.
Setback to integrity
Besides this deadlock, Nabucco met other drawbacks when Russia's Gazprom responded to this European strategy by developing the South Stream and Blue Stream II gas pipeline projects. These were meant to reinforce gas supply to Central Europe and Turkey. Questions arose regarding Turkey and Azerbaijan's standing in Brussels versus the demands created by Moscow's gas pipeline competition. To some degree, the debate was already moot. Azerbaijan and Turkey had shown in the 1990s they would not oppose Russia when they inked the Baku-Supsa, Baku-Novorossiysk, and Blue Stream I gas pipeline projects. Balkan countries like Bulgaria, Romania, and Hungary also followed the Azeri and Turkish model when they inked host country agreements with the Russian-backed South Stream pipeline. Altogether Russia's victory in the battle over Nabucco is not all that surprising.
That is how it it became impossible for the EU to draw on the lessons of the 2006 and 2009 gas crises. Building the integrity of the EU's energy security plan proved to be an unfeasible project. While the Shah Deniz consortium decision showed the vulnerabilities of the EU's political power in energy issues and the weakness of its ability to develop integral energy security, it also proved the power of some energy companies operating in Eurasia.
Controlling oil reserves transport
Shah Deniz is on the world's top twenty gas list because it holds one-third of the South Pars gas field - the world's richest gas reserve. Shortly after its discovery, route options for a regional export pipeline were explored. Controlling the oil reserves' transport to markets was as important as sharing fields. Without a safe and secure route out of the landlocked Caspian Sea, the reserves could not secure their value.
The Shah Deniz Consortium shareholders (BP 25.5%, Norway's Statoil 25.5%, Azerbaijan's SOCAR 10%, France's TOTAL S.A. 10%, Russia's LUKoil 10%, Iran's NIOC 10%, and Turkey's TPAO 9%) - invested at first in the South Caucasus
The emergence of TAP has also shown the growing power of energy companies
(Baku–Tbilisi–Erzurum) pipeline running to Turkey through Georgia at an estimated capacity of 20bcm of gas transit per year. The Shah Deniz gas fields' operator BP, who has been involved in the region since 1992, is the largest foreign investor in Azerbaijan. It holds a 25.5% share in the consortium. Therefore, the interests of BP had a priority position in the decision-making process. The June 28th decision and the emergence of TAP showed that BP shared its influence with other energy companies, such as Statoil and SOCAR.
The emergence of a flexible project - TAP
The emergence of TAP has also shown the growing power of energy companies in the region's energy sector. TAP is the joint project of Swiss Axpo(42.5%), Norwegian Statoil (42.5%) and German E.O.N (15%). TAP and Nabucco's shorter and cheaper variant, Nabucco West, began competing for the Shah Deniz consortium's approval after the decision to refuse the Interconnector-Greece-Italy project. TAP made strategic steps to meet the Consortium's concerns, ultimately helping engender its success. TAP first approached the Consortium's members in June 2012. This was not the most complicated move, as one of TAP's main shareholders, Norway's Statoil, already held 25.5% shares in the Shah Deniz consortium. In June 2012, TAP signed a cooperation agreement with the Consortium. In August 2012, TAP invited Shah Deniz Consortium members BP, SOCAR and Total to co-fund the project's development and gave them the option to purchase shares in TAP up to 50%.
By the end of September 2012, Greece, Italy and Albania finally signed a memorandum of understanding to allow governmental go-ahead for TAP. This permitted the project proposal to eliminate its main shortfall compared to Nabucco – a perceived lack of political support for TAP. In December 2012, TAP's second strategic move was to team up with TANAP, jointly held by Azerbaijan's SOCAR (80%), Turkey's BOTAS and TPAO (20%), to deliver Azeri gas to Bulgaria via Turkey. TANAP became much stronger in January 2013, when BP (the Shah Deniz Consortium's leader) also signed a framework accord with SOCAR, TPAO and BOTAS—allowing BP to take a 12% share in TANAP.
On 22nd November 2012, the partnership became official when TAP and TANAP signed a memorandum of understanding and cooperation. This established a technical and commercial cooperation between the two parties and formalized a mutual framework and forum for coordinated activities and information exchange. The TANAP-TAP partnership thereby gained an additional asset compared to Nabucco West: all four shareholders of the Shah Deniz consortium (SOCAR at 10%, TPAO at 9%, BP at 25.5%, and Statoil at 25.5%) had become involved in the TANAP-TAP partnership.
A new reality
The emergence of the TANAP/ TAP/South Caucasus trilateral cooperation is a prime example of the change in the Eurasian energy market. Over the last decade the Eurasian energy market's evolution showed a trend towards the growing power of energy companies versus governments or public organizations. It might be time for the EC to revise its energy policy strategies and projects in the frame of this reality.
Olgu Okumus is an affiliated lecturer in energy diplomacy at Sciences Po, Paris and director of strategy development at LEO Advisors. She is also a PhD candidate at Sciences Po, Paris, where her research focuses on Turkey's energy transit policy.