'It is essential to get political support'
The market parties that have formed the Desertec Industrial Initiative (DII) are turning the grand solar power vision of founder Gerhard Knies into the practical reality of many different concrete renewable energy projects. Paul van Son, the new CEO of DII, has managed to draw in new stakeholders from countries in North Africa and Southern Europe. He is also working hard to raise political support.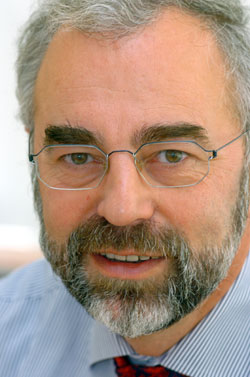 Paul van Son, CEO of the Desertec Industrial Initiative
Paul van Son (56), who became CEO of the Desertec Industrial Initiative in November of last year, wants to clear up one widely held misconception about Desertec right from the start. 'Desertec', he emphasises, 'is not a project.' Van Son is concerned that the Desertec initiative is being portrayed in the media as a single concentrated solar power (CSP) project costing €400 billion and taking 40 years to complete. 'Conceived of in this way, it must be regarded as a mirage. But that's not how we are implementing Desertec. Desertec is a development. Our aim is to create the right conditions to allow market parties, supported by government, to develop sustainable energy production in countries in North Africa. We want to pave the way for many different investments in different countries, involving many different actors. So we are talking about a wide range of projects.'
It is a significant point that Van Son makes. The original Desertec concept, launched in 2008 by Dr Gerhard Kniess and now under the care of the Desertec Foundation, was in fact conceived of as a kind of "Apollo program", with the idea to build one or more large CSP installations to bring power from North Africa to Europe. (See: Concentrated Solar Power: Apollo program to tame the sun). The Desertec Industrial Initiative (DII), set up by a group of large private companies to help implement the Desertec concept, seems to have broadened this original idea both in economic and technological terms. According to its website, DII regards all 'field-proven, feasible technologies for sun and wind energy conversion and long-distance power transmission' as candidates to be implemented, including 'PV technologies [photovoltaic solar power], AC and DC transmission and different concepts for wind power'.
In other words, DII is transforming Desertec from a visionary and perhaps impractical idea to a much more concrete and feasible set of individual projects, drawing in a large number of private stakeholders from different countries in the process. This strategy seems to be working: last week four companies, from Spain, Italy, France and Morocco, joined the original 13 shareholders of DII, 10 of which are German, considerably broadening the geographical base of the initiative. The new entrants include Enel Green Power, which claims to be the largest producer of renewable energy in Europe, and the Spanish network company and Transmission System Operator (TSO) Red Eléctrica. They are joining the likes of Eon, RWE, Siemens and Deutsche Bank. (See box below) US company First Solar also recently joined DII as an 'associated partner'. DII soon expects to be joined by a Tunisian company as well.
Reservations
With such strong backing from the private sector, Van Son is now giving priority to garnering political support. 'The initiative for Desertec came from private companies. It is, therefore, essential now that we get political support.' One of the first things the new CEO did when he joined DII last year, was to make an inventory of where Desertec stood in this respect. 'I wanted to know: who has an interest in this initiative, do they really support it, and what exactly do they want?'
Some criticisms
- The European Association for Renewable Energies (Eurosolar), chaired by Hermann Scheer, energy expert and German MP, opposes Desertec because it prefers to see more investment in decentrally generated, small-scale sustainable energy. (Source: "Sahara Power" needs pan-European grid operator)
- Lars Josefsson, ceo of Vattenfall, has criticised the Desertec concept in various interviews. He has said it is complex, risky and too expensive. (Source: Der Spiegel and other German media)
- Michael Liebreich, CEO of Bloomberg New Energy Finance, recently commented on Desertec at a conference organised by his own company in London: 'I can almost guarantee thta Desertec as it's currently described will not happen. We'll not be sitting here in this hotel in 25 years' time and using electricity from North Africa', he said. 'I am not sure we want to be dependent on North Africa for our electricity supply when anyone with a shoulder-launched missile can take out the electricity supply for Europe.' (Source: Bloomberg)
The support of Germany, which hosts Munich-based DII, is not in question, says Van Son. 'A few weeks ago, Federal Economics Minister Rainer Brüderle announced that the German government will support Desertec. They have set up a task force to coordinate Desertec with the Federal Government. And they are looking at the possiblity to provide export guarantees and research funding.' Van Son concedes that there is 'some criticism' in Germany, from people who believe the country should be self-sufficient in energy. 'But this is a small minority. We don't need to struggle to get support in Germany.'
Van Son is expecting to get backing from Brussels as well. 'We are going to talk to Günther Oettinger [the new Energy Commissioner, ed.] soon. For a development on this scale, you cannot do without the support of the EU.'
The governments of Spain, France and Italy are still studying the Desertec concept, says Van Son. In North Africa, 'Morocco and Tunisia are fully behind us. The King of Morocco is known to support sustainable developments like the Mediterranean solar plan and Desertec.'
Algeria, on the other hand, 'definitely has reservations', says Van Son. The Libyan government has recently invited DII for talks. Algeria and Libya of course have large fossil fuel reserves, unlike Morocco and Tunisia. What if these two gas and oil exporting countries don't join in? 'If one or two countries don't participate, that won't stop the process', says Van Son.
Reference projects
In addition to political lobbying, DII's strategy for the next three years has four major components, Van Son says. First, to help create legal and regulatory conditions for investments. Second, to make a long-term plan giving guidance for investments and financing for developments up to 2050. Third, to conduct a number of dedicated studies to obtain deep knowledge about local conditions. And fourth, perhaps most importantly, to originate a number of reference projects to demonstrate feasibility in practice. 'These projects shall ideally contain the elements of solar, wind and transmission grid technology that form the basis of the Desertec concept', says Van Son.
Van Son says he does not see 'a particular major bottleneck at this moment' that stands in the way of the realisation of the Desertec dream. 'We are just at the very beginning of a huge long-term transition to create a substantial contribution to renewable power in the Eumena [Europe, Middle East and North Africa, ed.] area. On our way there are many obstacles and bottlenecks ranging from a lack of legal basis, the relatively high cost of renewables, grid congestions, political circumstances, etcetera. Our job will be to convince all relevant stakeholders about the need for desert power in our future energy mix and to get agreement on the way to go.'
Van Son is quite clear that the renewable energy projects that will be set up will need to be subsidised. 'Renewables are widely being stimulated in the EU and also in some countries in the Middle East and North Africa until they can stand on their own feet. This mechanism of stimulation will of course apply to the Desertec activities as well. We all know that fossil-based energy is in general still cheaper than most renewables. But I do believe that this will change, perhaps dramatically, in the next decades.'
How important is it for Desertec that there will be a price for CO2? 'A CO2-price is only one element of trying to make the bill for fossil based energy realistic for present and future generations. Another element may be sustainability. I think the fact that companies are active in renewables will increasingly be accorded a higher market value. This combination of factors will make renewables competitive.'
Desertec Industrial Initative
The Desertec Industrial Initiative, launched in July 2009, aims at 'creating the conditions for an accelerated implementation of the Desertec concept in Europe, the Middle East and North Africa (Eumena)'. DII now has 16 private companies as shareholders, in addition to the Desertec Foundation:
- ABB, Switzerland
- Abengoa Solar, Spain
- Cevital, Algeria
- Deutsche Bank, Germany
- Enel Green Power, Italy (new)
- Eon, Germany
- HSH Nordbank, Germany
- MAN Solar Millennium, Germany
- Munich Re, Germany
- M+W Group, Germany
- Nareva Holding, Morocco (new)
- Red Eléctrica, Spain (new)
- RWE, Germany
- Saint Gobain Solar, France (new)
- Schott Solar, Germany
- Siemens, Germany
First Solar, a US company, has recently joined as an "associated partner".
There are many of course who believe most renewable energy technologies will not become competitive for quite a long time. For example, in a reent report ExxonMobil said the cost of concentrated solar power (CSP) will remain 'generally unaffordable for large, commercial applications' until at least 2030. But Van Son is not too worried about such assessments. 'In the more than thirty years that I have been active in the energy sector I have read a lot of long-term cost predictions. After the fact I realise that they were all relative to what people knew and/or wanted to know about things at the time. Things change over time, though. I am confident that CSP and PV technologies that are still rather young will develop further and will ultimately be able to compete with other sources on their own account.'
Supergrids
One major development that will be needed to realise Desertec is a major expansion of the electricity grids. A study of the German Space and Aircraft Institute has said that Desertec requires 100 new 800 MegaWatt (MW) transmission lines to be built in transit countries. A tall order, but not too tall, according to Van Son. 'If we talk about the networks, in the coming, say, 40 years I expect a supergrid development across continents, connecting the major renewable sources with demand areas. Irrespective of Desertec the major shifts in generation and demand will require a supergrid infrastructure of this dimension. Countries in North Africa and the Middle East are already investing in their networks and in more interconnections with Europe, for example through the project of the Mediterranean ring.' (See "Electric" Turkey poised to enter Europe)
Van Son notes that population growth is very high in North Africa and the Middle East. 'North Africa and the Middle East together will have a larger population than Europe in 40 years' time. So they will have to do something about their energy situation anyway.' The rewenable energy that will be produced under the Desertec umbrella is not only intended for the European market, Van Son adds, but also very much for domestic markets.
The new head of DII has one major asset: he knows from experience how important it is in the renewable energy sector to stay focused on the feasibility of projects. His recent stint as Executive Director of Dutch company Econcern, until recently one of the largest renewable energy producers in Europe, ended in disaster as Econcern collapsed last year in a highly publicised Enron-type bankruptcy. The company had lost sight of practical realities, as Van Son soon discovered when he joined it. For Van Son, who had been Managing Director of Essent Deutschland – the German subsidiary of the largest Dutch utility Essent – and who had seen his former colleagues at Essent profit from handsome bonuses when that company was taken over by RWE last year, it was a difficult period. But he is now back where he wants to be: at the heart of the worldwide effort to realise a transition to a sustainable energy future. 'I know I have started on a job whose completion I may not live to see. But I see this as a noble task. I am in a position where I can make a difference. That's a prerogative.'
Who is Paul van Son?
Paul van Son has been active in the international (renewable) electricity and gas business for over 30 years. He worked at Siemens AG (Germany), SEP (the Dutch power pool and interconnected grid), Kema Consulting, before he became CEO of Essent Energy Trading. He went on to become Managing Director of Essent Sustainable Energy and Chairman of the Management Board of Deutsche Essent GmbH in Düsseldorf. In 2008 he left Essent and became Executive Director of the Dutch sustainable energy producer Econcern. In November 2009 he became CEO of DII. He is Chairman of the Energy4All Foundation (www.energy4all.org / www.niceinternational.com), a non-profit organisation promoting decentralised energy and communication systems in Africa. In addition, he is President of the European Federation of Energy Traders (www.efet.org).