Russia and Europe: Time to bury the hatchet - and embrace the market
In the current economic climate, strong energy ties between Russia and Europe could be beneficial to both sides. But an intensive energy relationship can only work if it is based on equality, argues Professor Dr. Friedbert Pflüger, Director of the European Centre for Energy and Resource Security (EUCERS) at King's College London, and former State Secretary in the first Merkel government. The EU should make it clear that it will not discourage Russian pipeline and downstream investments in the European market - if Russia makes it clear it is willing to play by the European rules.
With an anti-nuclear wave gripping major European countries like Germany and Italy after the Fukushima disaster in Japan, declining indigenous gas supplies, and the challenge of meeting ambitious carbon-reduction targets by 2020, Europe's dependence on imported natural gas as a cost-efficient and low-carbon fuel will inevitably rise.
The International Energy Agency (IEA) projects that over the next decade, despite concerted efforts by EU countries to expand renewable energy capacity and enhance energy efficiency, natural gas (along with coal) is still expected to be the second most important source of energy in Europe behind oil.
Consequently, Russia's considerable gas reserves are gaining renewed relevance and could play a key role in providing incremental supplies to Europe. Hence Russia, whose share in EU gas imports dropped from 40 percent in 2000 to about 25 percent today, may be set to recapture a bigger European market share.
Moscow's favour
Europe and Russia have long cultivated a balanced and interdependent energy partnership based on a mutually profitable business model that benefitted both buyer and supplier. However, supply disruptions to Ukraine and other transit countries in 2006 and 2009 and to Belarus in 2010 have strained this partnership.
More importantly, Russia's two-pronged policy of downstream integration and export route diversification has resulted in an "asymmetry" in European-Russian energy relations that has tipped the delicate partnership balance disproportionately in Moscow's favour. Recent developments in European
Russia's policy of downstream integration and export route diversification has resulted in an "asymmetry" that has tipped the delicate partnership balance in Moscow's favour
energy markets indicate as much. In July, Russia's state-run gas monopoly Gazprom announced a planned strategic partnership with RWE, one of Germany's four major utility companies, to construct gas-fired power plants in Germany, Britain, and the Benelux states. Such a partnership, should it come to fruition, would effectively provide the Russian gas giant a foothold in the EU downstream business and expand its European market share while tying European energy companies to its long-term, oil-indexed gas contracts, thus guaranteeing future export profits while reducing the impact of wholesale spot gas prices. In addition, the RWE-Gazprom partnership has the potential to seriously undermine the EU's diversification efforts, since RWE is the main investor in a consortium that is developing Nabucco, the only major gas pipeline project that is trying to tap new gas supplies from Central Asia without direct Russian participation.
Whereas the Nabucco project has effectively been buried following the proposed cooperation between Gazprom and RWE, Russia's competing gas pipelines are developing ever more rapidly. In September, the Russian-backed Nord Stream project (51% Gazprom, 15.5% E.ON Ruhrgas, 15.5% Wintershall Holding, 9% Gasunie, 9% GDF Suez) brought one of its two twin gas pipelines on stream. Each pipeline is expected to deliver 27.5 billion cubic meters of gas per year under the Baltic Sea directly to the EU for a total of 55 billion cubic meters; the second parallel pipeline is expected to come online in the third quarter of 2012.
Apart from Nord Stream, Russia has been planning another pipeline, South Stream, which is a direct competitor to Nabucco and is expected to ship 63 billion cubic meters of Russian gas through the Black Sea to Bulgaria from 2015. The project made significant headway last month when Gazprom (50%) secured support from EU energy giants Eni (20%), Wintershall AG (15%) and EdF (15%) through the signing of a shareholder agreement.
Both projects serve to diversify Gazprom's export routes to the EU while circumventing transit countries like Ukraine, through which about 75% of Russian gas exports currently flow.
Antitrust probe
However, while things seem to be going Gazprom's way, the growing imbalance in the EU-Russian energy partnership may only favour Russia for a short time period. In fact, it will ultimately prove to be detrimental for both sides due to a number of reasons.
First, these developments have augmented European concerns about an over-dependence on Russian gas, which recently manifested itself in an EU antitrust probe that resulted in the raiding of
If these trends continue Russia may in the longer term lose a substantial part of its European oil and gas export revenues
several Gazprom subsidiaries in Europe, including Gazprom Germania and the Czech Republic's Vemex, among others. The EU is already seeking alternatives to Russian gas as evidenced by the expansion of renewable energy capacity in Germany,
the exploration of unconventional shale gas in Poland
and elsewhere, and, according to figures from Hydrocarbon World, the rapid increase of the share of LNG in Europe's gas supply from some 7 percent in 2000 to 16.5 percent in 2010. Clearly, if these trends continue Russia may in the longer term lose a substantial part of its European oil and gas export revenues. Since these currently comprise some 40 percent of Russian public funds, this could have great repercussions for the Russian government.
But for Europe, too, policies to reduce dependence on Russian gas involve heavy costs. They entail spending of additional public funds on more expensive renewable and alternative energy projects at a time of internal financial turmoil and uncertainty. In addition, the EU may have to deal with a tightening of gas markets over the short- to medium-term due to higher Japanese LNG demand following Fukushima, political unrest in the Middle East, and declining North Sea gas production.
Second, Russia's costly projects abroad are diverting valuable capital away from its own domestic energy sector, which is plagued by inefficiency and an aging infrastructure. Russian energy consumption per capita is twice as high as the world average due to the subsidization of domestic gas,
Moscow should revamp its restrictive and opaque investment climate and ensure greater market certainty to attract the foreign capital needed for the modernization of its domestic energy sector
antiquated industrial factories, and buildings lacking modern thermal insulation. What is more, its three major gas fields in Western Siberia, which constitute about three quarters of Russia's total gas production, are more than halfway depleted. New gas fields have been discovered, but they are difficult to exploit and are far removed from Russia's export markets and existing pipeline infrastructure. Tapping these reserves will require substantial capital and advanced technology which Gazprom currently does not have.
The underinvestment in Russia's domestic energy infrastructure and enormous waste of natural resources will ultimately translate into less available gas supplies for exports and, consequently, lower revenues.
Monopolistic activity
So how could the frictions between Russia and the EU be resolved? A solution would be to establish a more sustainable form of competition based on mutual investments.
On the one hand, Gazprom's investments in European gas markets, whether upstream or downstream, should not be discouraged as long as it adheres to EU market rules and regulations and operates on a level playing field. Recently, EU Energy Commissioner Gunther Oettinger unveiled a new EU External Energy Policy proposal that he said will "establish a new mechanism to ensure proper ex-ante and ex-post coordination and cooperation for the conclusion of intergovernmental agreements". One of the key elements of the proposal would require EU Member States to report all new and existing bilateral energy deals with partner countries to the EU Commission. Hence, before an agreement enters into force, the Commission would have the right to confirm in advance if the bilateral agreement is compatible with EU law or not. Should the proposal be accepted by the Member States, Gazprom and other foreign investors would have to comply with EU transparency and industry accounting standards as well as market liberalization policies before they enter into any future agreements, thus deterring monopolistic activity and enhancing competition while simultaneously allowing investors to avoid potential costly litigation resulting from non-compliance issues. Although the proposal is viewed by some as a potential deterrent to Russian investments in the EU, in fact the added legal security it provides could also stimulate Russian investments. A greater Russian stake in European energy markets, in turn, would make future gas supply disruptions unlikelier as this would harm its own business interests.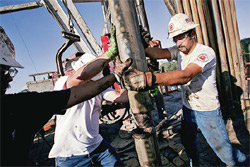 Drilling for natural gas
Reciprocally, Moscow should revamp its restrictive and opaque investment climate and ensure greater market certainty in order to attract the foreign capital needed for the modernization of its domestic energy sector. Through greater market incentives, European states would be more willing to supply the additional funds and technology necessary to maximize Russia's gas export potential, improve infrastructure, and exploit new reserves situated in geologically inhospitable terrain. The EU could also help reduce Russia's high energy intensity by offering technologies and know-how to help mitigate energy waste. This could include enhancing energy efficiency in buildings and outdated factories as well as modernizing gas and electricity meters.
Thus, the gradual nuclear phase-out in Europe could provide a new chance for the European-Russian relationship. Both sides can profit from an enhanced cooperation leaving behind some of the political conflicts of the past. However, it is important that this partnership is based on the principle of equality. Europe and Russia need each other. Both sides should acknowledge this as an opportunity and resist the temptation to fall back into old-style power-politics.


Who is Friedbert Pflüger?

Friedbert Pflüger is Professor and Director of the European Centre for Energy and Resource Security (EUCERS) at Kings College London. He served for twenty years as a Member of Parliament and was State Secretary in the first Merkel government. He is also Executive Director of the Kurdish German European Business Alliances.
Sources for this article

Maximilian Kuhn, Frank Umbach (2011): Strategic Perspectives of Unconventional Gas: A Game Changer with Implications for the EU`s Energy Security. A EUCERS Strategy Paper, Vol.01, No. 01, May 2011. EUCERS, London.

Andy Flower, "How much liquefied natural gas will Europe import in 2011?" Hydrocarbon World Vol. 6, Issue 1. 2011

Adnan Vatansever, A Russian Solution to Europe's Energy Problem, European Energy Review, 10 January 2011

Sonja van Renssen, External energy policy: Brussels takes charge, European Energy Review, 12 September, 2011

Plus news articles from Reuters and RIA Novosti

See also the recent article on European Energy Review by Rudolf ten Hoedt, Gazprom: Back in the Game