South Stream steals a march on Nabucco
Until recently, Europe's booming demand for gas and its limited reserves made it plausible to argue that the Russian-backed South Stream gas pipeline and the EU-backed Nabucco pipeline could both be viable. However, now that the recession and diluted environmental commitments have reduced demand and the unconventional gas revolution has increased supply, the competition between the two projected pipelines has become a zero-sum game. Nabucco and South Stream have become engaged in a 'winner-takes-all' contest to supply Europe with gas. And recent developments suggest South Stream may have stolen a march on Nabucco.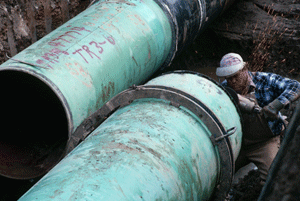 Highlights
Nabucco and South Stream are engaged in a 'winner-takes-all' contest to supply Europe with gas.
Since 2002, a consortium of utilities has been planning Nabucco, a new gas pipeline that will supply Europe and reduce its dependence on Russia.
Perceiving Nabucco as a threat to its dominant market position, Russian energy giant Gazprom initiated South Stream, a rival pipeline project, in 2007.
At the time, some argued that both new pipelines might be viable on account of Europe's booming demand for gas and its limited reserves.
However, the effects of the recession and of diluted environmental commitments have reduced projected European gas demand.
At the same time, advances in unconventional gas extraction and investment in new assets have increased gas supply: competition is now zero sum.
Recent developments suggest that South Stream may have stolen a march on Nabucco.

The 2009 Russia-Ukraine gas crisis did significant damage to Gazprom's reputation as a reliable energy partner, boosting Nabucco's prospects.
Recognizing this, Gazprom has stepped up efforts to recruit governments and utilities to the South Stream project, most recently targeting RWE.
Meanwhile, the obstacles which hampered Nabucco from its inception continue to plague the project, sapping momentum and political will.
RWE is unlikely to pull out of Nabucco, but if a final investment decision is not made before the end of 2010, the pipeline's chances of success will narrow.
By the beginning of the 21st century it was becoming clear to European policymakers that the continent would soon become substantially more reliant upon imported gas than in the past as a result of two critical drivers: environmental legislation and dwindling domestic output. The European Union Emissions Trading Scheme (EU ETS) was launched in 2005 with the intention of radically altering the cost structure of generating electricity from fossil fuels by attaching a price to emissions of carbon dioxide. Utilities expected the new 'clean spark spread' (the revenue produced from generating electricity via gas, including the price of carbon emissions) to exceed the 'dark spark spread' (revenue from power generated via coal, including carbon) by a significant margin.
In addition to the EU ETS, the Large Combustion Plant Directive (LCPD) introduced in 2001 put a limit on the lifetime of coal-fired power stations, which were most likely to be replaced by gas-fired plants. Against a background of reduced construction costs for combined cycle gas turbine (CCGT) plants, the EU ETS and LCPD implied that the power generation sector's demand for gas would increase markedly.
This growth in demand for gas-fired generation (and for electricity in general as Eastern European economies modernized) came just as European gas production appeared to have peaked and was going into decline. This meant that Europe would have to import increasing quantities of gas.
However, dependence on any one producer for imported gas was perceived in many circles as a threat to the security of energy supplies. In particular, Russian state enterprise Gazprom (Europe's main supplier) was considered opaque and corrupt, and some worried that it was a foreign policy tool to meet political ends. This fear was reinforced by the perception that, after a decade of stagnation, Russia was a "resurgent" power, seeking to reassert authority over former vassal states.
Much of the gas which Russia ships to Europe is in fact purchased at a lower rate from central Asian producers Turkmenistan and Kazakhstan. In light of this, and of the perceived political risk associated with increasing reliance upon Russia, a group of politicians and energy firms from Central and Eastern Europe conceived the idea of Nabucco, a pipeline that would ship gas from Central Asia directly to Europe. The pipeline would bypass Russia, thus diversifying Europe's import sources and increasing security of supply.
Furthermore, in developing an alternative to Russian gas, Nabucco would give European utilities considerably more leverage for negotiating gas prices. The project would also demonstrate Europe's capacity for effective geopolitical action and would bring former Soviet states in central Asia into Europe's fold.
Thus, in June 2002, OMV of Austria, MOL Group of Hungary, Bulgargaz of Bulgaria, Transgaz of Romania and BOTAª of Turkey signed a protocol of intention to construct the Nabucco pipeline. In December 2003, they were backed by the European Commission, which agreed to pay 50% of the total cost of the feasibility study, including market analysis and technical, economic and financial studies. RWE joined the consortium in 2008.
Perceiving Nabucco as a threat to its dominant market position, Russian energy giant Gazprom initiated South Stream, a rival pipeline project, in 2007
While Europe depends on Russia for nearly 35% of its gas, Russia depends on Europe for around 78% of its gas export sales, representing over 40% of total budget receipts. Hence, a threat to Gazprom's exports to Europe implied substantial fiscal risk to the Russian state as well.
From Moscow's perspective, the biggest threat to uninterrupted gas trade between Russia and Europe was the volatile politics of transit states in between. This was the driving force behind a formal agreement in 2005 to construct Nord Stream, a pipeline running under the Baltic Sea from Russia to Germany.
However, Nord Stream still left southern European states vulnerable to interruption (and did little to slow momentum behind Nabucco). Hence, in June 2007, Gazprom and Italy signed a memorandum of understanding (MoU) for the construction of a new pipeline to rival Nabucco. Initially South Stream was slated to carry 33 billion cubic meters a year (bcm/yr) (the same as Nabucco) but this was increased to 66bcm/yr in 2009.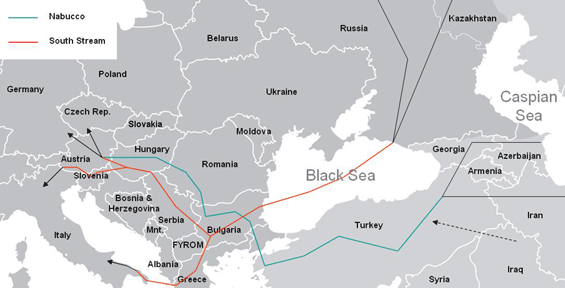 Figure 1: The planned routes for South Stream and Nabucco. Source: Datamonitor
At the time, some argued that both new pipelines might be viable on account of Europe's booming demand for gas and its limited reserves
Although the announcement of South Stream was greeted with suspicion in most European capitals, some believed that demand for gas would grow so rapaciously that the existence of South Stream, Nabucco and Nord Stream would be justified. Economic growth—especially in Eastern Europe—implied continuing growth in industrial activity and thus gas demand. This was particularly the case among some of the former Eastern Bloc states, in which energy efficiency remained low on account of continuing state subsidies.
Furthermore, the combined effects of the LCPD and EU ETS appeared to suggest that continued reliance on coal-fired generation was a risky gamble (particularly given the nascent status of carbon capture and storage (CCS) technology). The problems associated with coal implied that there would be massive growth in gas demand.
The growth in demand also came against a backdrop of collapsing production. UK output from the North Sea in particular had begun to decline at a faster rate than anticipated by the government, alarming policymakers. Rising commodity prices seemed to confirm perceptions of increasing scarcity and implicit dependence on politically unsavory suppliers.
Thus a consensus emerged in Brussels which argued that not only were both Nabucco and South Stream complementary but that investment in liquefied natural gas (LNG) regasification capacity was also critical to avoiding a supply crunch.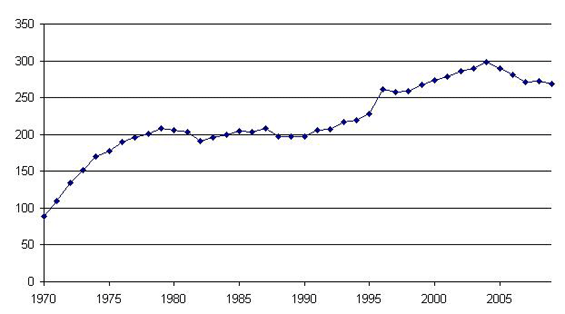 Figure 2: Domestic European gas production (bcm), 1970–2005 Source: BP Statistical Review 2010
However, the effects of the recession and of diluted environmental commitments have reduced projected European gas demand
But in the past three years the European gas landscape has altered dramatically. The net result of these changes is that, while European demand for Russian and Central Asian gas is expected to increase, it will not do so at the breakneck speeds anticipated in 2007. This change has taken place for the following reasons:
The recession. Economic growth is by far the most important determinant of overall demand for energy services. Until mid-2007, European GDP, driven by growth in the east, was expanding at around 2% per annum; gas consumption increased 5.1% between 2007 and 2008. As the US mortgage market crisis developed into a financial sector earthquake, economic growth slowed. This developed into a collapse in economic activity through 2009 and an unprecedented fiscal response. As industrial activity and trade contracted, demand for gas declined on average 6.8% across Europe. Although growth has since returned, underlying structural imbalances in the European economy and massive government debt imply a sluggish recovery at best; European gas demand is not expected to recover to 2007 levels before 2013.
Weaker environmental commitments. Although not yet ratified by the European Council, the European Parliament recently passed legislation which brought the LCPD under the broader heading of the Industrial Emissions Directive (IED). The practical upshot of this is to push back the deadline for the closure of many of Europe's coal-fired power stations from 2015 to 2020. The planned shutdown in 2015 was a key driving force behind the assumed growth in gas demand, since most of the coal plants would be replaced with CCGT. Under the new deadline, gas demand in the next decade will be substantially lower. Additionally, the price of carbon has remained well below the levels necessary to incentivize a substantial shift from coal- to gas-fired generation.
At the same time, advances in unconventional gas extraction and investment in new assets have increased gas supply: competition is now zero sum
Just as European demand for gas has contracted, supply has expanded substantially. This is the result of technological innovation in gas production and investment in supply-chain assets.
Unconventional gas extraction innovation and growth in the LNG market. Advances in hydraulic fracturing technology and horizontal drilling have sharply reduced the cost of extracting gas from shale rock formations. In America, this has led to a major increase in onshore gas production (with more growth to come), displacing demand for imports, particularly of LNG, and thereby increasing the available LNG supply to Europe. This comes at a time when European regasification capacity and global liquefaction capacity are booming, thanks to investment decisions made earlier in the decade when enhanced shale gas production was rarely discussed. Thus, America's shale gas revolution is already impacting European supply. In the longer term, the technology may be applied in Europe itself, boosting domestic output, although this is still several years away.
The development of Nord Stream. In early 2007 it was by no means clear that Nord Stream (a 1,220km subsea pipeline connecting Russia with Germany under the Baltic Sea) would come to pass. Bitter political opposition from Poland, Lithuania and the Czech Republic, as well as stringent environmental demands from Sweden and Denmark, put the entire project in jeopardy. Despite this, construction began on schedule in April 2010, and the pipeline will be fully operational by 2012, delivering 55bcm/yr of gas (around one sixth of total European imports last year). Thus the supply crunch forecast in 2007 now no longer appears likely: demand has been dented and will grow more slowly, while supply is set to increase thanks to technological innovations and investment in new facilities. Whereas in 2007 it was possible to conceive of a situation in which both Nabucco and South Stream might be required, this is no longer the case. The contest to transport gas through Europe's Southern Corridor is now, without question, a zero-sum game.
The 2009 Russia-Ukraine gas crisis did significant damage to Gazprom's reputation as a reliable energy partner, boosting Nabucco's prospects
Since the collapse of the USSR in 1991, Ukraine and Russia have been embroiled in a series of disputes concerning the price of gas, transit fee rates and non-payment of debt. During the 1990s, Russia cut off supplies on several occasions, citing theft and mounting arrears. This set a precedent for later disputes and in Europe sowed the seeds of concern regarding security of supply.
Throughout the period, the privatization processes in each state were slowly failing to produce transparent market-oriented regimes. Instead, a form of 'competitive authoritarianism' emerged, under which business elites vied for influence in an opaque rent-seeking structure. The weak institutions underpinning this setup allowed corruption and market distortions to flourish, again creating concerns about security of supply among European policymakers.
Events first came to a head in December 2005 when Gazprom increased the rates it charged Ukraine for gas from $50 per 1,000 cubic meters to $160 per 1,000 cubic meters (still well below market rates). This gave rise to the first dispute, resulting in a four-day supply shutdown. In March 2007, supplies were disrupted again, this time, according to Gazprom, because of Ukraine's mounting unpaid debts.
These earlier tussles, the long-running political antagonism between Russia and Ukraine, and a culture of weak political institutions in both states formed the backdrop to the January 2009 dispute, during which Gazprom again suspended the delivery of gas to Ukraine for almost three weeks. This crisis inflicted major damage on Gazprom's (already weak) reputation as a reliable energy partner to the EU. This injected new momentum into EU efforts to improve internal security of supply, including the construction of alternative import methods. In line with this, and as part of the fiscal stimulus package being deployed to tackle the recession, the EU allocated €200m to the Nabucco consortium.
This loan added further impetus to the project. In February 2009 The European Investment Bank (EIB) promised to provide finance for a substantial proportion of the project's costs. With the support of EU officials, leaders from the transit states signed the long-awaited Inter-Governmental Agreement (ratified by all parties by March). A month later, the tendering process began, with a view to making a final investment decision by December 2010. It appeared that the disruption to supplies in January 2009 had provided the necessary catalyst to transform European support for Nabucco from passive to active.
Recognizing this, Gazprom has stepped up efforts to recruit governments and utilities to the South Stream project, most recently targeting RWE
Nabucco's improved outlook, together with the expected decline in European demand and the development of shale gas technology, caused alarm within Gazprom. The company responded by increasing lobbying efforts on behalf of South Stream (in part made possible by the progress already achieved in Nord Stream freeing up capacity). These efforts began to bear fruit in 2010.
April – Austria signed an inter-governmental agreement with Russia to facilitate the development of South Stream. In addition, OMV signed a basic co-operation agreement with Gazprom on the implementation of the pipeline on Austrian soil. This agreement is particularly symbolic, since OMV is one of six members of the Nabucco consortium. However, OMV's stake in the South Stream project implies considerably less exposure than to Nabucco. Furthermore, Gazprom already provides OMV with 80% of its gas imports and the two effectively each hold 50% of the shares in the Baumgarten facility. OMV envisages Baumgarten becoming a trading hub to rival the TTF in Holland, via increased liquidity in the form of new supplies from the Middle East, Russia and the Caspian Sea. Therefore OMV's acquisition of a stake in South Stream should not be seen as a strong commitment to the pipeline.
May – Greek transmission system operator DEFSA and Gazprom solidified existing agreements with the formal creation of a joint venture to construct the Greek section of the pipeline.
June – after several months of tough negotiation on the part of newly elected Prime Minister Boyko Borisov, Bulgaria finally committed itself to South Stream. Borisov had indicated hostility to the project after coming to power in July 2009, but after apparently securing generous terms for a series of pet projects (such as financing the new nuclear power plant at Belene, a reduced price for the gas Bulgaria will buy from Russia, and the sale of 200 local petrol stations), Sofia has reaffirmed its commitment to South Stream. In the same month, French utility behemoth EDF signed an MoU with Gazprom and Eni to purchase a 20% stake in South Stream. This was a significant political and financial boost to the project, and came just weeks after GDF SUEZ took a 9% stake in Nord Stream.
July – RWE confirmed that it had received an offer from Gazprom to acquire a stake in South Stream. Although RWE, Germany's second largest utility, only joined the Nabucco consortium in 2008, this would still represent a massive blow to the pipeline's chances of success: the project depends upon sustained political support, as this will build confidence among partners to assume risk. If one party defects to the rival project, this confidence will evaporate. Moreover, RWE is the only member of the consortium to have a major role in developing Turkmenistan's offshore assets in the Caspian Sea. These will be critical to the pipeline's long-term success, so RWE pulling out could prove fatal.
As of mid-July 2010, RWE has not given any indication of its intentions. It certainly would not take the decision to walk away from Nabucco lightly; not only has the utility invested significant financial and political capital in the project, but it has also worked hard to develop effective working relationships with potential upstream suppliers in Turkmenistan, Azerbaijan and Iraq, securing access to onshore and offshore gas resources.
Meanwhile, the obstacles which hampered Nabucco from its inception continue to plague the project, sapping momentum and political will
From the outset, Nabucco has been hamstrung by the same problem: where will the gas come from? The project envisages pumping relatively modest quantities in the early stages (around 8–10bcm/yr at the outset) before increasing total shipped volumes to 31bcm/yr. Although massive gas reserves exist in the countries surrounding the Nabucco pipeline's origin (Ezurum in northeast Turkey), political obstacles stand in the way of tapping any of these.
In the short term, the only gas realistically available would come from the Shah Deniz II project in Azerbaijan. Phase I of the project is already delivering around 7bcm/yr and a consortium of companies including BP, Statoil and SOCAR has agreed to develop phase II, with a view to supplying Europe with around 15bcm/yr. However, this will not happen until Azerbaijan and Turkey resolve a long-running dispute over transit fees. Baku and Ankara are inching towards an agreement on this issue; a summit between the countries in early July 2010 appeared to set a volume and price which Turkey would receive, but transit fees remain a problem. In essence, Turkey sees itself becoming an energy hub, profiting from its location between the Caspian Sea and Middle Eastern reserves and Europe. Azerbaijan perceives this as rent seeking, and is resistant to the idea of allowing reduced tariff rates to Turkey.
Complicating the matter further, negotiations over gas prices have become intertwined with the diplomatic relationships between Turkey, Azerbaijan and Armenia. Turkey did not establish diplomatic relations with Armenia when it achieved independence in 1991, partly as a result of the two countries' differing interpretations of the Armenian Genocide in 1919. Relations between Armenia and Turkey have thawed in the past two years, under the auspices of France, Russia and the US. However, Armenia and Azerbaijan remain locked in a "Frozen Conflict" over the disputed Nagorno-Karabakh region. Consequently, Azerbaijan opposes Turkey normalizing relations with Armenia and has threatened to withdraw gas sales to Turkey and instead ship to Russia.
Even if Baku and Ankara were to agree a price, it is by no means clear that the gas would be made available to Nabucco. Indeed, SOCAR has made clear on several occasions that gas from Shah Deniz II will be transported to Europe by whichever pipeline offers the highest netback. This puts Nabucco in competition with the Turkey-Greece-Italy Interconnector (ITGI) and Trans-Adriatic Pipeline (TAP).
In the longer term, Azeri reserves will not be enough to meet the planned 31bcm/yr capacity, so Nabucco would have to source gas from elsewhere. Although various positive gestures have been made with regard to reserves in Turkmenistan, northern Iraq and even Iran, after nearly a decade there is still no concrete agreement. Iraq's hydrocarbon laws are insufficiently clear to foreign investors in several respects, not least the enforceability of contracts, and clarity is a crucial prerequisite to any exports from Kirkuk. Turkmenistan has already agreed to sell more gas to China than it actually produces. Even if it were able to produce enough to meet Nabucco's short-fall, the gas still needs to be transported across the Caspian Sea, through territory claimed by Russia and Iran, presenting clear opportunities for intransigent littoral states to interfere. Finally, Iran's uranium enrichment program and resultant sanctions continue to rule out any foreign investment into the country's hydrocarbon reserves, at least on the part of Western companies.
RWE is unlikely to pull out of Nabucco, but if a final investment decision is not made before the end of 2010, the pipeline's chances of success will narrow
Nabucco's key weakness is simultaneously its greatest strength: the pipeline is as much a political project as it is a piece of energy infrastructure. More than with any of the EU's other Trans-European Energy Network (TEN-E) programs, Nabucco is at root a political project. It is the manifestation of a political decision to circumvent Russia—or at the very least reduce Russia's influence—in the gas supply chain. That decision can be interpreted as rational or otherwise, depending on the perceived level of political risk attached to relying upon Gazprom for a substantial (and increasing) proportion of total energy supply.
Consequently, the factors which conventionally determine whether a new pipeline will be built do not apply to Nabucco, or at least, not to the same extent. Projects which do not enjoy such support are less likely to survive more difficult business environments; for example, the Skanled pipeline linking Norway with Poland was shelved in late 2009 on account of the recession. Furthermore, Nabucco benefits as a project which acts as a focal point for EU foreign policy ambitions: bringing Turkey and other states into the European sphere of influence; demonstrating cohesion in EU foreign policy making; exporting market principles beyond EU borders; and resolving conflicts within the neighborhood. Hence support in European capitals for these goals translates into support for Nabucco.
However, attitudes can change quickly, and political support can be as much a liability as an asset. In practice, support for Nabucco hinges upon perceptions of Russia as an unreliable energy partner. It is not a coincidence that the EIB made finance available for Nabucco just weeks after supplies via Ukraine were interrupted: European states are only galvanized to collective action when presented with a collective danger. Reliance on this ephemeral support means that, in its absence, progress stalls. If European states only work together to support the project when presented with a tangible common threat, then progress on Nabucco can only come in fits and bursts, in stark contrast with Russian support for South Stream.
This in itself does not mean that Nabucco will stall, but the fact that it is now in zero-sum competition with South Stream implies that sustained pressure is crucial. The European gas landscape has changed since 2007: there will not be sufficient demand to justify another 97bcm/yr (the combined capacity of Nabucco and South Stream) of gas supply. Although the TTF, NBP and Zeebrugge may tighten in the next few years, advances in technology, continuing economic uncertainty and less stringent legislation mean that this will be a gradual process, and not a sudden supply crunch. As such, whichever project is able to begin construction first will effectively rule out the other. Currently, momentum appears to lie with South Stream. If the consortium fails to make a final investment decision before the end of 2010, the window of opportunity may close.
If RWE chooses to pull out of Nabucco before then, the project is effectively dead: confidence would evaporate, private investors would pull out and crucial political momentum would be lost, allowing South Stream to progress. This outcome remains unlikely, given the progress that Nabucco has made in recent months and the sheer scale of financial and political capital that RWE has already invested in the project. But, the fact that RWE is even considering the offer will be enough to unnerve its partners, and given the role that politics plays in this project, this alone could be enough meet Gazprom's objectives.
About the author
Kash Burchett is Analyst Energy & Natural Resources at Datamonitor, a world-leading provider of independent, premium global business information. His email address is kburchett@datamonitor.com