How to win public acceptance for green energy
The case of Samsø
The tiny Danish island of Samsø is a role model when it comes to overcoming resistance to renewable energy projects. Completely eliminating big business, organizers there have involved their fellow citizens in large-scale energy infrastructure decisions by enabling them not only to discuss the changes to their landscape, but also offering them to own the wind turbines to be installed. Once a fossil fuel importer, Samsø today meets all its electricity with renewables and offsets more greenhouse gases than it emits. Experts from all over the world travel to this island to learn from its example.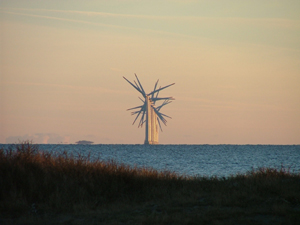 Ten 2.3 MW offshore turbines offset CO2 emitted by Samsø's cars, tractors and ferries (Photo: Samsø Energy Academy)
The wind and the sun have carved deep furrows into the face of Kai Alexandersen, who was born on the small Danish island of Samsø 80 years ago, has lived there ever since and will remain where he is, like the old oak in his large yard, until the day he dies.

Together with Inga, his energetic wife, and Senta, a black labrador, he lives just a few footsteps away from a sandy reef that seeps into the Kattegat, a small stretch of North Sea water where, hundreds of years ago, the Vikings ruled. When I met Kai Alexandersen, on a day in early May, he was carving his knife into to a fresh catch of maybe 50 herring, their pupils still clear, their flanks glittering in the sun. In a way, you could say that Alexandersen is a traditional person, deeply rooted in nature and his landscape. But he is also a very modern figure. In fact, like most of his fellow Samsingers, he's an ambassador for the new energy age.
Three large solar panels are attached to his roof, producing heat and power for his house. When he bought and installed the panels twelve years ago, he had no reason to hesitate. Alexandersen is a trained gardener and from working with his greenhouse, 'I knew about the energy of the sun', he says. The solar panels on his roof were the first on the island, and Alexandersen is also a fervent supporter of the many wind turbines turning on and off Samsø. 'Renewable energy sources are good for us', he says.
Sleepy island
Samsø decided to become energy-independent 14 years ago, after it had won a renewable energy contest launched by the Danish government. The title was awarded to a community that aimed to become self-sufficient in its energy production. Winning the contest didn't come with special tax breaks or grant money. It was just an empty title waiting to be filled with life.
With its 4,000 inhabitants, Samsø is a sleepy island. There's one movie theatre, two petrol stations and
Electricity came via an undersea cable fed with power from an old coal plant
several restaurants, but most of them close at 9 pm. The island's largest town by far, Tranebjerg, has a population of just over 800. Driving on the tree-lined, unlit roads at night is dangerous not because there's traffic (there isn't) but because you may well hit one of the many pheasants, deer or hare that roam around.
The local energy mix used to be traditional as well. For many decades, the islanders burned oil for their fuel needs, brought to Samsø via tankers. Electricity came via an undersea cable fed with power from an old coal plant. Each of the Samsingers emitted, on average, 11 tons of CO2 per year. So when the goal to become energy-independent was formulated in the late 1990s, few people believed it could be done.

But then, after a long and difficult discussion process, the Samsingers joined forces to build wind farms, solar fields and biomass heating plants. Today, Samsø is home to eleven 1 MW onshore wind turbines that produce slightly more electricity than the island consumes. Ten 2.3 MW offshore turbines, erected off Samsø's southern coast, feed excess power into the grid. They offset CO2 emitted by the cars, tractors and ferries used by the Samsingers.
Many homeowners replaced their oil furnaces with heat pumps or wood pellet stoves. Together with four new district heating plants, fired with straw from the many farms on Samsø, they cover nearly 80 percent of the heating on the island. Some farmers even extract rapeseed oil from the plants grown on their fields to fuel their tractors. Via the same undersea cable, Samsø today exports power to the mainland. It has a CO2 output of minus-3.7 tons per inhabitant, meaning that it offsets more greenhouse gases than it emits.
Energy guru
Given the opposition to large-scale energy infrastructure projects all over Europe these days, Samsø's
'We have this respect for and intimate relation with the landscape which means you cannot harm it'
success - the islanders changed their energy infrastructure in less than a decade - seems like a small miracle. How could it happen? Yes, Samsø is very windy, has sun during the summer and lots of biomass resources all year round. But its people, most of them deeply rooted within their homeland, weren't exactly excited about change.
The Samsingers have always been proud of their nature and their landscape: rolling green hills, lush fields and small forests that give way to quiet beaches. The traces of civilization on the island date back thousands of years. You can find old Viking harbors and dozens of large man-made mounts, overlooking the sea, under which Bronze Age Viking chiefs are buried. So when plans surfaced that several tall wind turbines were to be erected on Samsø, people were suspicious.
'The definition of our island life is linked very much to our landscape', says Søren Hermansen, an athletic Samsinger with short salt-and-pepper hair, thin-rimmed glasses and a warm smile. 'This leads to a greater concern about the influence on the landscape when me make changes to it. We have this respect for and intimate relation with the landscape which means you cannot harm it.'
Hermansen is Samsø's green energy guru. Born on the island, he left for the Danish mainland to study sustainable agriculture. After a few years, he came back to take over his dad's farm but he soon found out that farming wasn't for him. 'I'm way too much of a communicator, and potatoes don't communicate', he says, laughing. After another stint at university, Hermansen began teaching environmental courses at high schools and preached about the advantages of a sustainable lifestyle. When the islanders unearthed some government money for a full-time employee to lead the renewable energy project, Hermansen seemed like the perfect fit. He was.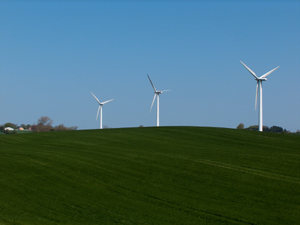 'Why should we look at the turbine and not be part of it?' (Photo: Samsø Energy Academy)
Hermansen knocked on doors, organized community meetings and, backed by a handful of volunteers, tried to convince people to support the renewable energy project, a process that took 'one to two years', he says. When it came to discussing the changes that were in store – building wind turbines, biomass district heating plants and solar panels – Hermansen knew it was key to involve as many people as possible.
'When you talk about wind power development it's really important that you invite everybody to participate, and not just an exclusive group of investors', he says. 'Because otherwise all the neighbors will say: Why should we look at the turbine and not be part of it?' He adds: 'Even to the front-runners of this project, who were eager to press ahead and invest, we said, take it easy, we need to have these discussions to take as long as needed, so that we could say we actually agreed on this.'
Controversial
After lengthy and difficult talks, the Samsingers decided to build eleven 1 MW turbines in the fields in the southern part of the island, where lots of farms produce milk, vegetables or rapeseed and where the turbines' impact on the landscape remained limited. The northern part, with its rolling hills and pristine reefs, was left untouched.
It soon became clear, however, that involving people in the discussions wasn't enough. Hermansen wanted to have people on board by handing them stakes in the actual production process. He realised that the wind turbines shouldn't be owned by a company, but by the locals.
The farmers came on board first. They had the land and the money to build an €800,000 turbine, but they were a small minority. If they wanted to buy a turbine, Hermansen told the farmers, they had to
More than 1500 people own shares in four of the island's 21 turbines, handing them a yearly dividend check based on the power production
lease part of their land to other Samsingers so that they as well could purchase a turbine - collectively. Renewable energy co-ops were formed that built more turbines, with each member chipping in as much money as he could afford. 'People were happy about that', says Hermansen. 'That way, it was not just my changes, or your changes, but everybody's changes. The whole thing became their project as well.'
The same concept was used when building the 10 large offshore turbines, which cost around €3 million each. Today, more than 1500 people own shares in four of the island's 21 turbines, handing them a yearly dividend check based on the power production.
Despite the successful co-op approach, building the offshore turbines was controversial. Tourist organizations were concerned that the machines would spoil the view and drive away the many mainlanders who spend their summer vacation on Samsø.
Hermansen and his team had a large-scale brochure made in which the ten offshore turbines are simulated into the Samsø landscape. Hermansen showed me the brochure, a large-format, high-quality magazine that shows how the turbines would look from different viewpoints on the island, spots that people know because they go there for their Sunday picknic or just to hang out.
Many fears were done away with after people had seen the images, Hermansen says, but the brochure wasn't just promotional. In one photograph, taken from a popular park, the offshore turbines popped up
Today, with milk prices low, Tranberg in money terms sells more electricity than milk
between two tree lines to fill out the entire horizon. 'We immediately saw that this isn't good, this doesn't work', Hermansen says. The Samsingers decided to move the wind farm some 200 meters to the side, behind the treeline. 'It actually did cost quite a lot of money because all the planning was already done, but that was an indication of us respecting the landscape and the public.'
And it paid off. Involving the Samsingers meant sparking their motivation. A few years earlier, a large slaughterhouse was closed down, and many jobs were lost. The renewable energy island project came at the right time. It was exciting and made people proud.
College students
Jorgen Tranberg, a farmer who owns 150 Holstein milk cows, in 2000 bought a wind turbine that has been turning behind his cowshed ever since. He later purchased half an offshore turbine and also invested in a solar power plant in Germany. Today, with milk prices low, Tranberg, who has a dry sense of humour, in money terms sells more electricity than milk. 'On Samsø, we don't talk so much, we just do it', Tranberg says.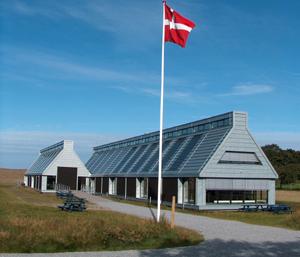 The Energy Academy where the Samsø example is being studied by people from all over the world (Photo: Samsø Energy Academy)
With the cash generated by the wind turbines, the islanders built an
Energy Academy
. It looks like a modern barn, with large glass windows and a roof decked with solar cells. There, politicians, scientists and students from all over the world study the Samsø example. When I visited the academy to meet Hermansen, who heads it, a group of college students from California was listening to a lecture on sustainable energy production. Later, they were due to climb Tranberg's wind turbine.
On the fields nearby, Hermansen's wife Malene, a charming blonde teacher, was flying kites with schoolchildren so they could learn about the power of the wind. The academy is a 'meeting place for people exchanging sustainability know-how, who want to change their energy systems from fossil fuel to renewables', says Hermansen, who travels to energy conferences around the world and has won several awards. Islands and local communities in Britain, South Korea and the United States are considering whether to follow the Samsø example.
Even on Samsø, there have been setbacks. A gearbox in Tranberg's turbine burnt down a few years ago and had to be repaired for around €150,000. An experiment with six electric cars in the public sector didn't prove successful because the vehicle broke down too often. Also,the islanders didn't reduce their energy consumption despite several efficiency programs launched.
Then there are the investment costs. Towering at around €40 million, they are are relatively high for a community of 4,000. That's €40,000 per person.
That doesn't mean that the Samsø example should not be followed. Nor are the Samsingers complacent. 'For the next one to two decades, we want to become a fossil-fuel-free island', Hermansen says. That will mean switching to electric cars and a ferry that runs on biogas. 'We need to change completely the whole system', Hermansen says. 'That's going to be tough. Probably we have to start all over with the discussion to convince people that this is a good thing to do.'
But given their track record, Hermansen and his fellow Samsingers will surely give it a try.