The riddle of Turkmenistan's gas reserves
According to the latest edition of the respectable BP Statistical Review of Energy, Turkmenistan holds the world's fourth largest gas reserves. But can these figures be trusted? After President Gurbanguly Berdymukhammedov fired all the leading executives in Turkmenistan's oil and gas industry in October, doubts have mounted.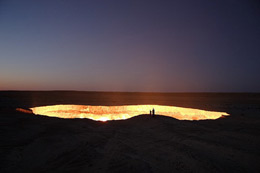 The Darvaza gas crater in Turkmenistan
Article Highlights:
- Turkmenistan claims that it possesses enormous gas reserves, making it easily the number 4 gas owner in the world.
- However, the sacking of the country's oil and gas minister as well as leading gas executives by Turkmenistan's president Berdymukhammedov in October, has raised doubts about the real size of its gas reserves.
- According to some sources, the executives were dismissed because they have exaggerated the figures on Turkmenistan's gas reserves.
- But most western observers continue to believe in the great potential of Turkmenistan as future gas supplier.

Recently, a sensational event took place in the Central Asian country of Turkmenistan, which was hardly reported on in western media. At an extraordinary cabinet meeting on 11 October 2009, President Berdymukhammedov sacked most of the leading managers in the gas industry, including his oil and gas Minister. He justified this decision by saying that the gas industry had yielded poor results over the past years, despite high state spending. However, the Russian newspaper Vremya Novostei, quoting anonymous Turkmen sources, reported that the real reason behind the purge was the fact that foreign companies participating in a tender for the development of the giant South Yolotan-Osman field, had discovered a 'grave miscalculation' in its reserves. In other words, they had discovered that the field contains significantly fewer reserves than the Turkmens claimed.
If it is true that Turkmenistan has far less gas than it officially claims, this would have significant implications for the European Union. The small Central Asian country (population 5 million) plays a key role in the EU's energy diversification policy. The famous Nabucco gas pipeline, intended to lessen the EU's dependence on Russian gas imports, relies to a significant degree on supplies from this isolated and enigmatic former Soviet Republic.
Crushing blow
Aware of its importance in the great global gas game, in which the EU, Russia and China vie with each other for access to Caspian gas reserves, Turkmenistan has in recent years been trying to make the most of its advantageous position. In the past, the country exported most of its gas to Russia at "subsidised" prices dating from Soviet times. After the Turkmens had made it clear they wanted to get rid of this arrangement and had started negotiations with the EU and China, in April the Russians signed a large, 20-year contract with Turkmenistan at much higher, "European" prices. Under this agreement, Turkmenistan's gas exports to Russia would reach 70 billion m3 (bcm) annually – almost as much as the entire annual gas consumption of Germany and equal to the total current production in Turkmenistan.
With this agreement Russia seemed to have dealt a crushing blow to Chinese and European ambitions in Turkmenistan, but the deal quickly turned sour when the economic crisis hit and gas prices as well as gas demand dropped sharply in Europe. In April 2009 Russia suddenly halted imports from Turkmenistan – allegedly because of a pipeline explosion, but many observers believe Russia wants to renegotiate its contract on more favourable terms. The situation is still unresolved – up to now Russia has been unwilling to resume its imports from Turkmenistan. Russian daily Vedomosti reported in late November that Gazprom might resume imports of 10.6 bcm in 2010. This would still only be a quarter of what Gazprom received in 2007 and 2008, when imports amounted to some 40 bcm per year. However, Russia did agree to extend the existing 20-year contract. On 29 November, Russian President Dmitri Medvedev and Turkmen President Berdymukhammedov signed an agreement to extend the contract from 2028 to 2034.
While Russian imports are still on hold, as of next year China will start importing up to 30 bcm of Turkmen gas annually through the Central Asia–China gas pipeline, which it agreed to fund in 2007. At the same time, Iran has agreed to increase its imports from Turkmenistan to 14 bcm in 2010. EU companies have gotten into the game, too. German energy company RWE, which is one of the shareholders of the Nabucco pipeline, was the first European energy company to reach a deal in Turkmenistan in July of this year. It has signed a production sharing agreement for offshore gas production in the Caspian Sea. Anglo-Dutch energy company Shell is reportedly showing interest as well. According to Vitaly von Riessen, Head of the Dutch mission in Turkmenistan, 'Shell would like to get onshore exploration rights, but the Turkmen want to keep the main land under control of their own companies. Since much Turkmen gas is known to contain sulphur, Shell is trying to offer desulphurisation technology in exchange for access to the main land. However, foreign companies are only offered offshore blocks and Shell is not interested in that.'
Geological data
So with all this interest in Turkmenistan's gas riches, the question is, how big are these riches really? Have they been exaggerated, as the Russian newspaper Vremya Novostei reported? Turkmenistan first started to claim it had huge gas reserves under its former president, Saparmurat Niyazov, who took over the country when it became independent in 1991. "Great leader" Niyazov, who styled himself 'the Father of all Turkmen', reportedly told Western leaders in private about his country's gigantic gas reserves. However, during his sultan-style rule, which ended with his sudden death in December 2006, no official data was ever provided to support these claims.
'If you do the math, you will see that Turkmenistan is able to meet its international obligations'
Under the rule of his successor, Gurbanguly Berdymukhammedov, who was Niyazov's personal physician – and, according to some, his illegitimate son – the country seemed to open up somewhat, but the secrecy surrounding the Turkmen gas resources remained. Of all the major players, the Russians probably had the most insight into Turkmenistan's actual reserves, as they possessed geological data from the Soviet era obtained in the early eighties. According to these data, which the Turkmen authorities reportedly only received from their Moscow embassy in the 1990s, the renowned South Yolotan-Osman field, by far Turkmenistan's biggest gas field, was estimated to have reserves of 3 trillion m3 (tcm). The BP Statistical Review of Energy until recently reported a similar figure for total Turkmen gas reserves, putting them at 2.43 tcm, ranking Turkmenistan the 13th largest owner of gas in the world, behind countries like Norway and Algeria.
Representatives of the Turkmen government, however, insisted that the country's real reserves were much larger. At several meetings with the US and the EU in 2007 and 2008, they promised to support their assertions with proof, but each time they backed out at the last moment. China, too, asked to see hard proof and offered to conduct its own audit, but again the Turkmens pulled out at the last moment. When asked about the issue, Turkmen diplomats uniformly responded they were not allowed to comment on their country's gas reserves and just insisted that they were prepared to sell their gas to any buyer against "European" prices.
Impressive numbers
Over time, however, the pressure on Turkmenistan to divulge hard data increased. Moreover, with oil prices steadily rising, Turkmenistan's desire to capitalise on its reserves grew. Thus, in April 2008, Berdymukhammedov announced that Turkmenistan had hired the reputable British oil and gas consultancy Gaffney, Cline & Associates (GCA) to conduct an audit of its reserves, starting with the South Yolotan-Osman field. In October 2008, GCA announced that it had finished its audit and 'was authorised by the government of Turkmenistan to confirm certain information' from their report. GCA said the South Yolotan-Osman field contained between 4 tcm (low case) and 6 tcm (best case) to 14 tcm (high case) of proven gas reserves. The Yashlar fields were supposed to hold between 0.3 tcm (low case) and 0.7 tcm (best case) to 1.5 tcm (high case) of gas.
These were impressive numbers. The Turkmen government claimed, based on the GCA audit, that the country has 20 tcm of proven gas reserves, qualifying it as the world's fourth largest gas reserves after Russia, Iran and Qatar. The BP Strategic Energy Review seems to have taken the audit into account to some extent, because its 2009 edition boosted Turkmen gas reserves from 2.43 tcm at the end of 2007 to 7.94 tcm at the end of 2008 – less than the figure of the Turkmen government, but still good for a 4th place in the worldwide rankings.
'The President said that one third of the drillings was probably realistic'
Nevertheless, scepticism remained. Some international experts argued that the results were inconsistent with Soviet era exploration data. One organisation counting itself among the sceptics is the Eurasia Transition Group (ETG), a Bonn-based NGO promoting democratic transformation, civil rights and freedom of the media in the region of Central Asia. In 2008 and September 2009, ETG, which is funded by European institutions such as the European Parliament, the Council of Europe and the OSCE, published two sceptical reports (
Hydrocarbon resources in Turkmenistan
and
Is Turkmenistan a reliable partner for the European Union?
). These reports quoted anonymous Turkmen officials who stated that Turkmenistan was deliberately exaggerating the size of its gas reserves in its public statements in order to impress potential foreign investors, including the EU. ETG claims that Turkmen President Gurbanguly Berdymukhammedov himself is behind this policy.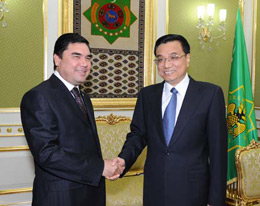 Chinese Vice Premier Li Keqiang meets with Turkmenistan's President Gurbanguly Berdymukhamedov (L), on June 24, 2009, when both countries pledged to strenghten energy and security cooperation.
The ETG reports seemed to be confirmed by the sensational events of October, when Berdymukhammedov fired his oil and gas executives. Michael Laubsch, Director of ETG, says to EER that he is convinced the account of the firings in Russian newspaper Vremya Novostei is correct. 'Shortly after the extraordinary cabinet meeting, we received information from our sources that during that particular meeting, the President himself had announced that the results of the drillings done by the Turkmen themselves – as well as the data subsequently provided to GCA to conduct the audit – had been falsified. The President said that one third of the drillings was probably realistic.' According to Laubsch, GCA has not been directly involved in the drillings, since 'no foreign company has ever been allowed to conduct onshore drillings in Turkmenistan'. If one third of the drillings is correct, it could mean that instead of the claimed 20 tcm, Turkmen gas reserves would rather be in the order of 7 tcm.
In response to the reports in the press, GCA issued a press release on 15 October, stating that 'the work undertaken on the South Yolotan-Osman gas fields in 2008 was based on original field data provided by State Concern Turkmengeologiya. The data provided to GCA (both well data and seismic) were fully adequate to support the results which were published. Further, these results were the product of GCA's original and independent work on the base data, and not dependent upon any previous interpretations made by Turkmen or other international specialists.'
In other words, GCA did not do any drillings, but it did vouch for the data it had received from the Turkmens. When contacted by EER, Jim Gillett, Head of Business Development at GCA and responsible for the report, was hesitant to comment. He says he has been misquoted several times on the issue. He confirms that GCA was not directly involved in drillings. 'We received well-documented data from the Turkmen, which was both sufficient and valid. GCA gave its own interpretation to it and we stand by our results.' He adds, 'when talking about these reports one should ask himself who is to gain by putting forward these allegations? As for GCA, why should we risk our fifty-year reputation?'
Business climate
Most western observers seem not too concerned by the sackings at the oil ministry and the ETG reports. The general feeling is that whatever the exact size of the Turkmen gas reserves, Turkmenistan does have plenty of gas to fulfil its obligations. Oybek Shaykhov, business development manager at Enex, a Belgian company focused on downstream oil and gas process engineering in Turkmenistan, does not want to comment directly on the reports, but says, 'if you do the math, you will see that Turkmenistan is able to meet its international obligations, also in a Western direction, at least in the short run.'As for long-term commitments, Shaykov is less certain, but adds, 'Turkmenistan has stressed on several occasions that it is willing to provide gas for Nabucco.'
Shaykhov is also positive about Turkmenistan's business climate. 'We have been active in Turkmenistan since 2001 and are currently involved in the construction of compressor stations for the Turkmenistan-China gas pipeline and the new pipeline to Iran. The business climate is actually better here than in countries such as Russia, there is less bureaucracy. Decision-making is more streamlined and European companies receive active support from the Turkmen government.'
Other western energy companies seem to feel the same way. Italian ENI recently signed a memorandum of understanding on oil and gas cooperation in Turkmenistan and US company Chevron announced recently that it has started negotiations to become involved in the development of the South Yolotan field. Von Riessen, the Head of the Dutch mission in Turkmenistan, also remains convinced that Turkmenistan's gas reserves are high. 'My colleagues at the British embassy are also convinced of the validity of the audit results', he says.
'The business climate is actually better here than in countries such as Russia, there is less bureaucracy'
Laubsch, on the other hand, insists his sources are reliable. 'In the past they have always been trustworthy. There is of course scepticism about our reports. Some Western journalists have even suggested that these reports in the Russian media might be a Kremlin orchestrated attempt to discredit Turkmenistan's reliability in the eyes of the EU. I don't think that is true.'
Ferran Tarradellas Espuny, spokesman for Energy Commissioner Andris Piebalgs at the European Commission (EC), tells EER he is not aware of reports claiming that reserve figures have been falsified. 'Even if this were true, we still believe that Turkmenistan has a lot of gas, since it is a big supplier to Russia. Therefore, relations with Turkmenistan remain important. The Southern Corridor program, which has been made a priority by the European Council and is meant to provide access to the whole Caspian region, will remain central to our policy.' Tarradellas adds that he does not foresee any 'substantial change' in the EU's policy towards Turkmenistan. 'We do not depend solely on Turkmenistan as a supplier. We also expect gas from Azerbaijan and North Iraq to supply the Nabucco pipeline.' Concerning the transport of Turkmen gas to European markets he says, 'a Trans-Caspian pipeline is not a precondition, the gas could be shipped as LNG or high pressure gas.'
For the time being the truth of Turkmenistan's gas reserves is likely to remain hidden in a drawer of Berdymukhammedov's desk. It could well lie somewhere in the middle between the 3 bcm of the past and the 20 bcm claimed later, making GCA's "best estimate" and the BP Statistical Review figure of some 8 bcm the most reasonable guesses. This would still make Turkmenistan the country with the world's fourth largest proven gas reserves.
Andrej Tibold publishes the Eurasia Energy Observer, a weekly newsletter about the oil and gas sectors in Russia, the Caspian and Central Asia. He works from Amsterdam and Berlin.