The risks of a Russian-Turkish energy bargain
Nearly two years after Russia and Turkey signed a series of energy cooperation protocols, the two countries remain unable to reach a breakthrough in their energy relations. Negotiations are deadlocked on two principal projects: the Samsun-Ceyhan oil pipeline and the South Stream gas pipeline. The ongoing deadlock, while leading to frustrations, can and probably will be solved. But if the two countries come to a bargain that ignores the wider interests of all stakeholders, they may have to pay a steep price.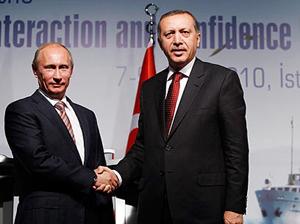 Putin and Erdogan in Istanbul (Photo: Reuters)
Since the summer of 2009, Ankara has been courting Russian support to build a pipeline between its Black Sea and Mediterranean coasts. Turkish leaders hope that this Samsun-Ceyhan pipeline, led by Calik Holding and Italian energy company ENI, will alleviate tanker traffic through Turkey's largest city, Istanbul, while transforming Ceyhan, its oil terminal on the Mediterranean, into one of the leading oil-trading hubs. The two countries have established a working group that is trying to find a common basis for collaboration on the project. The Turkish side wants Russian companies to commit at least 25 million tons of crude oil annually (half a million barrels per day) for the pipeline. Russian companies have so far abstained from committing any crude and are still negotiating what form their involvement in the pipeline might take.
Moscow, on the other hand, has requested Ankara's approval to build a major gas-export pipeline project, South Stream, through Turkey's economic zone in the Black Sea. South Stream would allow Russia to bypass Ukraine for some of its gas exports while securing additional markets in Europe. As it is proposed to pass through Turkey's zone, Russia will need to get Ankara's official permission to build it.
Growing frustration
Turkey's Prime Minister Recep Tayyip Erdogan's trip to Russia on March 16 did little to suggest the two countries are close to reaching a compromise. Timed to the ninetieth anniversary of the historic Treaty of Moscow—which solidified diplomatic relations between the two then-new capitals—his visit highlighted Russia's growing discontent with the ongoing deadlock.
'We do not understand yet the reasons why we have not received the permission,' said Russian Deputy Prime Minister Igor Sechin, referring to Ankara's delay in approving the construction of South Stream through Turkey's waters. Sechin's decision to speak publicly on the issue indicated his growing frustration. Ankara, having granted earlier permission for seismic and surveying work, was expected to follow up with one final permit by the end of 2010.
What went wrong? As negotiations about both projects have moved from the highest levels of government to the bureaucracy, the cost of the required compromises has become increasingly apparent—and neither side has been willing to bear it.
Russian oil companies have remained reluctant to commit their crude for the Samsun-Ceyhan pipeline unless Turkey agrees to drastically reduce transit fees. Their response is understandable as they possess access to less expensive routes and are likely to maintain this privilege for some time. They
Turkey's main concern is that granting final permission for South Stream will come at a high strategic cost
no longer suffer from infrastructure bottlenecks as in the past that would necessitate a desperate search for new outlets. Expansion in export infrastructure during the past decade, the Baltic Pipeline System I in particular, along with the slowdown in Russia's oil output since mid-2000s has largely alleviated bottlenecks. Furthermore, Russia's oil sector is expected to rapidly gain additional export capacity through the East Siberia Pacific Ocean pipeline (ESPO) and the Baltic Pipeline System II. Nor is Russian oil output growth expected to accelerate in the next decade.
Turkey's main concern is that granting final permission for South Stream will come at a high strategic cost. It could undermine the Nabucco pipeline project, which Turkey hopes will bolster its role as a major gas transit hub. Both countries are well aware that the two gas pipelines target roughly the same market. It is likely that there will be a market for only one of them, at least for the next decade.
Complicating matters further is that those paying the costs will not necessarily reap the benefits. If Russian oil companies commit their crude to the Samsun-Ceyhan route, they will wind up favouring Gazprom, which is in charge of South Stream. Likewise, Turkey's gas sector may need to make a sacrifice and forego further opportunities for gas transit so that the Samsun-Ceyhan project is realized. Thus, in both countries, private interests as well as interests within the various bureaucracies are at odds with each other, making it difficult to come to robust decisions.
Main risk
Still, it would be premature to conclude that Moscow and Ankara cannot reach a compromise. Even though these two pipeline projects have constituted the centerpiece of their negotiations, their energy relationship involves much more than that. Gazprom has repeatedly shown interest in getting a direct stake in Turkey's downstream gas sector. While Turkey can opt to play on this, Russia could come up with several sweeteners for an eventual deal. Moscow has the option to reduce the price of gas and accept greater flexibility on existing contractual terms. As a last resort, it can allow Turkey to reexport part of its gas.
The main risk for the two countries is not that they will fail to reach a mutually acceptable solution, but that the leadership in Ankara and Moscow decide to ignore the interests from their stakeholders. This risk is real as leaders in both countries are in a position to discount input from the stakeholders, the media, and the public without significant political damage.
If Russian oil companies are required to make a sacrifice on the Samsun-Ceyhan pipeline, it will not be the first time. They have already been paying for new export infrastructure projects with unclear economic rationale. The ESPO with a capacity much larger to absorb oil produced at a reasonable distance is one example.
Likewise, Turkey's leaders could well decide that oil interests should outweigh the country's medium-term gas-transit objectives. When it comes to energy relations with Russia, one can already see some evidence that the leadership of the AKP, currently the ruling party, has been able to ignore even the harshest critiques in domestic politics. Its decision to award Russian companies the right to build the country's first nuclear power plant without a competitive process is a prime example. Typically, the AKP leadership has ignored calls to reevaluate this decision following Japan's nuclear crisis.
Russia and Turkey have a long way to go in developing their energy partnership. But without the continued input of interested stakeholders, both countries risk making costly policy decisions. If the final compromise they reach jeopardizes the Nabucco project, this could weaken Turkey's ability to play a more significant role in Europe's energy security. Likewise, Russia's oil industry, already burdened with high transportation costs, may end up bearing further costs for the sake of filling a new pipeline.
About the author
Adnan Vatansever is a senior associate in the Energy and Climate Program at the Carnegie Endowment for International Peace.