Noé van Hulst, Secretary-General International Energy Forum
'Extreme oil price volatility is the enemy of investment'
When the world's energy ministers will meet for the 12th International Energy Forum, their biennial get-together, at the end of this month in Cancun, there will be one subject and one only that will dominate the agenda: how to prevent the oil price from entering another rollercoaster like it did in 2008-2009.
'There is an enormous awareness, both among producing and consuming countries, that this should never happen again', says Noé van Hulst, Secretary-General of the International Energy Forum (IEF), in a telephone interview with EER from the IEF's headquarters in Riyadh, Saudi Arabia.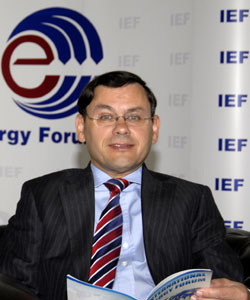 Noé van Hulst, Secretary-General of the International Energy Forum
For the IEF, the extreme oil price volatility in the last two years is just the kind of nightmare scenario that the organisation was set up to prevent. The IEF was founded in 1991, at the time of the first Gulf War, at the initiative of then-French president François Mitterrand and then-president of Venezuela Carlos Andrés Pérez, to provide a permanent forum for dialogue between oil producing and consuming countries. In 2000, then Crown Prince and now King Abdullah of Saudi Arabia offered to host a permanent secretariat in Riyadh. The Secretariat opened its doors for business in December 2003.
What is unique about the IEF is that its participants are not only the IEA-countries (the traditional oil-importing countries united in the International Energy Agency) and the OPEC-countries, but also countries like Russia, China, India, Brasil, South Africa and others that belong to neither IEA nor OPEC. The idea behind the IEF was to get all countries to engage in a permanent dialogue so as to create a stable political framework for the global oil market, in which all participants can feel that their interests are represented. In this way, the IEF would help to avoid future energy crises.
But an energy crisis was exactly what took place in 2008-2009, with prices exceeding even those of the oil crises of the 1970s. Yet it would hardly be fair to blame the IEF. It was, after all, not the governments of the OPEC countries or other countries that caused the crisis – this time it was the market itself. The results were devastasting.
'The kind of price volatility that we saw is bad for everyone, including the producing countries', says Van Hulst. 'Extreme oil price volatility is the enemy of investment. It makes it impossible for investors to plan and for governments everywhere to conduct any kind of sustainable energy policy, not least because all energy prices are affected by the oil price.'
King Abdullah of Saudi Arabia responded to the price spikes by calling an ad hoc ministerial meeting in Jeddah in June 2008, in which the IEF Secretariat played a pivotal role, followed by a meeting in London hosted by UK Prime Minister Gordon Brown. This led to the setting up of an Independent Expert Group to investigate the problem and draw lessons for the future. This somewhat secretive Group, whose individual members are anonymous, has recently finished its investigation and has reported to a High-Level Steering Group of 11 countries (Algeria, France, Germany, Japan, Kuwait, Mexico, Norway, Qatar, Saudi Arabia, the UK and the US). The Steering Group is now busy drawing up recommendations for Ministers which will be discussed in Cancun. 'We hope we will get a very broad consensus to tackle the problem and reinforce the role of the IEF as a neutral facilitator of the global energy dialogue', says Van Hulst.
Although the report of the Independent Expert Group has not been made public yet, 'virtually everyone agrees', says Van Hulst, 'that paper trading has played a significant role in causing recent price movements. Oil has a dual nature now: it is not just a physical commodity anymore, it has also become a financial asset, comparable to gold and currencies. It is used to hedge risks. This makes the situation so enormously complex. In fact, we still don't really know what happened in 2008. We don't know how to weigh the relative effects of the various factors in play, how the process works exactly, what we can actually do about it in terms of solutions – all of this is still being discussed.'
If anything, the recent oil price crisis has only underlined the need for an organisation like the IEF, says Van Hulst. 'Part of the purpose of the ministerial dialogue is to limit price shocks. According to some analysts, the mere fact that the IEF exists and that countries work together to talk about problems in the oil market in an honest and frank way can have a stabilising effect on market expectations.'
Second-guessing
And there is another way in which the IEF contributes to more stability: it actively seeks to improve transparency in the worldwide oil market. Its major instrument for this is JODI, the Joint Oil Data Initiative, a unique activity, coordinated by the IEF Secretariat in cooperation with other organizations like IEA and OPEC, in which more than 90 countries, representing over 90% of global oil supply and demand, participate. The JODI World Database, which was started in 2005, includes monthly figures on production, consumption and stocks from 2002 to the present. The IEF is also planning to set up a gas database as well as a global investment database for the oil and gas sector. 'Industry is crying out for more detailed information', says Van Hulst. 'Transparency is an essential condition for more market stability. If people do not have enough information, this only leads to more second-guessing.'
JODI had a difficult start, but it is progressively becoming more timely and more complete. The performance of countries in terms of timeliness, completeness and consistency of data has seen dramatic improvements in 2008 and 2009. Van Hulst: 'The database is already being used intensively in the market. It contains a lot of data outside of IEA and OPEC, which is increasingly important reflecting the growing weight of emerging countries in the world economy. And the entire database is freely available on the internet.' Van Hulst is aware that JODI still lends itself to improvement. 'In particular the data on commercial oil stocks in non-OECD countries need to be improved.'
Transparency alone, however, will not be sufficient to prevent future price shocks. For that the paper trade in oil needs to be adequately regulated, says Van Hulst. 'It is almost unthinkable that the current process will not lead to sharper regulation of the paper oil trade. The Commodity Futures Trading Commission (CFTC) in the US has already proposed new measures. But of course reigning in the paper oil market is easier said than done. You don't want to hurt liquidity in the market or make it impossible for commercial market players, such as airlines, to hedge their positions.'
A particularly worrisome aspect of the current downturn of the economy is that producers are cutting back on investments, as they did in the past, setting the world up for another ride on the rollercoaster. 'Everyone says we should not repeat the mistakes of the past, but it seems that is what we are doing, at least to some extent. The financial markets are again putting heavy pressure on the oil companies to make cutbacks. Companies are struggling with this. I see that investments are taking quite a hit. We cannot afford that to continu. We need a lot of new investment, not only to meet higher demand when the economy recovers, but also simply to compensate for the natural decline of existing oil and gas fields.'
Washington
For the IEF "investment" and "transparency" are two of its three policy priorities. The third one is sustainability. Global warming is of course a particularly sensitive issue for the global oil industry. Most scientists believe that the world cannot continue to produce and consume energy the way it is doing now if it wants to avoid catastrophic global warming. At the same time, most experts agree that fossil fuels such as oil and gas are indispensable to meet the developing world's growing energy needs. It is far from clear how this puzzle can be solved.
The IEF-office in Riyadh got a visit last week from the US Minister of Energy Steven Chu, who, very appropriately, held a speech on "Solving the Climate and Energy Challenge Together". By "together", Chu did not only mean that the climate and energy issues both have to be solved, but also that this has to be done by a joint effort of all the major players in the world. 'It was a nuanced, realistic presentation', says Van Hulst. 'More realistic than I had heard out of Washington before. Chu recognised that fossil fuels will continue to be very important for a long time to come. He said that if you are serious about fighting climate change – and he made it clear that he is – you cannot rely only on renewables. You also need nuclear power, energy efficiency, and new technologies that lead to cleaner fossil fuels, including carbon capture and storage (CCS). You cannot do it without CCS.'
The IEF strongly supports research into CCS. It is a collaborating member of the Global CCS Institute which was launched by the Australian government in April 2009 to accelerate the worldwide commercial deployment of CCS..However, Van Hulst says a lot still needs to be done to make CCS a success. 'The costs are still very high. There need to be much stronger financial incentives for companies to invest significantly in CCS. If there is no price for CO2, if CCS is not included in the Clean Development Mechanism, and if there are no regulatory breakthroughs, then I don't think it will ever make significant inroads.'
Currently, most climate policies in the world lack substance, says Van Hulst. 'There are lots of ambitions but they are rarely backed up by sufficiently adequate actions and financial incentives.' Van Hulst does perceive a growing awareness and willingness among non-OECD countries to 'become part of the solution' rather than of the problem. 'There are lots of initiatives. Here in Saudi Arabia they are investing a lot in solar power. In Abu Dhabi they have embraced renewables. And there are other examples. But you cannot say that a good international framework has been created with Copenhagen to invest massively in emission reductions. There is in my view no comprehensive framework that investors can rely on.'
Van Hulst warns that in the end climate policy will not work without such a framework. 'I cannot imagine that governments worldwide will continue to subsidise, for decades to come, a growing share of renewable energy massively, with feed-in tariffs and similar systems, as is being done now. With the budget deficits and economic situation that we have now, this seems highly unlikely. So in my view it is indispensable that the costs of alternatives have to be brought down significantly. I don't hear enough about this. More money needs to go to technology and R&D. The US are starting to do this, but I don't see the same urgency elsewhere. OECD countries need to invest a lot more in R&D.'
The Secretary-General of the IEF hopes that the ministerial meeting in Cancun will lead to more consensus in the way governments approach crucial energy issues, such as CCS, oil and gas market transparency and the investment climate. 'To ensure a sustainable energy future, we urgently need to create a stable global framework for investments in energy. If we don't, not enough investments will take place and we will pay a heavy price down the line.'
What is the International Energy Forum?
The International Energy Forum was created in 1991 to facilitate and enhance dialogue between energy producing and consuming countries. It organises ministerial meetings that bring together the world's energy ministers every two years. The last IEF meeting took place in Rome in 2008. For a report on this meeting in European Energy Review, click here.
The IEF Secretariat, the administrative arm of the IEF, was created in 2003 and is located in Riyadh. The IEF Secretariat co-ordinates the Joint Oil Data Initative (JODI) and administrates the JODI World Oil Database, organises regular meetings between national and international oil companies (NOC-IOC Forum), symposia and workshops on other key topics, and carries out research and analysis. IEF has recently completed an assessment of the potential and limitations of biofuels at the request of IEF Ministers, on which EER will report later.
Noé van Hulst, who was formerly Director Long-Term Cooperation and Policy Analysis at the International Energy Agency and before that Director-General for Energy at the Dutch Ministry of Economic Affairs, was appointed Secretary-General of the IEF in 2008. For a previous interview EER did with him, see this article.