Vattenfall's crisis of confidence
The Swedes are not really sure whether they should embrace "their" national champion Vattenfall for the dividends it generates, or whether they should despise it for its "dirty" electricity production, particularly in Germany. The company itself does not help matters, having made a complete failure of its communications. And as for the Swedish government, it seems to have no idea in which direction it should steer its treasured enterprise.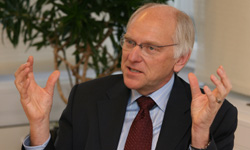 Vattenfall's CEO Lars G. Josefsson
Highlights:
- State-owned Swedish utility Vattenfall has come under much criticism in Sweden, in particular because of its supposedly "dirty" and unsafe practices in Germany and other countries.

- CEO Lars G. Josefsson has announced his retirement, but the problem for the company is not so much its leadership as the different demands that are put on it from the Swedish government, politicians and the public.

- The Swedes want to see their national champion to be internationally competitive and profitable, but at the same time expect it to be leading in sustainable electricity production.

- The future of Vattenfall is uncertain, as the coalition government cannot seem to agree on a strategy, and public opinion is divided.
'Where Vattenfall is concerned everyone blames everyone else,' so read a headline in the Swedish morning paper Dagens Nyheter at the end of November. Similar headlines dominated other media in those weeks, after Svenska Dagbladet had revealed that Vattenfall AB, the Swedish mother company, had concluded a special agreement with its German subsidiary Vattenfall Europe, assuming unlimited liability in the event of an accident at one of its nuclear reactors in Germany. The agreement appeared to have been made at a meeting of the Supervisory Board in March 2008, but Minister of Enterprise and Energy Maud Olofsson said she learned about it much later, even though a government official sits on Vattenfall's Supervisory Board. 'Vattenfall has handed itself over to the German government', Swedish headlines blazed.
A few days later TV4 reported that Vattenfall was planning to sell its Swedish electricity network to generate revenue with which it wanted to buy into the British nuclear power industry. The company vehemently denied the report, but it hit yet another sensitive nerve, as the Swedes strongly feel the networks should remain in state hands.
These public relations disasters were only the latest in a string of incidents that started two years ago when it was announced that the village of Horno in the east of Germany had to make way for a lignite strip mine owned by Vattenfall.
This was followed by several other incidents, including a transformer fire at the Forsmark nuclear power plant in Sweden and incidents at the German reactors in Krümmel and Brunsbüttel. The Krümmel plant had to be shut down again in early July only two weeks after a mandatory shut-down of almost two years. Today, nobody is willing to say when – or whether – the two nuclear power plants will be started up once more. The daily loss of income is around €1 million. Moreover, it remains a mystery why the Swedish nuclear power plants are, in terms of production activity, more than 10 percentage points behind their Finnish colleagues.
Crisis of confidence
Although the incidents in the German and Swedish reactors were insignificant from a safety perspective, they nonetheless revealed a considerably inadequate safety culture. Vattenfall's Chief Lars G. Josefsson was forced to write an apologetic article in the Swedish newspaper Dagens Nyheter, admitting that 'Vattenfall has driven itself into a crisis of confidence.' He conceded that 'Vattenfall has offended the safety culture both in Sweden and in Germany – and we were rightly criticised.'
Vattenfall's owner, the state, represented by a centre-right government and its enterprise minister Maud Olofsson, obviously did not have the situation under control. In her statements, Olofsson criticised the company's board, but she did not attempt to get rid of Josefsson. Her performance left an impression of confusion and the government was heavily criticised in the media.
Vattenfall's current problems can only be understood in the light of its recent history. When Sweden's energy market was one of the first in Europe to deregulate in 1996, foreign companies rushed into the country immediately. They were welcomed; the Vattenfall monopoly had to be broken after all. It was mainly municipalities and large companies with their own electricity supply that seized the opportunity and sold their production plants at good prices. Today, the Swedish market is dominated by three players: Vattenfall, German producer Eon and Fortum, a Finnish state-owned enterprise.
To enable the national champion to compete with foreign suppliers it was granted the right to establish itself outside Sweden's borders. The social-democratic government of the time spoke of the need for Vattenfall, which incidentally means waterfall, to become an equal player in Europe, so as not to have a competitive disadvantage in the liberalised market.
At the start of 2000 Lars G. Josefsson took over the reins and did exactly what he had been told to do: he set out to conquer foreign markets. He first focused on Germany which, since reunification, had become a profitable market for energy suppliers. Later, he established a presence in Norway, Finland, Denmark, Poland, the Netherlands and the UK.
Under Josefsson's leadership, the company's growth has been impressive. Sales have increased from about €2.77 billion (27.7 billion Swedish kronor) in 1999 to around €16.5 billion in 2008. Just 20% of these sales come from the Scandinavian countries and Finland. Pre-tax profit in the same period rose from €450 million to €2.35 billion. During this time €4.7 billion flowed into the treasury from dividends. The company's value increased from around €5 to €40 billion. Swedes were proud of this development, finance ministers rubbed their hands, and most politicians referred to the new Swedish success story with great satisfaction. 'By any normal measure there is really no reason for Lars G. Josefsson to be embarrassed,' as the economic journal "Dagens Industri" put it recently.
Dramatic transformation
But Vattenfall's success carried a price. With its establishment outside Scandinavia the company's energy profile underwent a dramatic transformation. While in 1999 42% of the energy it produced came from hydroelectric power and 57% from nuclear with only 1% from fossil fuels, today 57% is mainly coal-based, while the contributions of nuclear power and hydroelectric power have fallen to 23 and 21% respectively. Critics are only too eager to point out that Vattenfall alone has higher CO2 emissions in Germany than the whole of Sweden combined. Josefsson's counterargument, that you cannot do without coal if you want to compete in the German energy market, falls on deaf ears. For many Swedes, Vattenfall has become the "demon polluter", damaging Sweden's image as a nature-loving, environmentally-friendly nation. The company's "lignite power plant pollution" stands in sharp contrast to the energy policy set down by the Riksdag (parliament). Many demand that the government impose a 'green energy policy' upon Vattenfall.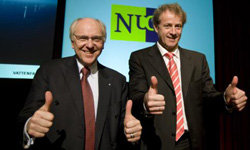 Lars G. Josefsson and his successor Øystein Løseth at the announcement of Vattenfall's takeover of Dutch utility company Nuon.
The government, whether left or right leaning, initially sought refuge in the argument that Vattenfall had to operate in accordance with the domestic regulations of Germany and the other countries. Of course, the dividends Vattenfall brought were nothing to be sniffed at, but that argument was not raised too loudly.
Still, the government does feel that it has to do "something" about Vattenfall. At the company's general meeting in April 2009, State Secretary Ola Alterå took up the microphone as the government representative and set out three criteria for Vattenfall's company policy: a focus on higher returns, on green energy and on the reinvention of the brand image. This was followed by a clarification that the call for more green energy applied not only to Sweden but to all countries in which Vattenfall is active. The State Secretary had no answer to the question of how high returns could be reconciled with this mandatory development of green electricity production.
In the meantime, the government has been working for a long time on a new statute for Vattenfall. The fact that this is taking so long – the parliamentary draft is now expected to be ready in early 2010 – has been blamed on the complexities of such an undertaking. There is another reason however: the right-wing four-party coalition finds it hard to reach agreement. The Centre Party, which developed from the Agrarian Party, and to which both the minister of Enterprise and Energy and the minister for the Environment belong, has already had to compromise on energy policy by renouncing its anti-nuclear stance at the beginning of 2009, when the coalition agreed to end the moratorium on nuclear power and to allow the replacement of existing nuclear power plants. Research in nuclear power is also permitted once again. Swedish nuclear power production is, incidentally, the highest in the world per capita. But now the Centre Party is fighting for its green credentials. The "polluter" Vattenfall does not sit well with this image, although minister Olofsson has expressly welcomed last year's acquisition of Dutch power producer Nuon, which owns coal-fired power capacity in addition to gas-fired plants and wind power.
Mountain of debt
If the government so far has not been able to enforce a "greener" policy on Vattenfall, then at least it wanted a chief executive who was more sympathetic towards its agenda. As far back as June, at least according to insiders in her own party, Maud Olofsson asked Vattenfall Chairman Lars Westerberg to look for a new ceo. In September she re-emphasised that this should take place before Christmas. In the end, things may have happened even more quickly than she had expected. On 16 November at a rapidly convened press conference it was announced that Josefsson would be replaced by Øystein Løseth. The Norwegian, who worked for Statoil, Alliance Gas, Statkraft and most recently was CEO of Nuon, for whom he carried out the takeover negotiations with Josefsson at the start of 2009, will take the reins of Vattenfall 'before the summer of 2010'.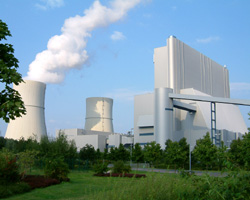 Vattenfall's power station at Germany's Schwarze Pumpe, which has been equipped with an oxyfuel CCS installation.
This looks worse than it is for Josefsson, as the annual report of 2008 already stated that: 'The ordinary retirement age for Lars G. Josefsson (born 1950) is 60.' The much-criticised Vattenfall chief, although admitting he has failed in his communications ('we have perhaps not managed to clearly represent the relationship between our future goals and what we are doing now', he wrote in Dagens Nyheters), staunchly defends his environmental record. The large-scale use of coal is, he says, accompanied by investments in carbon capture and storage (CCS), which will eventually lead to CO2-free coal-based electricity. Josefsson, former energy advisor to German Chancellor Angela Merkel and current advisor to UN General Secretary Ban Ki-moon, has set the following objectives: by 2030 Vattenfall's CO2 emissions should be halved and 20 years later they should be zero. And this will not be accomplished by selling coal-fired production capacity.
A successful CO2-policy would go a long way towards vindicating Josefsson's policies. As the chief political editor of "Dagens Nyheters", Peter Wolodarski, has written: 'What happens when Vattenfall moves away from coal? Then someone else will take it over and they may not be so committed to CCS. Is that what we want?" Small wonder that the recent EU decision to sponsor Vattenfall's CCS research with a grant of €180 million was welcomed in Stockholm. The company has said it has made very satisfactory progress in CCS. It also sees very good conditions for the storage of CO2 in Germany.
So what will the future of Vattenfall look like? That is still unclear. In anticipation of the government's proposals, there is a lot of debate about this in Sweden. The financial industry supports a listing at the stock exchange, with the State remaining majority shareholder. The environmental movement and some politicians want to split the foreign parts of Vattenfall from the Swedish part, and make the Swedish company a world model of sustainable electricity production.
At any rate the capital markets have not lost faith in Vattenfall. As a result of the acquisition of Nuon – many analysts consider the purchase price of almost €10 billion to be too high – and other investments, Vattenfall's mountain of debt grew from €6.6 billion at the end of 2008 to €15.7 billion at the end of the third quarter of 2009. Nevertheless, the company's first sterling bond issue in 2009 was oversubscribed 13 times. As regards Vattenfall's reputation in Europe, the incoming chief executive Øystein Løseth says: 'Vattenfall has a good reputation in Europe. However, in order to see that perhaps you have to be Norwegian.'