Interview: Walter Peeraer, CEO Fluxys
Why the national Belgian gas transmission company is looking far beyond its national borders
The Belgian transmission system operator (TSO) Fluxys has, over the last two or three years, "quietly grown into a European company", says Fluxys CEO Walter Peeraer in an interview with European Energy Review. Fluxys views itself as a "first mover" in the rapidly changing European gas market. Through a series of well-placed investments, the national TSO of Belgium has extended its reach far into Europe. As a result, it is competing with other TSO's - while at the same time cooperating with them to make the single European gas market a reality. Welcome to the complex new world of European gas infrastructure.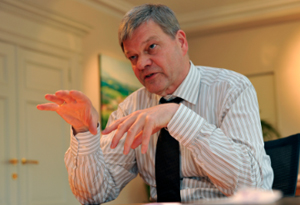 'I have never seen a business case for any kind of infrastructure investment without long-term commitments' (c) Natural Gas Europe
"What we have achieved in our Belgian system is what the European infrastructure model should look like in the future." Belgians hardly tend to be very boastful, yet this statement on a power point presentation from Belgian gas transmission system operator (TSO) Fluxys does sound a bit like a boast. In an interview with European Energy Review, Walter Peeraer, CEO of Fluxys, puts it more modestly. "The future of the gas market is European", he says. "This is what the strategy of our company is based on."

Actually Fluxys may well be considered a model company from the perspective of Brussels. EU energy policy is aimed at the liberalisation and integration of the EU energy market. The position of the transmission system operator (TSO) in this new, developing market structure is a complex one. National TSO's must facilitate their domestic markets, but they also have a task facilitating the integration of national markets into a European market. To comply with the latter task, they are explicitly expected to cooperate with other TSO's. At the same time, they are to some extent forced to compete with those TSO's in trying to attract gas flows into their system!

"Shippers look at how they can bring their gas to its destination as cheaply as possible", says Peeraer. "A country like Belgium can be easily skirted. So, yes, in this sense we are competing with other TSO's. But we are also cooperating to make a single European gas market become a reality."

Fluxys has deliberately positioned itself as a "first mover" in this newly emerging integrated gas market. It was among the first - if not the first - wholly independent ('unbundled') TSO's on the continent. This is important because the separation of infrastructure activities from production and trade is of course another key building block of the EU's energy market policy. Fluxys also offers very competitive transmission tariffs - in fact, the lowest in Europe, according to a report from September 2011. And it has invested heavily in recent years in developing its own European pipeline network and its storage and LNG assets which not only serve to bring liquidity to the Belgian market but also serve as a catalyst for the integration of the North West European market.
A breakthrough decision
The reason for Fluxys' pro-active stance may be found in its peculiar historical circumstances. "We don't have our own gas resources in Belgium", explains Peeraer. "And we don't have much space for windmills or good circumstances for solar panels. So we decided early on to build an extensive gas pipeline network and pursue a policy of diversification of supply." Belgium made sure it got connected to all the major sources of natural gas in Europe: to the Netherlands, to Norway via the Zeepipe offshore pipeline to Zeebrugge and to Britain via the Interconnector pipeline, also to Zeebrugge. In addition, the Belgians built a major (9 bcm) LNG terminal in Zeebrugge in 1987 - 25 years ago! All told, the landing capacity in the Zeebrugge area is now 50 bcm (billion cubic metres per year) - no less than 10% of total European consumption.

As a result of its extensive gas facilities and its central location, Belgium also became a natural hub for transit from Norway, the UK, the Netherlands and LNG to Southern Europe. Today, no less than 60% of Fluxys' gas flows consists of transit, just 40% is meant for domestic consumption.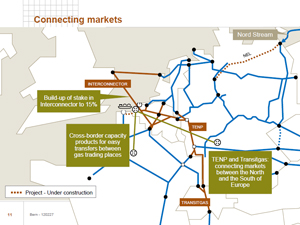 Connecting markets (click to enlarge) (c) Fluxys
In 2001, Distrigas, which was then the national, vertically integrated Belgian gas company, took the decision to split off its infrastructure activities (pipelines and LNG) from its commercial operations. French company Suez held the majority of the shares, until the latter merged with Gaz de France in 2007, after which the new combination GdF-Suez was forced by the EU competition authorities to divest both Distrigas, which was sold to ENI, and Fluxys, which was taken over 100% by the minority shareholder Publigas, a joint venture of Belgian municipalities. Last year, Publigas sold 20% of the shares to Caisse de dépôt et placement du Québec, a Canadian pension fund which also holds a 33.5% stake in the Interconnector pipeline. Peeraer notes with some pride that with this move Fluxys is a "first mover" too: "It is becoming more and more of a trend for pension funds and other investment companies to consider investments in energy infrastructure. So it's a sign of confidence that they have chosen us to participate in. By the way, La Caisse did not just buy an interest in the company, they raised our capital with €350 mln in the first year."
In the last two or three years, building on its diversified and internationalized activities, and responding to the EU's market integration policy, Fluxys decided to further expand its pipeline network into Europe. It acquired a 20% stake in the Balgzand-Bacton pipeline from the Netherlands to the UK and a 19% stake in the NEL pipeline in North-Eastern Germany. These two pipelines are connected to the Nordstream pipeline from Russia. Furthermore Fluxys bought a 49% stake in the TENP pipeline and a 46% stake in the Transitgas pipeline. These two pipes take gas from the Belgian-Dutch-German border to Switzerland and Italy. To top it off, the Belgian TSO acquired a 25% stake in the 13 bcm LNG-terminal which is being built in Dunkirk, France and which will be operated on a 50/50 basis between EDF and Fluxys. Fluxys and French transmission system operator GRTgaz also decided, in March of this year, after receiving enthusiastic response from the market in the form of binding commitments, to build an 8 bcm pipeline from Dunkirk to Zeebrugge. Fluxys calls this a "breakthrough" decision to attract additional gas flows for Belgium and Germany.
Peeraer sums up the results of his company's actions: "We have quietly grown into a European company", he says.
Foreign adventures
Perhaps, then, the Power Point presentation did not exaggerate too much when it said that "Fluxys is a model for what the European infrastructure model should look like in the future". Certainly among gas TSO's, the company is one of the most internationally oriented ones, together with Dutch TSO Gasunie, which follows a similar strategy and has acquired an extensive pipeline network in Germany.

One question that might occur to observers is whether Fluxys' international expansion is supported by its majority shareholder Publigas, which consists after all of Belgian municipalities. Aren't they worried about the risks connected with the company's "foreign adventures"? "Our approach does require very careful communication between board and shareholders", says Peeraer. "Our shareholders are of course concerned with possible risks of our activities. Still, they do support our strategy."

For Publigas, the "public task" Fluxys has to fulfill in its domestic market is essential, says Peeraer. "Yet", he adds, "they realize that the best way to ensure continuity of our activities is to extend our
Our shareholders are of course concerned with possible risks of our activities. Still, they do support our strategy
pipeline network and LNG activities into our neighbouring countries. They accept that to fulfill our public tasks adequately, we have to act on a European scale." Peeraer notes that "in everything we do our Belgian home base is our starting point - we wouldn't buy a pipeline in India". He also points out that Fluxys' network is completely bi-directional, including the connection with the UK. "This ensures a very high degree of security of supply for Belgian consumers, but it also boosts security of supply in the North West European market."
New gas age
So how does Peeraer see the European market develop? Does he believe that the evolution of the market from one based on oil-indexed long-term contracts into a more short-term oriented model, dominated by wholesale markets and trading hubs, will be robust enough to attract sufficient investments? Peeraer: "There is no doubt that this short term vision exists. New players are entering the market. Traders look 2, 3 years ahead. They want to use capacity to trade between markets. But we cannot base investments only on short-term commitments. Take the pipeline that we are going to build between Zeebrugge and Dunkirk. We couldn't have made this decision without long-term commitments from shippers. I have never seen a business case for any kind of infrastructure investment without long-term commitments."

But Peeraer does not believe that European regulation will make long-term contracts impossible. "We are heading for a system that's based on non-discriminatory access on the basis of auctioning. But it's still possible in this system to contract capacity for 5, 10 or 15 years. New regulations, such as the introduction of entry-exit zones, may make it necessary to adjust existing long-term contracts. But they won't be outlawed."

The fundamental change is that the market will become more competitive, says Peeraer. "Competition will increase at all levels. Not just for traders and suppliers, but for TSO's as well. Transport costs will
Competitive tariffs will be more and more enforced by the market, rather than by the regulator
become a very important part of shippers' balance sheets." This new environment is already putting pressure on transport tariffs, he notes. "Competitive tariffs will be more and more enforced by the market, rather than by the regulator." The Fluxys chief notes that competition between TSO's is not without its downsides. "There is a risk that investments will be duplicated." In any case, the whole transition of the European gas market will "take a long time", Peeraer warns. "It will have to be monitored carefully."
But Fluxys is ready for the new gas age. Over the last five years, the company invested €1.5 billion in new projects in North Western Europe in addition to €1.2 billion in Belgium. It has another €2.5 billion to spend over the next ten years. "We have built up a good network in the past two years", says Peeraer. "We will always look at opportunities when they come along, but for the time being we do not have to buy new pipelines anymore. We have all the infrastructure we need to grow."