Wind power goes mainstream – and feels China breathing down its neck
The wind power sector is fast developing from a pioneering market into a mainstream industrial market, dominated by large utilities and industrial players. At the same time, Western players are increasingly being challenged by Chinese competitors. Not only will China be the fastest growing market in the coming decade, it also favours its own domestic manufacturers by charging high import taxes on foreign-made turbines and components. In addition, European manufacturers complain that the Chinese are violating their property rights. 'It won't be long until we will see a re-import of our own technology from Asia.'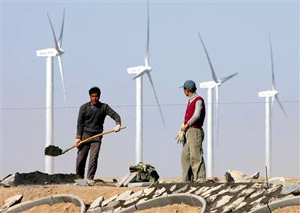 Construction of a new wind power project in Jiuquan City, Gansu Province, with a projected 200 MegaWatt capacity
China installed more wind turbines than Europe in 2009. In as little as seven years, the Chinese will probably have the world's largest total wind energy capacity. This was revealed at a news conference in Berlin this week by Angelika Pullen, spokeswoman for the Global Wind Energy Council (GWEC), an industry group.
Pullen presented the latest figures from the GWEC, which indicate that China installed 13 gigawatts of new wind power capacity in 2009. Europe in that same year installed 10.5 GW and the United States 9.9 GW. 'From 2005 on, China has doubled its wind power capacity each year', Pullen says. 'Can they continue this trend? Well, every year we say "likely not," and then they double their capacity again.'
The news conference in Berlin Tuesday was intended to promote this year's Husum Wind Energy, one of the world's biggest wind trade fairs, which will be held from 21-25 September in northern Germany. Most major European utilities will be present at the fair – a sign that wind power, currently the biggest renewable source in Europe in terms of capacity and generation, has entered the mainstream of the energy sector. And it has become a lucrative, worldwide business, which is attracting an increasing number of firms from Asia, who are eager to enter the European market with their own products.
Although the likes of Vestas (Denmark), Siemens (Germany) and General Electric (US) still dominate turbine exports, the domestic Chinese industry has grown strongly. Pullen says some 30 turbine producers and 40 suppliers are now active in China, adding that the country has also improved its infrastructure. 'It used to take up to half a year or longer until wind farms would actually go online because the grid connections were lacking,' she says. 'Today, it takes only 1 to 2 months.'
Worldwide actual and potential wind power capacity 2008-2020 [GW]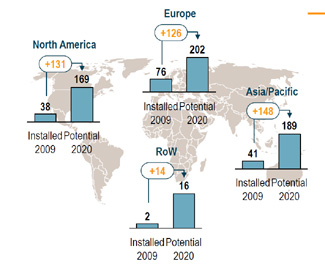 Source: Roland Berger, Wind power challenges 2010
High taxes
Whereas the growth in China would seem to provide increased export opportunities for European and North American suppliers, it is actually not very easy for European companies to grab a piece of the Chinese market. Beijing strongly promotes domestic manufacturing, and imposed high taxes on the import of wind turbines and key components. In addition, there are complaints that Chinese companies violate intellectual property rights. Significantly, there will be several intellectual property (IP) attorneys present at Husum in September, addressing potential piracy concerns.
Gerd Krieger, deputy ceo of the German Engineering Federation (VDMA), says China is the main culprit when it comes to wind turbine piracy. Hanno Fecke, managing director Fecke of Husum, warns that the counterfeiting could hurt European companies. 'It won't be long until we will see a re-import of our own technology from Asia,' Fecke says.
Analysts at the international consultancy Roland Berger already issued a warning to the European wind power industry. 'Leveraging their strong home base, Chinese manufacturers are preparing to go global,' Roland Berger writes in a new study on the global wind power market called 'Windpower Challenges.'
According to this report, the European wind power market will still be the largest in 2020. It will grow from 76 GW in 2009 to 202 GW in 2020, the Asia Pacific market from 41 GW to 189 GW and the North American market from 38 GW to 169 GW. The study details some of the advantages the Chinese government gives to domestic manufacturers, but it also notes that the manufacturing base in China is suffering from overcapacity and fragmentation. The three major producers are Gold Wind, Sinovel and Dongfang Electric, who control around 60% of the Chinese market. Largest western supplier is Vestas, with a market share of some 9%.
Encouraging
For 2010, the European Wind Energy Association (EWEA) expects 10 GW of new wind power capacity to be installed in the European Union. At the end of 2009, 75 GW of turbines had been installed in the EU. 'What is encouraging is that, unlike 2009, the 2010 results consist of orders placed after the start of the financial crisis. This shows continued and strong investor confidence in the technology', Christian Kjaer, CEO of EWEA, said in a statement this week.
Long-term forecasts are similarly optimistic. Germany is expected to triple its wind energy capacity by 2030, and the EU as a whole to multiply its wind capacity by five. The VDMA, taking into account limitations on production capacities, predicts that wind will account for a quarter of the EU's electricity mix in 2030. That means around 330 GW of wind power capacity will have to be built during the next two decades, with projected investments of €24 billion per year, said Krieger of the VDMA.
Worldwide yearly added capacity [GW]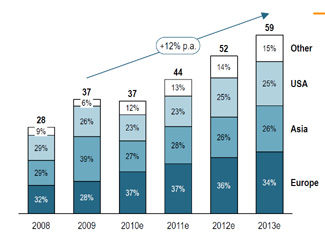 Source: Roland Berger, Wind power challenges 2010
The GWEC expects strong growth outside of Europe, too, especially in markets which are already growing fast, such as China and the US, and also in Latin America and Africa. 'We expect new construction to rise from 38.3 GW to 62.5 GW per annum in the next five years, giving a total global installed capacity of more than 400 GW by 2014.' By 2030, Pullen says, wind could account for up to 30% of the world's electricity mix.
All this means that the wind power sector is turning from a pioneering into a mainstream industrial market. This has significant consequences for the companies active in the sector. The Roland Berger consultants write that 'wind turbine manufactures will need to get large and industrially lean,' adding that 'suppliers must follow suit.' The entire supply chain, they add, needs to be streamlined and further industrialized.
Rüdiger Schaaf, CEO of Schaaf Industrie, a German wind power supplier with 2,000 employees, says the wind turbine value chain of the future will resemble that of the automobile sector. 'The large manufacturers will have to rely on suppliers who focus on developing cost-effective high-quality components. It's going to be like in the car sector. The big ones like Volkswagen or BMW don't produce their own tires or brakes anymore.'
Schaaf Industrie is a supplier to the offshore wind power sector. Offshore construction and maintenance is difficult and costly but the wind blows stronger and steadier at sea, resulting in greater production than on land. While 2009 saw 577 MW of offshore turbines installed, there will be at least 1 GW added this year, and many more in the years to come. All major European utilities and America's GE are staking claims off the Irish, Scottish, British, Dutch and German coastlines. Moreover, unlike on land, there are still many spots for wind farms available. While plans are massive, production capacities aren't. Only very few companies produce specifically designed offshore turbines, and there are not enough purpose-built vessels to handle installation and maintenance. However, the sector is building up capacities, Schaaf says.
It seems the wind power sector has understood it cannot be complacent – neither regarding the Chinese nor the changing market structure. Finn Strom Madsen, the top innovation official at Vestas, which installs a new turbine every three hours, says Europe's wind power companies need to bet big now to stay ahead. 'We need to keep on investing, we need to keep on protecting our IP rights and we need to globalize our inventions,' he said earlier at an innovation conference in Madrid in April. Madsen vowed that the Chinese won't take over. 'The demand for European technology is as big as it has ever been.'