It keeps amazing me even though it happens over and over again: big companies being bought by even bigger companies or at least by companies with bigger ambitions. And even more amazing, to me that is, some of these giant shopping companies are completely unknown to me. The latest example is the takeover of Premier Farnell by the Swiss holding Dätwyler
as announced last week
.
The Premier Farnell Group includes Farnell element14, Newark element14, element14, CadSoft, Embest, AVID Technologies, CPC, Farnell-Newark, MCM, and Akron Brass. Datwyler is owner of Reichelt Elektronik, Distrelec and Nedis but they also are big in sealing products for all kinds of industries and car parts.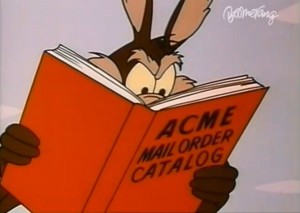 One can see that extending the Technical Components division of Dätwyler with a component retailer like Farnell seems logical, if you have the money. Next stop RS Components? Or will Arrow, Avnet or some unknown investors group beat them to it? Or will they get eaten themselves?
Takeovers like this make me wonder if someday they will lead to a single, world-dominating company owning and manufacturing everything we need. Will
Acme Corporation
someday become a reality?
Head Illustration by Catherine Swenson
Roadrunner illustration by Boomerang.