Elektor helped launch the first DIY electronics design movement in the Netherlands in the 1960s. Since then, our community has grown to include tens of thousands of electronics engineers and makers in over 90 countries. Today, we publish in English, Dutch, French, and German. In fact, 2020 will mark our 45
th
year of publishing in-depth electronics engineering content in the English language.
As we approach the year's end, we'd like to share with you some details about what we have in store for Elektor 2020.
Loads of new electronics-related content
Elektor's editors are working closely with the Elektor Labs engineers on a wide variety of projects, products, and high-quality content, including DIY electronics project articles and engineering tutorials. We post project articles, tutorials, news, and interviews online 24/7, in addition to publishing
Elektor
magazine 6x per year. And you can engage our editors and engineers on your preferred social media channels, such as Twitter, Instagram, YouTube, LinkedIn, and Facebook. Check out our
membership options
to learn about the various ways you can join our community.
Refer to the nearby Elektor 2020 editorial calendar for a list of issue themes, as well as our
new publication dates.
Starting in 2020,
Elektor
magazine will be shipped during the first month printed on the cover. This means the January & February 2020 issue will be distributed in January, and so on. The new schedule will enable Elektor's global editorial and engineering teams to even further streamline project and content development!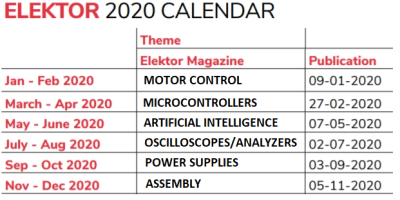 In 2020, you can expect the following content and much more:
Articles on modular projects like the Elektor LoRa Node and the new Elektor Weather Station. You are invited to contribute your own extensions and developments.
Measurement technology projects such as a new ultra-accurate LCR Meter.
Regular articles on the subject of analogue electronics.
New tips and tricks from engineering professionals.
More articles for beginners: electronics basics, small circuits, and how-to design guides.
In-depth articles on embedded systems topics (e.g., state-of-the-art controller technology such as RISC-V).
Insights about future and next-generation technologies, such as AI and autonomous driving.
Introductions to new software platforms.
Interviews with renowned electronics experts.
Informative reviews about boards, tools, books, and much more.
Elektor E-Zine: free articles, new projects, & giveaways
Electronics engineers, makers, and students around the globe read Elektor's E-Zine each week for innovative project ideas, technical insights, product news, in-depth interviews with electronics industry thought leaders, and more. In 2020, E-Zine subscribers will receive access to high-quality free articles, special offers, and opportunities to score free boards, kits, and books.
Sign up today
and receive a free Raspberry Pi e-book!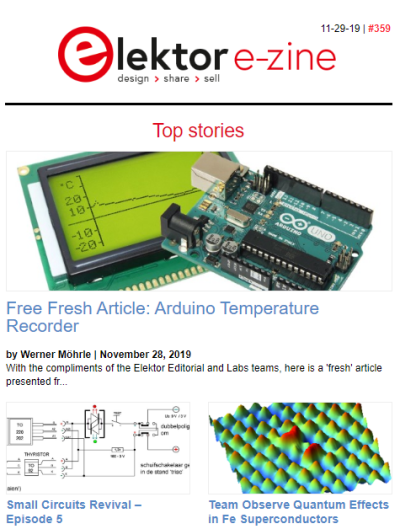 Elektor 2020 videos: watch and learn
We are proud to report that
Elektor's YouTube channel
now has more than 11,300 subscribers. We encourage you to subscribe to the channel so you can receive immediate updates when we post new videos. During the past few years, we've dedicated a lot of time and effort to creating and posting videos on a wide variety of topics: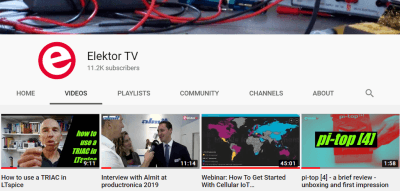 Elektor Store: hot products, great prices
In mid-2019, we launched the new-and-improved
Elektor Store
, where you can find an excellent selection of sought-after electronics kits (e.g., dev kits and sensor kits), popular platforms (e.g., Raspberrry Pi, Arduino, and ESP32), essential lab tools (e.g., oscilloscopes and soldering equipment), informative books, and handy components (e.g., sensors and displays). In 2020, we will be featuring many new products for electrical engineers, makers, and electronics enthusiasts. We are particularly excited to announce that our editorial and engineering teams have several new Elektor kits and book/product bundles in the pipeline. Learning and designing electronics has never been so much fun.
Check out
all our great products! And don't forget: Elektor members get great discounts on many products!
Join Elektor's collaborative community
Participating in the Elektor community is simple. You have several options.
Elektor Labs Platform: Quickly and easily post projects via a free Elektor Labs account. Use your account to collaborate with other creative designers and to interact with Elektor engineers. Who knows? Perhaps one of your projects will turn into an Elektor magazine article? Or maybe our engineering team will contact you about developing a product to sell in our store!
Social Media: Elektor's social media communities are growing fast. Follow us on Twitter, Facebook, Instagram, LinkedIn, and YouTube.
Book Publishing Opportunities: Have an idea for a great book on a relevant electronics-related topic? Use Elektor's online form to easily pitch your idea to our editorial team. We welcome book proposals from both established authors and unpublished innovators interested in sharing their electronics and engineering knowledge with the world!
As you can see, Elektor's editorial, engineering, and product teams have exciting plans for 2020. We thank you for participating in the Elektor community in 2019. We look forward to another productive year of designing, sharing, and selling electronics.
Stay Elektorized!