PicoScope two-channel, four-channel and mixed-signal models have the functionality of an oscilloscope plus a logic analyzer (on MSO models), spectrum analyzer, function generator, arbitrary waveform generator, and serial bus analyzer with support for 15 protocols included as standard: 1-Wire, ARINC 429, CAN, DCC, DMX512, Ethernet, 10Base-T, FlexRay, I
2
C, I
2
S, LIN, PS/2, UART (RS-232, RS-422, RS-485), SENT (FAST/SLOW), SPI, USB 1.1
PicoScope 2000A 2- and 4-channel models are ideal for technicians, trainers, students, and hobbyists doing fault-finding on signals up to 25 MHz. The 2205A MSO (mixed-signal oscilloscope) has 2 analog plus 16 digital channels for viewing and making measurements on digital or mixed technology designs.
PicoScope 2000B Series models are equipped with deep buffer memory from 32 to 128 M samples, and bandwidths of 50, 70 or 100 MHz supported with sampling speeds to 1 GS/s, and hardware acceleration to deliver over 80,000 waveforms per second update rates. Like the "A" models they are available in 2- and 4-channel models, plus 2+16 channel MSO versions. The "B" series models are packaged in the same size ultra-portable enclosure as the "A" Series, making them ideal for use in the lab or on the move, or for fast low-cost shipment to wherever they are needed.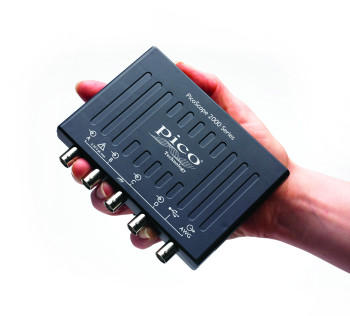 PicoScope 6 software, included with the 2000 Series scopes, has been updated too, with support for touchscreen PCs and tablets, and color-keyed serial bus decoding that highlights individual field types in a message frame with different colors for easy interpretation.
The PicoScope Software Development Kit (SDK) enables engineers to write custom applications for the 2000 Series, making them ideal for a wide range of OEM applications such as power system and machine health monitoring, high-energy physics, and medical electronics applications.
The new
PicoScope 2000A and 2000B
Series models are now available with prices ranging from $129 to $1235.