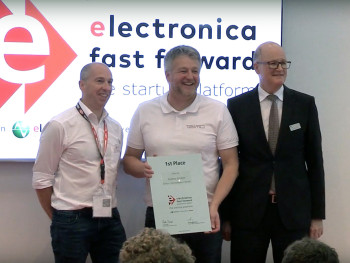 Last week, Elektor-TV presented a conversation between
Eben Upton
, co-founder of RaspberryPi, and Jan Buiting, Editor-in-Chief of Elektor. This interview took place at the
e

lectronica
show at Munich, on the stand of the famous
fast forward
competition for new electronics start-ups jointly organized by Elektor and Messe Munich. The second instance of this international competition attracted around 30 fledgling companies whose projects, after preselection, were submitted to critical examination by a jury of experts presided over by Clemens Valens, the head of Elektor Labs. The projects are presented to the worldwide electronics community on
elektorlabs.com
. However, only the finalists of the contest were invited to present their creations to the public at Munich.
All through 2018, these startup enterprises created by brilliant electronic engineers, have strived in the hope of winning their share of a €150,000 total prize pool at the
fast forward
contest. Congratulations to all the finalists!
This video takes you to the awarding of the prizes to the three finalists who are:
Teiimo: Innovative textile integrated system of sensors, conductors and electronics units for measuring and transmitting body and positioning data.
Wizama: An interactive board game console with its ecosystem of connected objects
Querom ElektronikGmbH: Customised power electronics solutions for electromobility
An honarary mention has been awarded to
Cocktail Joe
from Max & Michael Buschmann, an affable robotic barman with an incorporated light show.