Cities play a vital role in reducing the global and European carbon footprints - not only are cities responsible for over 75% of Europe's emissions, but they also have the potential, power and influence to tackle them. Recognising this, an EU FP7 project STEP UP (Strategies Towards Energy Performance and Urban Planning) has brought together 12 partners from municipalities and commercial and research sectors in four European cities - Glasgow, Ghent, Gothenburg and Riga - to assist cities in the transition towards a smart, sustainable and low carbon future.
The European Commission has effectively leveraged the power of cities across Europe: over 6,000 municipalities have signed the EU Covenant of Mayors
[1]
, voluntarily committing to reducing their carbon emissions by at least 20% by 2020 through the development and implementation of Sustainable Energy Action Plans (SEAPs)
[2]
. Some signatories are making significant progress but many others are struggling to plan and implement their actions, facing challenges such as dealing with change and uncertainties, risk management, security of energy supply, stakeholder buy-in, and financing and investment.
STEP UP's aim and approach
STEP UP has sought to increase the applicability and impact of the EU Covenant of Mayors initiative by enhancing the cities' existing SEAPs, including developing more integrated energy reduction measures which deliver greater energy and climate impacts. STEP UP is based on strategic thinking with a strong focus on social, economic and environmental impacts, and political and stakeholder involvement. To convert a traditional SEAP into a highly replicable model for developing robust enhanced SEAPs, the project has built on the Covenant of Mayors approach and introduced additional tools and mechanisms that have supported the cities in shaping their frameworks for energy actions. The project is coordinated by the
Institute for Future Cities
at the University of Strathclyde in Glasgow, led by the Institute's Director Richard Bellingham, and runs from November 2012 to July 2015. Richard Bellingham explained: "Sustainable urban futures offer opportunities to improve quality of life for people across the world, but delivering this requires substantial changes in a city's systems and behaviour. That means understanding the city at a fundamental level – its resources, infrastructure, people and economy. It also requires cities to have the resources, leadership and resolve to push this agenda forward over the long-term. Through STEP UP we are working with cities to help them deliver sustainable futures in ways that fit their needs and opportunities."
The STEP UP approach to enhanced SEAP development involves identifying and seizing opportunities to integrate energy planning into cities' wider policies and objectives, addressing long-term goals such as regeneration and economic growth, improved energy security and the eradication of fuel poverty. This has helped secure political support at the highest level in all STEP UP cities. The approach has been reinforced by the cities through building a better understanding of their stakeholders and developing tailored stakeholder engagement strategies targeted at the political, public and private fields. Cross-sector partnerships within, and outside of, the project have proven to be of key importance, allowing for a better understanding of the cities' challenges and opportunities and feeding into robust and feasible implementation plans.
Tools and resources for integrated energy planning in cities
STEP UP has developed several unique tools and techniques that ensure the enhanced SEAPs are more robust and deliver faster and greater impacts for Europe's 2020 climate and energy targets. These tools range from a framework for stakeholder engagement planning to energy demand modelling and mapping. In-depth analysis of existing energy related actions and plans within the cities has helped to identify strengths, gaps and issues in order to accurately pinpoint ongoing and new actions that demonstrate the strongest impact to ensure that the cities' targets can be met. For improved resilience and risk mitigation the cities have also analysed potential future socio-economic scenarios that they might face by using PEST analysis
[3]
, which has enabled a better understanding of the impact that such changes could have on the success of energy plans and specific actions within them. Using these tools and approaches, STEP UP has empowered cities to define sustainability visions that reflect the complexity of cities' structures and effectively address their climate and energy targets.
The project's learnings and resources have been shared with a wider learning network of cities through coaching, training and other dissemination activities and are designed to be easily replicated in any urban area in Europe. These resources include two guides on sustainable energy planning for cities – "Developing enhanced Sustainable Energy Action Plans"
[4]
and "Developing sustainable energy projects"
[5]
- that share STEP UP's approaches, learnings and recommendations. The project's findings have also been captured in two newly-developed Masters Degrees on sustainable cities,
MSc in Global Sustainable Cities at the University of Strathclyde
and
MSc Energy Efficient Infrastructure for Smart Cities at Riga Technical University
.
Best practice initiatives
Identification of best practice projects has the potential to accelerate changes in perceptions on a wide scale through the development of effective solutions that demonstrate measurable results, thus STEP UP has worked to identify and promote iconic lighthouse initiatives in the four cities. These initiatives are projects that integrate transport, energy and ICT sectors and feature a number of key success factors - the so called 'STEP UP winning elements': contribution to multiple policy objectives; political leadership with a long term approach; stakeholder collaboration; and utilisation of business models that attract investment. STEP UP lighthouse initiatives include the Commonwealth Games Athletes' Village and energy centre in Glasgow, Ghent's car free city centre, sustainable urban districts of Hamnuset and Kvillebacken in Gothenburg, and the multifunctional smart card system in Riga. These initiatives have served to inspire and inform new innovative, integrated projects developed by the STEP UP cities, and their strong replication potential and winning elements mean that other cities can learn from, and potentially replicate, them too.
The lighthouse initiatives convey the underlying principle of the STEP UP project, which has been to address the challenges that many modern cities face when planning for smart and low carbon futures. Today's cities need to bring together significant technical and policy actions on energy use, renewable energy and carbon emissions. In order to be feasible, these proposals need to achieve financial viability, understand the changing nature of cities, and secure the support of citizens, businesses and politicians by addressing relevant social and economic issues. By taking this approach, STEP UP has successfully helped cities to identify and understand viable low carbon opportunities, and seize them in ways that not only address environmental challenges, but also help deliver wider city goals.
If you are interested in learning more about the project please visit:
StepUpSmartCities.eu
1. For more information on Covenant of Mayors visit
CovenantOfMayors.eu
2. A Sustainable Energy Action Plan (SEAP) is the key document in which a Covenant signatory outlines how it intends to reach its CO2 reduction target by 2020. It defines the activities and measures set up to achieve the targets, together with time frames and assigned responsibilities. More on
SEAPs can be found here
.
3. PEST analysis explores Political, Economic, Socio-cultural and Technological aspects of the cities' environments. For
more on the tool click here
.
4. This guidebook provides recommendations and tools to cities developing or enhancing their Sustainable Energy Action Plan (SEAP). The guidebook is based on learning and examples from STEP UP cities – Riga, Glasgow, Ghent and Gothenburg - and provides links to the materials that have been tested during the development of the enhanced SEAPs in these cities. To
download the guide please go here
.
5. This guidebook provides recommendations and advice for cities looking to develop sustainable energy projects that offer high impact and multiple benefits for the city. The guide introduces key points for cities to consider in the planning stages of a new low carbon or sustainability project and is based on learnings from the STEP UP project. The guide also presents best practice examples from Ghent, Glasgow, Gothenburg and Riga. To
download the guide please go here
.
---

This article has been written by the STEP UP Project Coordination team at the University of Strathclyde and is part of the STEP UP knowledge exchange and dissemination strategy.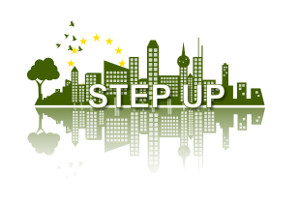 ---
Top image: Commonwealth Games Athletes' Village and energy centre in Glasgow, ©Tom Manley