The fast growth of renewable energy resources (RES) in Poland is dominated by on-shore wind farms. Between 2010 and 2015 installed wind power of capacity increased over five times. Available forecasts indicate the further growth of wind power between 9000MW in a realistic scenario and to over 13000MW in an optimistic case.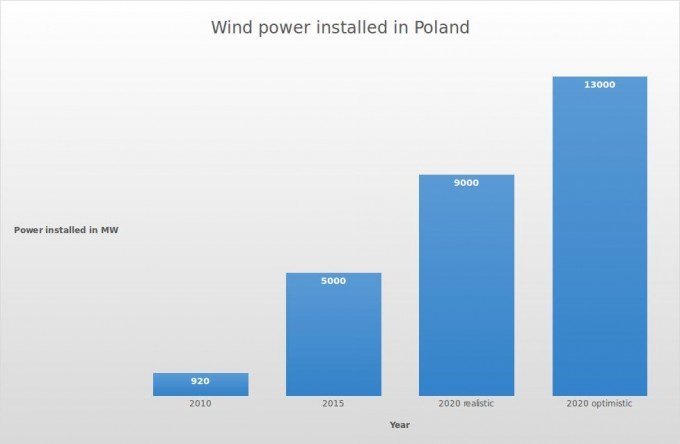 However, the wind farm operation has become more and more controversial. During the energy crisis in August 2015, when the Transmission System Operator (PSE SA) had to shed the electricity supply to many customers resulting in limited operation of the commercial sector including the shut-down of many shopping centres and customer service facilities, over 4200MW installed in wind farms delivered less than 100MW for many hours. It was a triggering point for critics of the RES who pointed out that billions of euros spent on the RES subsidies are useless when the electrical energy is desperately required.
Also many local communities complain about the noisy wind installations and strong stroboscope effects during sunny days as wind farms are frequently located close to residence areas. Such complaints could result from poor technical conditions of some wind farms as numerous wind mills are purchased in Western Europe as scrap metal and installed in Poland without technical state verification. The Highest Audit Chamber (NIK) in its report in 2014 indicated that as much as 80% of wind farms could be installed with some law violations.
Following the complaints to uncontrolled development of wind farms the Polish government has decided to introduce a new legal regulation. The main law changes cover: (i) a minimum distance of wind turbine to people residences should be at least 10 times longer than the supporting tower high, (ii) land tax shall be paid not only due to the value of the concrete base, as it is now, but taking into account the market value of the entire installation and (iii) the technical condition verifications will be carried out by the National Office for Technical Supervision (UDT) before wind turbines are installed and after major overhauls.
Despite the wind business being very profitable in Poland and the changes in legal regulations proposed do not push accounting books to the red, wind producers vigorously protest against the new provisions starting public relation campaigns. The protests have been carried out in the Polish parliament and recently as the street march planned for 14th of April 2016.
It will be interesting to observe if the Polish government bows down to wind lobbying protests. Regardless of the outcomes of wind energy disputes the RES production is increasing. However, if the government introduces new provisions the wind business will be a bit less profitable.
---
Wladyslaw Mielczarski is a Full Professor in Electric Power Engineering at Lodz University of Technology, Poland.
Image: Wind turbines at Lisewo, Poland. Photograph by
Mike Peel
.CC-BY licence.