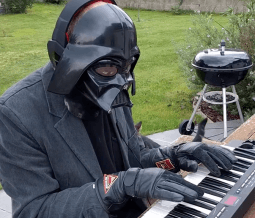 Video is a means of expression and communication perfectly adapted to hands-on electronics. However, not all electronic engineers feel comfortable with it.
Maybe because, for many of them, reserve is much more natural than exuberance. After long sessions of solitary work, they enjoy their inventions more in the intimacy of their lab than shouting from the rooftops on YouTube. They prefer restrained discussions at the counter of specialized forums, rather than the YT grabbing fair and the litany of too often inept comments.
In this respect, the idea of calling an "Olympiad" a video contest between members of the Elektor readers' community is a perfect match for reality: to participate, it is a matter of surpassing oneself, overcoming inhibitions and making the considerable effort to launch oneself.
Five YouTube videos and more to come
Perhaps, instead of remaining vague about the content of the competing videos, its organisers should have added a thematic framework, imposing, for example, a fruitful and stimulating subject, relating to electronics. It could have made it easier for you to surpass yourself. Will do better next time.
Still, our appeals bear fruit now. Here are 5 videos received by Elektor from various contributors, from various galaxies. Each in its own way meets the initial criteria:
Shoot a few minutes of e/DIY video and become an Elektor TV legend!
Thus this episode of Elektor-TV exceptionally won't contain any video, but a link to a
playlist with five competing videos
. Browse it and let the video examples of these fellow makers convince you to enter the contest now!
With your own original video production, you can win one of many exciting prices: Dremel 3D Printer

,

PicoScope 2208B MSO

,

LabNation SmartScope

,

Andonstar HDMI microscope
, and more.
Collect many many "Likes" on YouTube.
Shoot your own video covering an Elektor project of your choice. One you built yourself, or one you read about in Elektor Magazine. Never mind whether you liked or hated it, whether you tweaked it or kept it in its original form, even if you got it working or if you destroyed it. What matters is
your
experience on video.
You merely need a smartphone or any vidcam you like. Use your imagination and show your love of practical electronics. The way you'll approach the subject is up to you. Keep it simple, thrilling and original. We would like to see electronics in action, with components, lab instruments, boards and whatever makes
you
happy.
All the contest details are here…
The deadline for participation is
December 1, 2017.
Grab your cameras, grab your phones, and get off your pussy's back – see video 2,
MicroTesla Synthesizer, submitted by Darth Vader
, 1:04-1:13 :-)