Frame it and win big!
Did you build an Elektor project or read an Elektor article? Did you like it? Hated it? Tweaked, modded or destroyed something? This is your chance to let us know
and
be rewarded for it. Capture your Elektor experience on video, enter the Elektor Video Olympics and run off with the Grand Prize!
Quick Start Guide
Shoot and edit your contest video. When ready send your video via WeTransfer to tv@elektor.com before December 1, 2017, 18:00h CET.
Do not send entries by email. but do add the WeTransfer URL to your application below!
As long as the video respects the Terms and Conditions it will be posted on Elektor TV (
www.elektor.tv
) where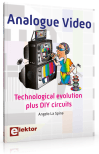 people can view and like it. The fifteen entries with the most "Likes" will be judged by a jury to select the Grand Prize winner and the winners of the other prizes. Every video that makes it to Elektor TV will be rewarded with a copy of the book '
Analogue Video
' by Angelo La Spina.
What's in it for me?
Read more specifications on the
next page>>
Video Contest Participate
The contest is now closed, voting is open.
Vote here!