Elektor offers the chance to reach tens of thousands of electronics developers!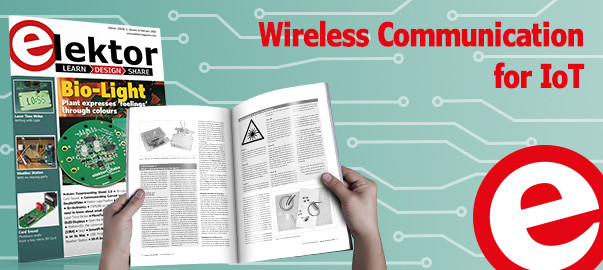 The upcoming 3/2018 edition of Elektor Magazine (May & June) focuses on
Wireless Communication for IoT
and will be delivered to over 15,000 paying subscribers. As always, the next issue is filled to the brim with circuit projects, basics and tips and tricks for electronics engineers.
From the content:
Interference from LED strings
Cross-Platform BASIC Compiler
DAB+ Radio with RTL-SDR
Sound Output with PAM8302
Wireless Data Protocols
Elektor Audio DAC Update
IoT Greenhouse
Wearable LED Control
"Floranium" Plant Response Indicator
Advertisement in Elektor brings you a lasting effect. Our magazine has a very high reading intensity, and many readers collect Elektor over many years. Elektor offers the ideal opportunity to attract the attention of electronics professionals in more than 90 countries. Much is possible: From the banner on our website to a partner mailing or an advertisement etc. Don't hesitate and contact us, we will be happy to tailor a campaign to suit your needs.
NOTE: The deadline for placing advertisements in this edition (May & June 2018) is 22 March 2018.
Detailed information on advertising opportunities via the various Elektor channels (magazine, shop, labs and social media) as well as prices, formats and dates can be found at the attachment below.