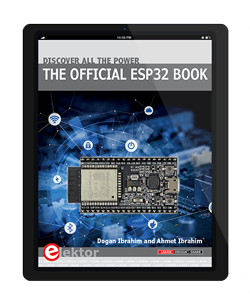 Our Christmas Gift to You!



To thank you for your continuous support and as a further expression of our high esteem for you as a member, the Elektor Team is offering you a free copy of our bestselling "The Official ESP32 eBook" (worth €26.95)!
This e-book is an introduction to the ESP32 processor and describes the main hardware and software features of this chip. The main aim of the e-book is to teach the reader how to use the ESP32 hardware and software in practical projects, especially using the highly popular ESP32 development board. Many basic, simple, and intermediate level projects are given in the e-book based on the ESP32 DevKitC development board, using the highly popular Arduino IDE and also the MicroPython programming language. The projects have been organized in increasing levels of difficulty.
You can download your free eBook in the 'attachment' section below. Since the download is only available to Elektor GREEN and GOLD Members, you have to log in with your e-mail address and chosen password. In case you forgot your password, we advise to use the
password reminder
.
Don't miss out! This offer is only valid until
December 26, 2019 (0:00 CET).