Perfboard Is Dead — Long Live Perfboard
All of today's ubiquitous perforated prototyping boards (a.k.a. stripboards; veroboards) have one thing in common: they are outdated. TTL has been replaced by microcontrollers, and opamps no longer require symmetrical supply lines. While electronics keeps evolving, "perf" boards remained stuck in the previous century. At Elektor.Labs we felt it was time for a change and so, after many long months of research, we now proudly present the Elektor.Labs Prototyping Board Next Generation (ELPB-NG™).  
---
Get an ELPB-NG for free!
Join the test team. A few hundred ELPB-NG boards will be given away to buyers of Elektor PCBs and kits that require soldering. A special web page has been created where you can leave feedback concerning your experience with the ELPB-NG. Let us know how we can make prototyping boards even better.
---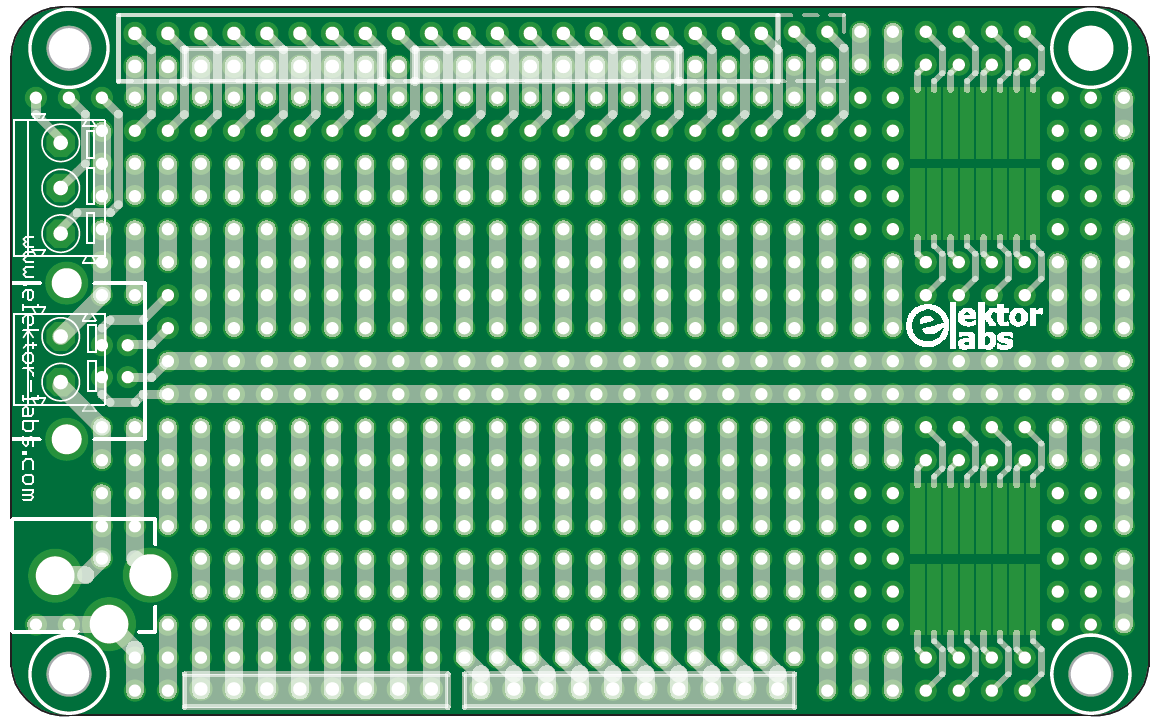 Good power
When prototyping, good connections to the power supply are especially important. That's why the ELPB-NG comes with footprints for USB-B, DC adapter barrel jack and PCB screw terminal blocks. No more croc clips that drop off or create short circuits; just mount the connector that suits you best. The ELPB-NG features two power rails for easy supply voltage distribution.
Dimensions
As Goldilocks taught us, dimensions have to be just right. The ELPB-NG measures 87.6 x 54.6 mm (3.45 x 2.15"), which is about the size of a cigarette pack, i.e. perfect for a 40-pin DIP package. Too small? No problem, boards can be stacked. Pile up as many as you need.
Connectivity
The ELPB-NG was designed with connectivity in mind. USB, Arduino, Raspberry Pi, microcontroller programmers — all are easily connected to the ELPB-NG thanks to special connector footprints with pins brought out.
Arduino & Raspberry-Pi compatible
There is no point in denying it; today's e-experimenting in many cases revolves around an Arduino or Raspberry Pi board. Therefore it is only logical that the ELPB-NG is Arduino and Raspberry Pi (2 model B) compatible.