I'm not only a fan of good things, but also of good looking things. The V-Trek zero emission motorcycle designed by Terrence Teo is both. Which, in my opinion, makes it an awesome thing.  The V-Trek is an off-road motorcycle intended for 'young-adults'. But I guess the V-Trek is also suitable for people in their midlife crisis (and far beyond). Because we all want to look and do good, don't we?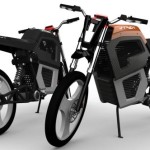 One of the cool features of the V-Trek is the ability for people to customize it. All the casings are interchangeable. Tech the Future would like a green one ;). The technology in the V-Trek uses a proton exchange membrane (PEM) fuel cell. The fuel cell converts hydrogen and an oxygen to generate electricity. The hydrogen is stored in metal canisters or pressurized bottles that serve as the gas tank for V-Trek.
V-Trek will have to dissapoint the speed addicts out there. It has a top speed of only 50 km/h. That fact probably explains the 'intended for young adults'?.