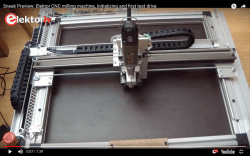 Here now is the first demo of a new bold and promising Elektor.LABS project where our logo is milled into a piece of 10-mm thick MDF board. Our new hero is an affordable
3-axis CNC machine
built around easy-to-get parts and materials. Due to the emergence of 3D printing, mechanical parts like timing belts, gears, bearings, linear guides etc. are now run-of-the-mill (pun intended).
Compared to 3D printing, CNC milling may look rough but it is often faster. The final accuracy and surface smoothness are usually much better. 3D printing can nevertheless produce shapes that are very difficult to make on a CNC machine.
​
Our new CNC portal milling machine is notable for its frame, adding mechanical rigidity and allowing easy replacement or height adjustment. The work area is approximately 500 x 300 mm with a Z-axis travel of approximately 55 mm depending on the extension tool mounted: drill, SMD pick & place head, laser head, ...
The linear guides and bearings, the cable chains and the limit switches are made by Igus.The stepper motors are Nema 17 types. The belt is a 6-mm steel-enforced GT2 timing belt.
The spindle is a Proxxon LBS/E long-neck drill/grinder. It's affordable and offers decent quality while allowing for a more flexible Z-axis adjustment.
The machine is powered by a 24-V 10-A power supply. An additional 12-V 5-A power supply is available for powering extensions. The electronics consist of a Synthetos TinyG controller and an optocoupler board. No separate stepper motor drivers are needed.
This powerful tool will soon be presented as a kit by Elektor.LABS in our online store.
Stay tuned