Azerbaijan: knock, knock, knocking on Europe's door
While policymakers and pundits debate which pipeline consortium will bring Azeri gas to European markets through the Southern Corridor, they rarely stop to think about what Azerbaijan might want out of the deal. The assumption is that state oil company SOCAR will be happy to sell gas at the Turkish border and that Ankara and Europe can safely sort out the rest of the route. However, the actions of the Azeri's show that this is a mistake. They clearly want 'in' on every part of the Southern Corridor value chain, all the way to European end consumers. High time for Brussels to consider opening its doors to Baku - or risk failure of its crucial Southern Corridor.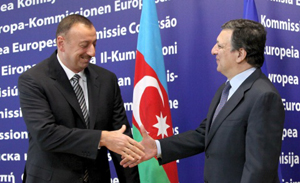 Azerbaijani President Aliyev and President of the European Commission Barroso (c) EPA/BGNES
Baku may have given a lot of pleasant cocktail parties to prospective European gas buyers in recent years, now that it's time to do business, the partying is over. The Azeri's are making it increasingly clear that they are not content to merely sell gas at their own border. They want to actively participate in pipeline transportation, marketing, and the eventual sales of gas to EU consumers. What's more, they have a strong hand to do so. This inevitably complicates any plans Europe has in the region. If Brussels doesn't wake up to Baku's interests, the Southern Corridor could become a messy affair.

How do we know what Baku wants? Consider the first part of the Southern Corridor jigsaw: the proposed 200 km TANAP (Trans Anatolian) pipeline, intended to bring Azeri gas from the Georgian-Turkish border to the Turkey-European border. This major project, which was announced on 17 November 2011 at a conference in Istanbul, clearly shows Azeri intentions. SOCAR laid claim to no less than 80% of the 16 bcm (billion cubic metres) pipeline running across Turkish territory, leaving the Turkish companies BOTAS and TPAO to pick up 10% each.

TANAP is a direct competitor to the Turkish part of the planned Nabucco pipeline, which is also intended to traverse Turkish territory and will have a capacity of 31 bcm, if it gets built. One difference between TANAP and Nabucco, however, is that SOCAR has no shares in Nabucco. It is not hard to guess which pipeline the Azeri's will favour.

Ankara's initial concern brokering the TANAP deal in December 2011 was to secure its own 6 bcm(billion cubic metres) of Azeri gas in the $7 billion project. The Turks belatedly realised that TANAP might be a better bet than Nabucco. They are now desperately trying to enhance their 20% stake back towards a 50-50 split.

But President Aliyevof Azerbaijan is sticking to his guns. Azerbaijan has said it wants to enlist BP, Total and Statoil in TANAP, both to dilute BOTAS's stake and to ensure an Azeri stamp remains firmly embossed on any new pipes. As a countermove, Turkey is now deliberately importing more and more Russian and Middle Eastern gas.
For Europe it might not seem to make a difference how gas will flow to Europe, as long as it does. But there is a difference between TANAP and Nabucco-Turkey: as the Trans-Anatolian scheme falls outside the EU's scope, with TANAP there is no guarantee that Azeri gas will always be sent to European markets.
A touch confused
If we assume things come together for TANAP between Azerbaijan and Turkey, we get to the second part of the Southern Corridor, which is another tortuous affair. The players involved in the giant Shah Deniz II project in Azerbaijan, including BP, Statoil, Socar and Total, will decide within about a year where the main pipelines beyond Turkish borders will go. The main decision pivots between BP's
The problem for BP is that Baku isn't buying the line. As with TANAP, Azerbaijan has its own ambitions and interests
South East Europe Pipeline (SEEP) and Nabucco, whose shareholders include RWE, OMV, BOTAS and MOL. Having tabled SEEP in September 2011, BP has been talking up the pipeline scheme as a serious prospect, largely with a view to feeding Azeri gas into Hungary via Romania and Bulgaria. That's either because BP thinks SEEP is genuinely a credible low cost option, or more likely, to try and exact better terms from any other prospective bidders (present or future), left in the Southern Corridor race.

The problem for BP is that Baku isn't buying the line. As with TANAP, Azerbaijan has its own ambitions and interests. As Socar Vice-President Eslah Nasirov noted in early April, although Nabucco is having financial difficulties, SEEP, which has no other partners besides BP, is still a "less developed project".
After Hungarian based MOL in April announced strong doubts about the prospects of Nabucco, you'd think Nasirov would be eating his words. Then again, things could turn out quite differently. With MOL out, Azerbaijan has the perfect opportunity to gain a direct equity stake in the main European game. That could either come through full-scale Nabucco shares, or more likely via a share in the 'Nabucco West' proposals that were first tabled by the consortium in March as a watered-down, cheaper alternative to the original 3,900 km mega-project.This would take gas from the Turkish border to Baumgarten in Austria.
The Nabucco Consortium announced on 16 May that it had submitted a proposal for the Nabucco West concept to the Shah Deniz-2 group, according to news agency Bloomberg. Although details remain sketchy, the group has indicated it will bascially use the legal framework, intergovernmental agreements, and third party exemptions in place from its original efforts.

Although Nabucco leaves only 1,300 km to cover, it seems unlikely that a cash-strapped RWE that's had 20% of its market capitalisation wiped out as a result of its nuclear closures, or a politically troubled OMV would not welcome fresh capital to Nabucco project(s). Equity participation from an upstream Shah Deniz player like SOCAR would be much better in this case than the involvement of a small European player like Bayerngas which has been mentioned as a prospective participant.

From SOCAR's perspective, a share in Nabucco would be a serious hedge in the Southern Corridor game. As a Nabucco stakeholder it could play tough with Turkey over TANAP terms and it could put BP in its place over SEEP (the British major seems a touch confused as to who is the ultimate resource holder here). It would also be able draw on multiple delivery routes, scaling Nabucco back 'up' to its full potential, or indeed tailoring it 'down' towards a 'Nabucco West' model as it sees fit. Baku has the cash, it has the intent, and ultimately, it sits on the gas that will make any of the schemes commercially viable, or not.
Decent return
This last may be circumstantial evidence for Azeri intentions, but let's venture further downstream towards a prospective Greek tributary leg for the Southern Corridor. This gives us a third angle as to Azeri ambitions in Europe. Depending on what spoils are left from SEEP or Nabucco tussles - both of which see Central Europe as their primary destination - it is entirely possible that some gas will go via Greece onto Italian hubs as an additional Mediterranean outlet.

As EER tipped at the start of the year, the Trans
As EER tipped at the start of the year, the Trans Adriatic Pipeline certainly looks like a good bet to place in that part of the world
Adriatic Pipeline certainly looks like a good bet to place in that part of the world. TAP got a further leg up when financing for the rival
Interconnector Turkey-Greece-Italy
(ITGI) pipeline recently fell apart due to Southern European credit constraints. To help balance its books Greece is being forced by Brussels to sell its national gas player, DEPA - the main driving force behind ITGI.
This sale could ironically rewrite the South East European script once more. From the 14 bids tabled to Athens, one of the key front runners is none other than SOCAR. If SOCAR acquires DEPA, ITGI will get a new lease of life as a strategic priority for Azerbaijan. Irrespective of Azerbaijan's Nabucco options, DEPA ownership would give President Aliyev an equity stake in Southern Corridor pipeline infrastructure, stretching from Shah Deniz fields via Turkey (TANAP) all the way to Italian shores. Despite the impressive
progress
made by TAP of late, it would make zero sense for Azerbaijan to acquire DEPA, only to then use a pipeline it has no direct stake in channelling gas across Greece.
Rather unsurprisingly, the other main bidder for DEPA is Gazprom. This directly ties into to Russia's South Stream transit
designs
. Athens will get a decent return on the sale of DEPA given the strategic significance involved of becoming either a Russian or Azeri gas proxy, but whether that's a positive development for European energy is a different issue. A takeover of DEPA by an upstream player like SOCAR or Gazprom would not exactly be in keeping with the ideas behind the
EU Third Energy Package
.
Vital stake
Since Azerbaijan is going to control the TANAP pipeline, we know that vertical integration across the entire Southern Corridor only requires two transactions for SOCAR to become a credible prospect. Baku would be perfectly placed to leverage all the Southern Corridor options on the table. It would gain a vital equity stake in European upstream and midstream plays, and in gas trading, given that physical volumes are ultimately the foundation of virtual trades.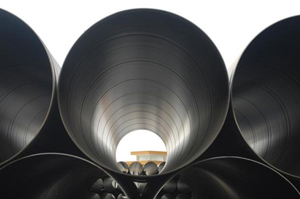 It's clear that Azerbaijan can sit tight for as long as it wants on Shah Deniz II gas to get the best possible deal it can (c) CEBID
Unfortunately, rather than having a serious think about these questions, Europeans seem complacent. The standard policy responseyou hear around conferences is that the Azeri's need to monetise their Shah Deniz II gas and so will have to take the terms Europe offers them. Downstream or even midstream stakes do not enter into this picture.
Well, think again. If you look at the fundamentals, it's clear that Azerbaijan can sit tight for as long as it wants on Shah Deniz II gas to get the best possible deal it can. First of all, to make sure the Southern Corridor doesn't become a one way bet, Azerbaijan is looking to triple the size of the
Baku-Tbilisi-Erzurum Pipeline
(BTE) or South Caucasus pipeline to 24 billion cubic metres before 2017 when Shah Deniz II gas starts up. Given the BTE pipeline delivers gas to the middle of Turkey, Azerbaijan would have the option to ship gas in any direction it wanted from there.
Similar analysis applies to the massive plays in the giant Absheron field in the Caspian Sea, in which SOCAR has a 40% stake. These finds won't come online until the 2020s, but that's the whole point here: the Azeri's can play the long game on gas to forge their way into downstream stakes, cherry picking projects, terms, and times of their choosing. It's not exactly been lost on Baku that once you combine Shah Demiz II gas with Absheron you'd have more than enough gas to eventually fill Nabucco pipes.
Moreover, the Azeri's can fall back on a commodity that still accounts for the majority of its budget: not gas, but oil. Especially the Azeri-Chirag-Guneshli (
ACG
) oil fields producing precious Azeri light and medium crudes,which are trading at premium prices.The bottom line is clear: Azerbaijan is sitting relatively pretty to progress its Southern Corridor interests - and it will continue to do so, strictly on Azeri terms.
Out in the cold
Rather than ignoring these facts, Europe needs to start asking whether bringing Baku into downstream dynamics is ultimately a good or bad thing for European energy security. More realistically, it might not even have much choice in the matter if it wants to secure large amounts of Azeri gas.

On the upside, although vertical integration is hardly the mantra of European energy policy, bending to Azeri investments (and interests), wouldn't just unlock intractable contractual disputes that are already cropping up, it could deliverexactly what the EU has always wanted: a major Southern Corridor pipeline capable of carrying large volumes of gas,built on geostrategic grounds rather than market principles. The tricky subtext is whether these are the geostrategic grounds Europe desired, or just the ones it has to live with. Given President Putin has re-iterated South Stream remains a Russian priority under his next tenure, any significant diversity and elasticity of supply in South East Europe beyond Moscow has to come from Baku. Azeri downstream stakes is the price to pay to secure that.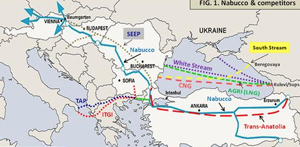 The Trans-Anatolian Natural Gas Pipeline (click to enlarge) (c) Natural Gas Europe
What Europe also needs to consider is that if it leaves Baku out in the cold as a purely upstream concern, it will act as such. That means it will sell its hydrocarbon riches to the highest bidders. A gas hungry Middle East is one, an ambitious China is two, particularly if Beijing finds a way of shipping resources across the Caspian. A prospective third buyer is Russia. Moscow already imports Azeri gas, and it hardly takes a Nobel Prize winner to work out how important control of Shah Deniz II gas would be for the Kremlin to strengthen its grip over Southern European markets. Russia is still entirely capable of making Baku an offer it can't refuse.
The stakes are high, but they'll get far higher if Europe fails to understand what Azerbaijan wants out of this. Get things right, and Europe won't just secure lots of Azeri gas, it will get a more pliant Turkey that will look more like a mid-size transit state for Azeri gas than a hegemonic regional energy hub controlling all points on the energy compass. Not to mention keeping Russia in check along the way. Get things wrong, and Europe will have passed up the best chance it has of breaking Russian dominance in South East Europe.
What Europe can't keep buying into is the idea that Azerbaijan will be happy to sell gas at its own border. This flies in the face of TANAP, it flies in the face of DEPA, and if Nabucco is to stand any chance of progressing, assuredly flies in the face of Verdi's finest opera. An Azeri-Russian oligopoly over South East European may not be perfect, an outright Russian monopoly would be much worse.
Related articles on European Energy Review in (reverse) order of appearance: