The Big Drill: All Eyes on Cyprus' Aphrodite
It's Spring 2013. The time is now for Noble Energy men to start gearing up for a new drilling leg in the Eastern Mediterranean waters, offshore of Cyprus. In a usual so-called 'appraisal' procedure, several wells will be drilled in various spots of Cyprus' Aphrodite gas field to determine its size and quantify the hydrocarbon reserves. A rig should be made available by June, so that the operation can kick off as planned. Cyprus, together with the Noble Energy team, is holding its breath: this discovery could turn Cyprus into Russia's main competitor in European gas supply. But are they right to be hopeful? European Energy Review looks into the level of certainty of the recent gas finds.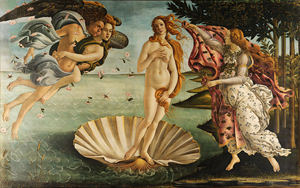 Birth of Venus by Botticelli - Uffizi Gallery, Florence
Under the vigilant eyes of the EU, Russia, USA, Israel, Lebanon and Turkey - to mention a few - the companies involved in exploring the gas field and the cash-stripped, heavily indebted Cypriot government are drumming their fingers: 7 trillion cubic feet (tcf) is the mean gas estimate Noble Energy announced after an initial single-well drilling in late 2011.
The stakes are high.
"September 2011 was a historical month for Cyprus. After this financial crisis, for the people of Cyprus, gas resources represent a new hope in the future," Neoklis Sylikiotis, former Cyprus minister for commerce and industry, also in charge of energy affairs told European Energy Review. Sylikiotis was the main negotiator with Noble Energy and signed the production share agreement with the company in 2009. "That's certainly an amazing discovery and has the potential to play a big role in Europe and in other economies, such as Asia, because there are no constraints once it is turned into liquefied natural gas," László Varró, Head of Gas, Coal and Power for the International Energy Agency (IEA) told European Energy Review. But the results are not guaranteed. "The appraisal drilling of the Aphrodite structure will reduce the level of uncertainty regarding the quantity of natural gas in place, but we will still have a probabilistic estimate of the resource. Further appraisal may be necessary," Noble Energy confirmed to European Energy Review.
Whilst Aphrodite is no Qatar – which holds reserves of 900 tcf – this discovery made some heads turn in the Eastern Mediterranean direction. 1 tcf of gas reserves alone is enough to cover, for example, the consumption of Australia's most populous state, New South Wales, for approximately ten years, according to a paper published by the Australian government.
But New South Wales has a population of over seven million, and a surface of 800.000 km2, whilst Cyprus has just above a tenth of that, on a surface of just over 9,000 km2. This means that the reserves will cover more than just its domestic needs, potentially turning the country into one of the EU's main gas exporters. "The bottom line is that the Aphrodite discovery is going to be an interesting export project," Varró said.
Export plans
It's not so often that a country announces such gas finds in the European Union. At the moment, according to the EU's statistics office Eurostat, the 27-member block imports most of its energy – 2011 alone saw energy imports soar to €400bn. This is worsened by sluggish production on the continent. In 2012, the EU experienced its largest decline in gas production on record (-11.4%), due to a combination of mature fields, maintenance, and weak regional consumption, according to BP's Statistical Review of World Energy 2012.
"Europe has a lot to benefit from the natural gas discoveries in the Eastern Mediterranean by securing its energy demands for years to come," Dr Eleni Morisseau, director of Cyprus' Geological Survey told European Energy Review. "The dependency of the European Union on energy imports, particularly on oil and more recently on gas, forms the backdrop for policy concerns relating to the security of energy supplies," according to Eurostat.
But it is not just the EU that has eyed Cyprus' gas fields, which the government has delimited into thirteen different blocks. Fifteen global energy giants have bid for a stake in the 'potentially' gas-packed basin. Block 12, known as the 'Aphrodite' field is now 70% owned by American Noble Energy –with 30% shares ceded to the Israeli company Delek –, whilst the Italian ENI owns 80% of blocks 2, 3 and 9, together with the South Korean Kogas (20%). The French energy company Total has taken over block 10 and 11.
While the rest are still at a very initial phase in their exploration, it is crunch time for Noble Energy. The so-called 'appraisal', which will take place in June and last for around 90 days, will give some firmness to their estimated 7 tcf of gas reserves. "After the drilling it may take around sixty to ninety days to assess the data, but this is an estimate," Noble Energy said.
"Warning, no certainty"
Results from initial drilling, formation logs and initial evaluation work indicate an estimated resource range of 5 tcf to 8 tcf, with a gross mean of 7 tcf. "These figures were based on a 75% probability, which means there is a 25% chance of the gas being lower than 5 tfc and a 25 per cent probability exceeding the higher end of 8 tcf," Noble Energy told European Energy Review.
The typical lifecycle of a field consists of exploration, appraisal and production. Usually, the exploration company will be able to move with its license - which expires in October 2013 - to a new term, in its production phase, only if it has made enough progress at its appraisal stage.
"The bottom line is that the Aphrodite discovery is going to be an interesting export project
"The forthcoming appraisal well program will definitely increase the level of certainty," Morriseau said. "All I can say," she added, "is that the Cyprus A-1 well encountered approximately 95 meters of net natural gas pay in high-quality Miocene sand intervals, according to Noble's announcements". Tests undergone so far "attest the existence of natural gas", Netherland, Sewell and Associates (NSAI), an oil and gas consulting firm providing independent reserve reports, wrote in its
analysis
of the potential gas reserves in block 12.
However, the report says, evaluations were not adjusted to reflect commercial risk. For example, Noble Energy did not perform any field inspection of the discovery and the resources shown in the report are for an undeveloped location. "Therefore the evaluation is based on an estimate of the reservoir volume and recovery efficiencies, while drawing an analogy to reservoirs with similar geological and reservoir characteristics," the report reads. NSAI gave a best estimate of 5.1 tcf at 50% probability for these reserves after using a deterministic methodology, according to a different report, by the Oxford Institute for Energy Studies. NSAI names the resources "contingent", which means that, despite an accumulation of gas having been discovered, they are not yet considered "mature enough" for commercial development due to the possibility of unforeseen events or 'contingencies'. "Warning – there is no certainty that it will be possible to commercially produce any part of the contingent resources," their report reads. "The amounts of natural gas actually produced (if any), may be different," it continues. Operational and technical errors could occur, as well as changes in regulations, which would affect the outcome, too.
"A pinch of precaution"
In order to determine its exact volume, the drilling program needs to use more wells and drill in different parts of the undersea block. That process determines whether the quantity and quality of the reserves makes it worthwhile to extract and market the resource. Without this level of confirmation, Cyprus' castle could prove to be made of sand. "Estimates need to be treated with a pinch of precaution," energy researcher at Cyprus University and formerly Oxford University Costantinos Hadjistassou told European Energy Review. "But what's been discovered is a vast amount of gas." "There are three stages in the classification of natural gas, the first is 'possible', the second 'probable' and the third 'proved'. We are now in the 'probable' phase, or the so-called appraisal, y the end of October, we will be able to see if they detect the field as commercial," Hadjistassou said, adding that in this phase the estimates of 7 tcf are in proportion of 50% to 90% economically recoverable. Hadjistassou thinks that 7 tcf is the conservative scenario and that "it is probably higher than that, it could expand to 8 or 9 [tcf]".
Underwater treasure?
If in October 2013, the appraisal conclusions will prove the company
Cyprus hopes to start exporting gas by 2018
has been right to estimate the reserves at around 7 tcf, then Cyprus and all the energy companies involved will feel like they have stepped into a gold mine – it will be time to financially exploit the resource. But not so fast, says a
recent report
published by Reuters. Cyprus' gas is worth less than €1.52 billion based on reserves found so far and "there may be too little to develop anyway", the report shows.
Cyprus hopes to start exporting gas by 2018, which implies turning it into liquefied natural gas (LNG), thus making it easy to be shipped and sold all over the world. Liquefaction plants are very expensive, require huge capital costs and could prove economically unviable to build. An example of recent LNG costs is Chevron's new Wheatstone LNG project in Australia which will cost €22.6 billion for a capacity of 12 billion cubic meters. "Seven trillion cubic feet should be sufficient for an energy export project. And you want to open the (LNG) plant for 20 years to recover the investment," Varró of IEA said. He suggested it is difficult to give a clear indication of the cost, but that "in general there has been a cost inflation for LNG plants". Judging by recent similar projects, such as the Australian LNG, the cost of the plant for Cyprus will be around €19bn, Varró said – but warned about comparing Cyprus too closely to Australia, "where the infrastructure is more difficult to handle".
Cyprus' former Commerce Minister Praxoulla Antoniadou, who held the post before Sylikiotis, has been widely quoted in media for stating, in 2011, that "approximately 7 tcf is equivalent to one billion barrels, and to give an indicative value of these deposits based on the barrel analogy, the deposits in one of the 13 blocks are worth around €100 billion in value." But the Reuters report notes that gas prices could fall after 2015 when a wave of new supplies become available in the U.S., Australia and Africa. A recent report of the Oxford Institute for Energy Studies on the same topic agrees that there is no guarantee Cyprus will be able to monetize its resources. "Even if laying the required 1,000-km pipeline at depths of up to 3,000m is technically feasible, it is a project that would present stakeholders with major complexities and not necessarily the most optimal commercial returns".
The same report says that there are several risks associated with the commercial perspective of Cyprus linking its reserves to other parts of the European market. "For a start, the outlook for European gas demand is far from certain, with growth expected to remain sluggish at best until 2020". Further interconnection with the more liberalized markets in Europe could create in the future a shift to lower, hub-based pricing.
A great place to be in
Cyprus' Aphrodite gas field is in fact the fifth consecutive natural gas field discovery for the Noble Energy in the Eastern Mediterranean. The company discovered the Tamar field, "a giant, world class gas field" located offshore Israel, which was expected to come on stream in April 2013, according to Societe Generale. "Tamar field was the largest global gas find of 2009 and its exploration is of huge strategic importance for Israel," Societe Generale said, adding: "it will enable the country to become self-sufficient in terms of gas supplies for approximately 20 years". The adjoining field also sends positive monetization signals – Leviathan holds an estimated 17 tcf of natural gas. Cyprus' Aphrodite is 180 km off the south of the Cypriot coast and 65 km west of Israel's Leviathan field.
All three fields are lying in the Levant Basin, a wedge of the Mediterranean lying between Cyprus and Israel, which the U.S. Geological Survey estimates may hold 122 trillion cubic feet.
Tensions have spilled into the offshore energy deals
This is almost double the proved 64.4 tcf gas reserves the EU totaled at the end of 2011, according to
BP's Statistical Review of World Energy
published in June 2012. "The Levant basin proves how many reserves are in the area," former industry minister Sylikiotis said. This proximity could make it possible in the future for Israel and Cyprus to share an LNG plant. "Leviathan could be liquefied in Cyprus. It's a very, very beneficial opportunity to export this gas from Cyprus," Sylikiotis added.
However, Israel has not yet decided on its gas export policy and is known to keep its gas for strategic use, more exactly for energy autonomy and geopolitical influence within the region. "We are ready, if Israeli companies want to come to Cyprus for LNG, we are ready," he said.
But whilst Cyprus is lucky to have such 'good neighbors' in the south, its attempts to explore its offshore gas reserves will in the future meet resistance from its northern neighbor, Turkey. In 1974, Turkey invaded Cyprus in a response to a coup by supporters of 'Enosis' - the movement of the Greek-Cypriot population to incorporate the island of Cyprus into Greece. Thousands of its troops remain stationed in Northern Cyprus. Tensions have spilled into the offshore energy deals. Turkey has recently suspended, if not broken its relationship with Italian company ENI because of the company's partnership with Cyprus. "They made threats, but they know it is in our Exclusive Economic Zone," Sylikiotis said.
Oil too?
The U.S. Geological Survey also estimated a mean of 1.7 billion barrels of recoverable oil in the Levant Basin Province using a geology-based assessment methodology.
Whilst this is not a clear indication that there will be oil also in Cyprus' offshore blocks, energy companies Total and ENI are ready to scratch beneath the surface – they requested licenses for both gas and oil exploration.
"They [Total and ENI] have a more aggressive program. In the new agreement, they need to do two explorations in the period of three years," Sylikiotis said, adding that "for block 10, they're maybe looking for oil". The discovered gas is "thermogenic" (tending to produce heat) and offers evidence as to the existence of oil at greater depths, Hadjistassou, who specialises in the prospecting, exploration, and exploitation of natural gas explained. "Two-dimensional seismic and other geophysical surveys offer strong indications regarding the existence of oil. Based on those surveys thirteen hydrocarbon plays have been identified in Cyprus' Exclusive Economic Zone," Hadjistassou said. "There's a strong chance they will discover oil when they start drilling," he added. "If they do, it will be a game changer".
So far, Cyprus has been heavily dependant on energy imports, particularly on oil products. In 2009 alone, circa 98% of its imported energy was oil, the International Energy Agency showed in its 2009 annual report. Natural gas does not feature in its energy mix at all. Thus, it does not have prior experience in energy exports – the country's economy has to date been based on its tourism and banking sectors.
"In a few years we might change this economic model," Sylikiotis said.