The Dutch Energy Valley: the two-edged sword of the energy transition
The northern Netherlands – which bills itself as the Dutch "Energy Valley" – is rapidly turning into one of the great energy hubs of Europe. Three large new power plants are currently being built in this region. In addition, many billions of euros are being invested in a wide range of other energy activities – gas and oil storage, biogas production, gas pipelines, power lines, enhanced oil recovery, carbon capture and storage, offshore wind parks and Research & Development. An important driving force behind the development of the Energy Valley is the desire to find ways to facilitate the transition to a sustainable energy future. Still, for the time being, coal, oil and gas continue to form the foundation of the north-Dutch energy hub. 'We are an economic program, not a sustainability program', says Gerrit van Werven, General Manager of Energy Valley. 'Although sustainability remains our long-term goal.'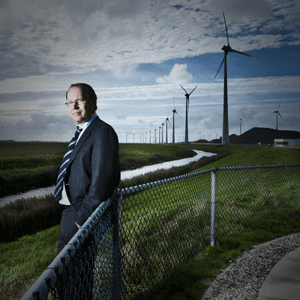 Gerrit van Werven, General Manager of the Energy Valley foundation
Gerrit van Werven takes a piece of paper and starts jotting down figures. '400 MW wind onshore, 700 MW wind offshore, 1600 MW RWE, 1300 MW Advanced Power, 1300 MW Nuon, 700 MW Norned 1 cable …' The list goes on for some time. '11,000 MW!' he announces triumphantly in the end, after he has listed all the planned projects in the northern provinces of the Netherlands. 'That's the power production capacity we will have here. I don't know of any such concentration in Europe. And that's just power. Companies are also investing large sums in biogas, biofuels, oil and gas production, smart grids. All in all €25 billion of investments over the coming five to ten years!'
As the General Manager of the Energy Valley foundation, which was set up in 2003 to turn the northern Netherlands into the country's main energy hub, Van Werven has every reason to be pleased. The idea of the Energy Valley – in analogy of course to California's Silicon Valley – is clearly catching on.
Threatened
The northern region of the Netherlands has always had significant energy-related activities. It harbours the headquarters of the main Dutch gas companies Gasunie (infrastructure) and Gasterra (trade) and
'If you only do renewables, you are too vulnerable economically at this stage of the transition'
of the gas and oil production company NAM, a 50/50 Shell-ExxonMobil joint-venture. It is also, not coincidentally, the home of the giant Slochteren gas field, which for 50 years now has formed the bedrock of Dutch gas production and exports. Although Slochteren is more than half empty now, it still serves as an important source of production and balancing.
Still, some years ago, the north's position as energy region was seriously threatened. Gas production was declining and there was huge pressure on the Dutch government to close off the Wadden Sea – an important source of offshore gas – to new production. And there was more bad news. Shell considered moving its upstream activities to Aberdeen. Gasunie's trading activities were forcibly split off and the company, a global player in the gas sector, threatened to be reduced to a local Dutch transmission system operator.
Alarmed, a number of private and public stakeholders – provincial and municipal governments, schools and companies – got together and formed the Energy Valley foundation. Its mission was to turn the northern provinces into a major European energy hub. This led in 2007 to an "energy agreement" between Energy Valley and the national government in which targets and support mechanisms were laid down. From then on, new investments kept pouring in, in a steady stream.
'As they say in the US, a region needs a business', says Van Werven. 'We wanted energy to be our business.' According to Van Werven, all stakeholders in the region are now focused on the same purpose. The public authorities stimulate investments and try to smooth permitting processes. Universities and research institutions develop courses and training programs. Private companies commit funding and resources. And the EnergyValley organisation makes sure investors from outside the region are accommodated as quickly as possible.
The fact that 'everybody got behind the plan' is one of the keys to the success so far of the northern energy hub, says Van Werven. Another important point is that, as Van Werven puts it, 'we are developing a robust system of both fossil-fuel based and transition technologies. Energy Valley represents a mixture of innovations, both in fossil fuel applications and in renewables.'
In other words, despite the fact that it is one of the explicit goals of Energy Valley to pave the way for a sustainable energy economy, the region does not focus exclusively on renewable energy. 'If you only do renewables', says Van Werven, 'you are too vulnerable economically at this stage of the transition. We
'Rotterdam has been able to attract only several hundreds of Megawatts of new power stations. We have €25 billion of capital expenditure here in five years. I call it a paradigm-shift'
are an economic program first of all, not a sustainability program. The primary reason why companies invest here is that they want to expand their production capacity. But they do want to do this as efficiently and sustainably as possible, given current market and regulatory conditions. So the innovations and investments that are realised here should help to bring sustainable processes within closer reach.'
Paradigm shift
So what is being done concretely in the Energy Valley? First of all, the region is becoming the most important power production centre in the Netherlands, both in terms of conventional power and in renewables. In addition to the existing 2,400 MW gas-fired power plant of Electrabel (the biggest gas-fired power plant in Europe), three major new power plants are being built in or near Eemshaven, the major port of the region.
Vattenfall-subsidiary Nuon is building a €2 billion, 1,200 MW multifuel plant in Eemshaven that can produce power from gas, coal and biomass. A special feature of this plant is an innovative coal gasification unit which is combined with a CO2-capture unit. It should be noted that in the first phase only the gas-fired part of this plant will be built and that no final investment decision has been made yet on the coal gasification unit.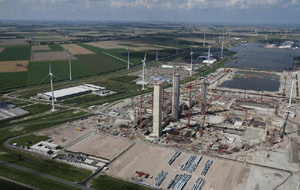 Eemshaven in the north of The Netherlands
German energy giant RWE is investing €2.2 billion in two 800 MW coal powder power plants that have a record efficiency rate (for coal plants) of 46%. Ten percent of the fuel used will be biomass. RWE is also investigating the possibility of underground CO2-storage. Both the RWE plants and the Vattenfall plant will be carbon capture ready.
The independent Swiss power producer Advanced Power is investing €1.2 billion in a 1200 MW, gas-fired power plant. This will have an efficiency rate of 60%.
In addition to these three major new plants, the waste processor Omrin is investing €150 million in a new waste power plant that can convert 85% of waste into heat or steam. Its main customer will be an adjacent salt factory.
When the new power plants are ready, the northern Netherlands will be good for a quarter to a third of total Dutch power production capacity. The new power stations will help turn the Netherlands from an electricity importer to exporter.
The companies chose the Eemshaven region, says Van Werven, because it offers ample space, plenty of cooling water and excellent logistical facilities. 'And because we have an active policy to attract new power producers', he adds. He mentions the example of Advanced Power. 'They looked everywhere, also in Rotterdam. They came here because we served them well. When they had questions they got answers from us very quickly.'
The name of Rotterdam comes up several times during the interview. As the largest port of Europe, and an energy hub in its own right – with huge oil storage facilities, refineries, power plants and biomass production facilities – Rotterdam is Eemshaven's major competitor. Energy Valley was disappointed recently by the decision of the companies Essent, Gasunie and Vopak to cancel the planned building of an LNG terminal in Eemshaven. The Netherlands will now get just one LNG Terminal, which will be built by Gasunie and Vopak in Rotterdam.
Still, Van Werven says that 'Rotterdam has been able to attract only several hundreds of Megawatts of new power stations. We have €25 billion of capital expenditure here in five years. I call it a paradigm-shift.' He notes that Vopak is building a large oil-container terminal in Eemshaven which will rival their oil storage capacity in Rotterdam. On the carbon storage front, the north also seems to be trumping the
The fact that a German company has been able to get such large government support has led to a lot of criticism in the Netherlands
Rotterdam area. A planned first experiment for large-scale storage of CO2 in empty gas fields in Barendrecht near Rotterdam looks increasingly unlikely to go through. The local population strongly resists this Shell project. In the north, private and public parties – including RWE, Gasunie, Nuon, AkzoNobel, Energy Valley and the provincial authorities – have drafted a plan for a carbon storage project that seems to have a better chance to succeed, although it has not been finalised yet.
Criticism
The "conventional" power plants are by no means the only new power production activities going on in Energy Valley. The region is also banking heavily on wind power. Last year, the largest onshore wind power park in the Netherlands was opened in Eemshaven, a 300 MW facility with 52 turbines which cost €600 million to build. Shortly, two huge 6 MW wind turbines will be added to this park.
Offshore, the German company Bard, based in nearby Bremen, has won a tender from the Dutch government to build a 600 MW wind park north of the Wadden Islands. The company will invest €2 billion in this project and will get an additional (maximum of) €4.4 billion in subsidies from the Dutch government.
The fact that a German company has been able to get such large government support has led to a lot of criticism in the Netherlands. Van Werven admits that he was surprised, too, when he heard Bard had won the concession. But he decided to respond pragmatically. 'I immediately rang them up and I was in Bremen a week later to discuss the project. They have promised they will be using a lot of Dutch suppliers. They don't even have the capacity to do it all by themselves.'
In fact, Van Werven sees the new activity as a chance to turn Energy Valley into the offshore wind power centre of the Netherlands. He notes that the new service and construction centre that will be built in Eemshaven for the Bard park, will also be able to service new offshore wind parks in the Dutch, German and Danish parts of the North Sea. Energy Valley has even developed a plan to build an artificial island in the sea from which offshore wind parks could be serviced.
Van Werven is now lobbying with the Dutch government to get all planned offshore wind parks (a total of 6000 MW) built in the northern region. 'That would be far more economical', he says, 'than building them widely spread out along the western coast, as they are planning to do now. We have enough room here. The fishing and shipping trade will not be hindered if the wind parks are concentrated here. And servicing will be much cheaper.'
Another advantage of concentrating wind power in the northern region is that it can be integrated with Danish and German offshore parks and connected with Norwegian hydropower plants and Dutch gas-fired power plants. In 2008, a 700 MW undersea power cable was laid over 600 kilometres (the longest in the world) from Norway to the Netherlands. This so-called Norned cable has been such a
Van Werven is now lobbying with the Dutch government to get all planned offshore wind parks built in the northern region
commercial success, that plans have been made to build a second 700 MW cable alongside the first one. In addition, the Danish and Dutch transmission system operators Energinet.dk and Tennet have plans to build a 700 MW cable (the Cobra cable) from Denmark to Eemshaven, an investment of €600 mln for which the EU has already earmarked an €80 million subsidy.
These interconnections are making it possible to turn the region into a truly European wind power hub, says Van Werven. 'This will allow us to reduce cost and optimise wind power production. You now have a lot of people who say that wind turbines run on subsidies. If you want to do things more cheaply, this is the way to do it: all in one place.' Van Werven already has a name for the European wind power region: the Hanze Energy Corridor. 'The Germans are interested in cooperating on this. We can have a truly European wind power project here, together with Denmark and Norway.'
Green gas hub
It will come as no surprise that Energy Valley is also heavily investing in gas infrastructure. The region is the heart of what the Dutch government likes to call the "gas roundabout" – the concept of turning the Netherlands into the gas hub of North Western Europe. Gasunie, the Dutch gas transmission system operator (TSO), has ensured that Nordstream, the great pipeline from Russia to Germany through the Baltic Sea, will be extended to the Netherlands. At the same time, a new gas pipeline has been built, the BBL (Balgzand-Bacton line), from the Netherlands to the UK.
The start of the construction of the Nuon Magnum power plant in the Eemshaven in Groningen
Besides participating in Nordstream, Gasunie in 2007 also bought the extensive gas pipeline network of BEB in northern Germany for some €1 billion. Interestingly, the Dutch electricity TSO Tennet has followed this example by buying extensive power networks in Germany last year for €885 mln. So while the privatised Dutch generation and trading companies, such as Nuon and Essent, are being gobbled up by foreign players after the forced split-up of the Dutch energy sector (Nuon was bought by Vattenfall, Essent by RWE), the Dutch TSO's Gasunie and Tennet – both state-owned – are expanding internationally.
Investments are also made in new gas storage capacity. The region has two gas storages – one at Grijpskerk of 3 bcm (billion cubic metres) and one at Langelo of 4 bcm. Gasunie and Nuon are building a new storage facility of 1 bcm at Zuidwending. Here gas will be stored in salt caverns, from which it can be retrieved very quickly and so used for trading purposes. In Bergermeer in the western province of Noord-Holland an €800 million new gas storage facility of 4.3 bcm (working volume) will be built by the Abu Dhabi company Taqa with the participation of Gazprom, the Dutch State and some other companies.
In addition, Energy Valley has developed the concept of 'green gas hubs' to stimulate the production of biogas. At these hubs, five of which are now being built, biogas will be upgraded to natural gas quality so that it can be fed into the gas network. This is much more efficient than converting biogas into electricity. Some €200 million will be invested into the first five hubs.
Pillar
These are just some of the investments being planned in Energy Valley. The list goes on and on. For example, the company Bio-NCM will spend €70 million building the largest second-generation biofuels plant in the world in the town of Delfzijl. In this plant biomethanol will be produced from glycerine, a byproduct of biodiesel. Production capacity will be 200,000 tonnes initially and might grow to 800,000 tonnes in the future.
Another interesting project is being carried out by the Shell-Exxon joint-venture NAM at the oil field Schoonebeek, the largest onshore oil field of Western Europe. NAM has recently restarted production at
So while the privatised Dutch generation and trading companies, such as Nuon and Essent, are being gobbled up by foreign players after the forced split-up of the Dutch energy sector, the state-owned TSO's Gasunie and Tennet are expanding internationally
Schoonebeek after the field had been inoperative for 13 years. The Shell-Exxon joint venture is investing €500 million a year in new production technologies, specifically steam injection to liquefy the highly viscous oil in the field. The company expects to be able to produce 100 million barrels of oil in the coming 25 years after having produced some 250 million barrels at Schoonebeek between 1948 and 1996.
A vital pillar of Energy Valley is the emphasis it lays on research and training. The University of Groningen and the major professional colleges in the region are all involved in the Energy Valley concept. Some 350 scientists are working full-time on energy issues in the region. Groningen University is offering 5 master training programs in energy fields.
Technical consultancy Kema, which recently took over Gasunie Research, will develop its Groningen office into a specialised centre for gas-related knowledge and smart grids with a staff of some 300. Kema is also carrying out an important smart grids experiment in the city of Groningen.
The Energy Delta Institute, also located in Groningen, offers gas-related training courses to young professionals from all over the world. And recently the largest gas research program in Europe, called EDGaR, has started in the region, with €44 million in research funds. (Incidentally, we may note that European Energy Review happens to be located in Groningen as well!)
'All in all', notes Van Werven, 'it is clear that a great European energy hub is taking shape in the northern Netherlands. A concrete model of what the great European energy transition looks like in practice. Aimed at innovation and sustainability, but solidly grounded in the reality of today's energy situation.'