Peering into the fog of a Russian energy war
Why Is AAR Worth $28bn?
Nobody has quite dared to pose the question, but why is Rosneft apparently willing to pay $28bn for the AAR oligarch's 50% stake in TNK-BP, when it only paid $26bn for BP's other 50% holding? Good question; don't expect pretty answers. Commercial and political interests always go hand in hand in Russia, and this deal isn't an exception to rule.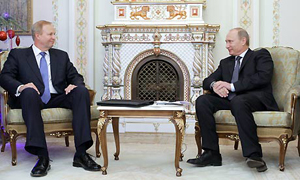 BP chief executive Bob Dudley with Russian leader Vladimir Putin (c) Alexey Druzhinin / AFP / Getty Images
Baffling 'Facts'
The TNK-BP saga has attracted more attention than any other deal over the past couple of years, but as I've repeatedly noted on international pages, once the BP side of the TNK-BP deal goes through, there is no reason why Rosneft would have to pay $28bn for AAR's stake - Rosneft would be the only suitor left in a one horse race. Forget the fact that the joint venture paid out $7.5bn in dividends last year, Rosneft could literally name its price for AAR's stake. Failure to comply would ensure TNK-BP assets are stripped piece by piece back to the Kremlin. Sell cheap now, or face destruction a couple of months later.
Obviously neither option looks good for Russian PR purposes, but at a minimum, settling on 'knock down prices' has far more credence when you consider the gearing involved for Rosneft. If Mr. Sechin ends up paying the 'real' market rate to complete the TNK-BP deal valued at $55-60bn, then debt levels will shoot up to around $71bn. Even if cash flows come good, it will take up to 15-20 years to pay this off. Little wonder that Moody's has already placed Rosneft on downgrade watch.
But not only is $28bn a higher exit price for AAR than BP's agreed $26-27bn deal (most of which was 'paid for' in shares), it's all in cash for the oligarchs. Rosneft is paying over the odds for AAR's stake - and doing so in the one commodity it literally can't afford – hard, cold, cash. So, if these are the baffling 'facts', then what are the explanations?
Baffling 'Explanations'
The tedious answer being trotted out by a number of Russia watchers is that it ties into the Kremlin's grand scheme to build the largest listed international oil company in the world. Once the deal is completed, Rosneft will be pumping 4.6 mb/d (million barrels per day), an impressive figure (and a very useful brown-field cash-cow) for President Putin to fall back on. TNK-BP oil is already being pumped, not sitting deep beneath Arctic ice. With Gazprom dead in the water, oil has become the money and the power in Russia. Whatever the Kremlin has to pay to complete the transaction, so be it.
All true. But even at 4.6 mb/d production, Rosneft is hardly going to be the new Saudi Aramco of oil, able to influence prices as it sees fit. Russia will remain a hydrocarbon free rider; the global position doesn't change. And the fact that Gazprom has failed to move with global gas times is hardly new either; it's been fighting a losing rearguard battle since 2009.
So if that's just top line fluff, we then turn to more serious explanations for the AAR mark-up. Some think it's because Mikhail Fridman (one the AAR partners) remains close enough to President Putin to get a 'mates' rates' pay off to ensure that AAR gets a return, all while letting Rosneft go full steam ahead with
Whatever it is AAR appears to have, it's worth far more to the Kremlin than mere money
its 'national champion' blueprint. The oligarchs were certainly very smart in bidding up BP's exit price
as a proxy for their own departure
, but that strategy only holds if AAR made sure they were first to the door, not chasing BP's tails to get out. Second out; and you'll get a second class price tag in the rough and tumble world of Russian politics. But where AAR-Kremlin 'propinquity' actually has far more credence, is the far murkier world of brokering 'mutually beneficial' deals, where everybody gets a cut. That's arguably far closer to the mark as to why AAR is getting top dollar, and it's the only informal explanation equity analysts can come up with in London.
As one former TNK-BP employee told me, 'the right people have to be paid off'. He didn't just mean for AAR, but 'certain payments' on Rosneft's side of the fence and the Russian establishment. The insinuation being that the BP sale is relatively clean, AAR is where everyone gets their dues. Cue Igor Sechin's brief to investors this week, the terms of any AAR-Rosneft deal will be strictly 'confidential'.
Admittedly, the idea that sweeteners have been priced in will hardly come as a shock to anyone involved in the Russian energy sector, or anywhere else for that matter. Even when Rosneft aborted its previous BP (2011) deal, rumours of offshore Cypriot accounts were doing the rounds all over the City of London. It's simply the price of doing business in Russia.
But where this still doesn't add up, is that everyone could still get their cut, but to do so with a far lower price tag given Rosneft's shallow pockets. The only explanation left is that AAR has something so big over the Kremlin that it could bring down the entire house of cards. No other scenario (with or without sweeteners) makes any sense for a $28bn 'endowment'. Presumably this is a case of 'mutually assured energy destruction' all round.
AAR: Last Laugh?
We'll never know precisely what the catch is, or indeed how far that suggestion can be taken. But this is the one group who defied the Kremlin in 2011, and looks set to walk away with $28bn in 2012. When I double-checked with BP to see if there was any way AAR could legally block the Rosneft-BP deal to explain the last minute premium, the answer (from a senior executive), was not only a resounding 'no', but that 'it's entirely up to Rosneft and AAR to come to whatever terms they wish'.
And that highlights BP's problem here of course: It's going to hold a 20% stake in Rosneft, where politics and commercial interests can be never be divorced. BP will have no clue what's really going on in the Kremlin, or why certain decisions are being taken. Its 20% stake is not only illiquid, it's by definition, politically exposed.
By contrast, AAR seems to have their Russian politics firmly in check. The final clincher for AAR's hold over the Kremlin will be what happens to the $28bn. If the oligarchs are literally allowed to cash in, and take their money straight out of Russia, then you'll know they've held the aces all along. Moscow is bleeding cash on a quarterly basis; it saw net capital outflow of $52bn in the first half of 2012. Giving AAR's cash an easy exit (say to reappear on the shores of Lake Geneva), and the political circle would be complete. It's either that, or this is all nonsense, and Igor Sechin is merely telling AAR exactly what they want to hear until the BP deal is done. He's then free to tighten the AAR screw (in highly unpleasant places).
Either way, we'll have to wait and see what comes out in the Russian political wash. BP will be just as intrigued and confused as the rest of us, but whatever it is AAR appears to have, it's worth far more to the Kremlin than mere money.