Attendees at the
2019 Eindhoven Maker Faire
(EHVMF) are in for a treat. Elektor International Media is announcing the upcoming launch of the Dutch edition of
Make:
magazine!
In late 2019, Elektor will begin publishing
Make:
magazine in the Dutch language, which means makers in the Netherlands and Belgium will have their very own edition of the #1 magazine for the maker community. On September 28 and 29, EHVMF attendees can visit the Elektor booth to save €10 on a 1-year membership to the Dutch edition of
Make:
and take away a handy
Make:
notebook!
Can't make it to Eindhoven but still want a subscription to
Make:
? No worries. Head over to
MakeMagazine.nl
for details about the magazine and to subscribe for only €25!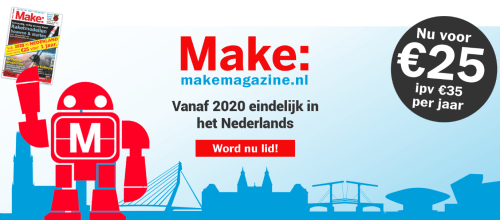 Pre-Order Make: Magazine (Dutch) for Only €25
Whether you're an expert engineer or beginner,
Make:
will help you develop your skills with handy, clear tutorials and be inspired by leading Makers. For only €25 (regularly €35), you'll get a full year (4 issues) of Make: magazine.
Order yours today!
In every issue of Make:, you will find dozens of projects to make yourself about Robots, Drones, 3D printing, programming etc.
Develop your skills with handy, clear tutorials and get inspired by leading Makers!
Tests, guides, and more! Independent, critical and reliable.
Make: Magazine (Dutch) Website and Newsletter
MakeMagazine.nl
is an excellent resource for articles about the maker community, subscribing to the magazine, and accessing back issues. While you're there, be sure to subscribe to the
Make: Mail
newsletter. As a subscriber, you'll receive news about interesting maker projects, tutorials, and much more.
Get inspired!