On Tuesday, April 17, 2018, the finale of the
European NXP Cup (EMEA)
took place at the Fraunhofer IIS in Erlangen, Germany. The NXP Cup was held for the seventh time this year. In the competition, students and pupils from all over Europe and sometimes from other parts of the world try to program a small electric car in such a way that it can independently complete a course without deviating from the given route. The flying reporters of Elektor could see that this is not so easy, shortly after they entered the competition hall.
Two categories
The cars that took part in the NXP Cup were all based on a standard Landzo chassis. Since the "Model-C" is no longer manufactured, it was replaced this season by the "Alamak" from the same manufacturer. But so that the teams that were already experimenting with a Model C car could also participate without any problems, there were two categories this year: Model-C and Alamak.
There was even a third category, the highschool race for students, in which only two teams from the same school from Slovakia participated.
The car
A chassis package consisted of a base plate with four wheels, two motors and a steering servo, a battery pack, a simple black/white camera with mounting rod, a motor driver and a FRDM-KL25Z computer board based on the NXP MKL25Z128VLK4 ARM Cortex-M0+ clocked at 48 MHz. The camera gave the car eyes or, because not particularly strong, rather a little overview.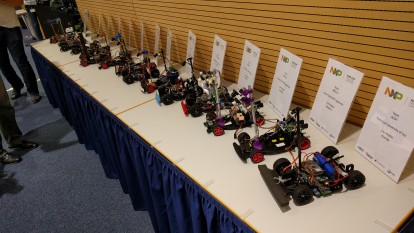 The hardware of the cars could only be modified to a limited extent. For example, it was permitted to install stable bumpers or to replace the camera rod with something that would better withstand the most frequent accidents. However, no other motors or other electronics were allowed to be used, for example. It was important that the teams solve all problems with the software.