The EU Strategy for the South Caucasus is a long term strategy directed towards creating a secure political, economic and social environment on the eastern borders of EU. Azerbaijan (officially Azerbaijan Republic) is the largest and most populous country in this region and is rich in hydrocarbon resources and plays an important role in supplying the EU with oil and natural gas. But the country is not only rich in fossil fuels, there are also great opportunities to develop a renewable energy sector.
Renewable Energy is a new sector in the country and mainly emerged after the collapse of the Soviet Union. For coordinating all efforts in the renewable energy sector, the government of Azerbaijan established the State Agency on Alternative and Renewable Energy Sources (SAARES) in 2009. The Agency has a mandate as principal regulatory institution in the sphere of alternative and renewable energy and is tasked with assessment of sustainable energy potential, shaping relevant policies including tariff policy, and the expansion and enforcement of relevant procedures addressing issues such as special permissions for public and private entities to construct power generation facilities.
Especially solar, wind, hydro, geothermal and biomass are promising. Azerbaijan cooperates closely with the European Union in economic feasibility processes. It also receives some loans and grants from several donor countries and organizations. The largest economic and technical feasibility studies have been carried out by German consulting company 'MVV Decon' with financial support from German Development Bank KfW. that were concluded in May 2014, after an 18 month research period. 'Work has been conducted in two phases and lasted for 18 months. The project's technical and economic aspects were developed during the first phase of the feasibility study, while its environmental and social aspects were developed during the second phase', said a statement released by the bank.

(For more information in several of these projects see EEAS)
Azerbaijan uses both self-finance and loans to develop its green energy sector. Akim Badalov, the head of SAARES , stated in an interview with the AzerNews State Agency in November 2013 that around 380 million U.S. dollars have been invested in the development of alternative and renewable energy sources in Azerbaijan.
Solar Energy
With 2,400-3,200 hours of sunshine per year (250-300 sunny days a year), Azerbaijan has a good potential for solar electricity and heat generation. Its technically feasible potential (16 billion kWh) is currrently underexploited.
Solar Radiation map of Azerbaijan (www.eoi.es)
Especially the Kura-Aras lowland area, the Absheron peninsula, and the Nakhichevan Autonomic Republic have a high potential for solar energy.
The major obstacle for developing the solar energy sector is that the generation costs for electricity from PV (photovoltaic power generation) are still too high to be competitive with the low electricity tariffs in Azerbaijan, but the government has made significant steps to develop solar energy production. Recently, with the participation of the President of the Republic of Azerbaijan, there was an opening ceremony of the Surakhani solar power station of the 'AzAlternativEnerji' Limited Liability Company under SAARES. In the long term, strong financial incentives are necessary to stimulate private investments in PV installations.
Next to an abundance of solar radiation Azerbaijan Republic also has abundant resources to develop Wind Energy.
Wind, which blows more than 250 days per year and could generate 2.4 billion kWh annually, is the country's preferred resource because of its lower cost, environmental soundness and unlimited availability.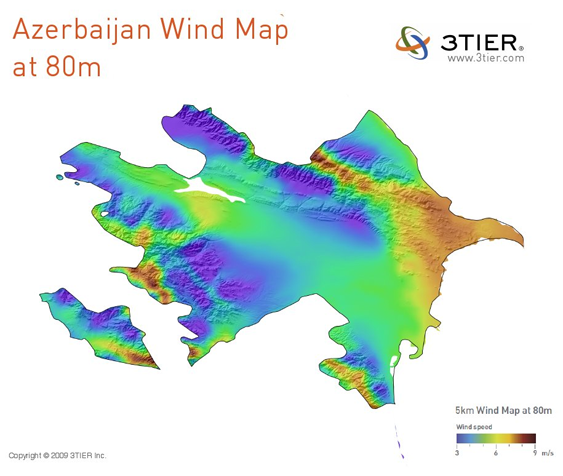 Azerbaijan wind map (
eoi.es
)
The windiest areas of Azerbaijan are the Absheron peninsula, the Caspian Sea coastal areas, the west of Azerbaijan (the Ganja-Dashkasan region) and the Nakhchivan regions. The Absheron peninsula is located on the north-western part of the Caspian Sea and the average annual wind speed in the Absheron peninsula is 5–8 m/s. The number of windy days on the peninsula varies between 245 and 280. Along the windy coasts of the Caspian Sea from the capital Baku to the northern borders, a number of wind farms have been build in cooperation with theKfW. In the Baku area, the electricity network is in good condition and no expensive grid expansionis needed, keeping the electricity prices stable in the long run. Since electricity prices tripled in 2007, the wind power alternative is becoming competitive because its price is not coupled to oil and gas prices. Calculations from governmental institutions suggest that the Republic of Azerbaijan has the economically feasible potential of about 800-1500 MW of wind power which is approximately equivalent to 2.4 billion Kwh (assuming a capacity factor of 34%). Using the country's full wind energy potential would allow for a yearly saving of about 0.8 million tons of standard fuel.
Hydro Power
Hydro Power is currently the best developed renewable energy source in Azerbaijan, having biggest share in total electricity production. In 2011, it accounted for 9.8% of electricity production, against only 0.2% for other renewables (SAARES, 2012). Hydro power, unlike other types of renewable energies, has been used since Soviet times (since 1930s), and in the country is covered with big and small hydroelectric stations. 'Estimated hydroelectric power resources of Azerbaijan equals 40 Billion kWh, out of which 16 Billion kWh is technically viable, with a 5 Billion kWh share from small hydroelectric power projects'. The main problem with small and mini hydroelectric plants is that they've been operating longer than their planned life cycle, and due to outdated technologies these facilities cannot operate according to modern standards. Nearly 35 per cent of Azerbaijan hydropower stations have been in operation for more than 30 years. The government is interested in investing in the hydro energy sector and is planning to increase the number of plants. 'We plan to build 34 small hydropower plants with a total capacity of 239.9 megawatts over the short and long term, the Ministry of Industry and Energy stated in an interview with Azernewsin September 2013.
Biomass
According to feasibility studies, done mostly by independent energy analysts, Azerbaijan has good opportunities to produce biomass energy in country's rural areas. But the production of green maize or other crops for biogas is fuel intensive and the price of benzene and diesel is relatively high. On top of that there is no tradition of selling biomass to customers, therefore farmers show little interest in growing biomass like green maize. According to Statistical Committee of Azerbaijan Republic, it costs nearly 2.000 Azerbaijani Manats (app. 1700 Euros) to install a household size biogas device for a family in a village, where people breed cattle and there is a wealth of raw materials. Despite its potential, only a few small pilot projects using biomass for energy purposes have been developed in Azerbaijan.
Waste to Energy
Azerbaijan possesses more than 200 sites for waste disposal, which cover an area of 900 hectares. Meanwhile, the country annually produces 6 to 6.5 million cubic meters of solid waste. In 2012, the plant that is largest in size in post-Soviet countries began to operate in Azerbaijan, Baku, constructed by the French CNIM Company.
This plant helps to save 60 million cubic meters of natural gas a year, producing 231,500 MWh a year providing more than 100,000 households with electricity.
Conclusion
Energy security is one of the main economic and political pillars of countries globally and governments strive to develop their energy industry aiming to diminish their dependence on foreign import. Especially fluctuations in the world energy market and sudden increases in prices can severely impact the fragile economies in the modern world. Developing renewable energy sources helps to reduce CO2 to a significant level and save tons of fossil fuels simultaneously. Azerbaijan Republic plays a major role in the Caucasian region, situated in a strategically important geographical location. It is rich in fossil energy resources and a strategic partner of western countries for its role in international energy security. Increasing energy demands by this newly independent country in the Caucasus, like in other developing countries, enhance the importance of the search for renewable, sustainable energy sources. As for now, the production of alternative or green energies remains to be 10% of the total electricity production, which mainly comes from hydro energy while 0.2 % is generated by other renewable sources. The main obstacle for developing renewables is the regulatory structure that needs to be strengthened by enacting and enforcing legislation that promote renewable projects. The other aspect are the low energy prices that hinder the realization of big renewable energy projects because renewable energies aren't competitive. Foreign investors are interested in investing in big energy projects while small and more diverse projects receive relatively little attention so far. Although feed-in tariffs for wind generation exists, for other types of renewables it is still lacking.
The government collaborates with EU under the INOGATE program, UN Development Program and various organizations to increase the share of renewable energy in the total energy production of the nation.
Azerbaijan has recently approved a government program called the 'National Strategy for the Development of Alternative and Renewable Sources in 2012-2020.' and toward 2020 the government plans to increase the share of renewable energy production to 20% percent of its total electricity consumption, which means a significant development for a young independent country.
---
References
Dr. Klaus Jorde, Rafibeyli I et al, Renewable Energies in Central Asia, Country Chapter: Azerbaijan


M. R. Mansimov, Initial National Communication of Azerbaijan Republic on Climate Change, Baku 2001


EU Strategy for the South Caucasus., European Parliament Resolution, 20 May 2010 on the need for an EU strategy for the South Caucasus (2009/2216(INI))


Official website of the President of the Republic of Azerbaijan, www.president.az


Ministry of Industry and Energy of Azerbaijan Republic


KfW Baku Office, interview with TREND News Agency, 14 January 2013.


EU, East Invest Program, 2011, www.eastinvest.eu


Energy Charter Secretariat, Belgium 2013


EU Eastern Partnership Initiative, East Investment Support Office, 2011.


United Nations Development Program, Baku 2009
Vasif Safarov is a research student of the Sustainability and Social Innovations certificate program at the Luxembourg University.