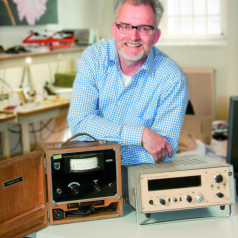 So, this is what I
have
:
€300 in my budget;
A deep affliction for vacuum tubes;
a 50-euro desktop PC and a 75-euro laptop both running Windows 7;
470 tubes waiting for their gain to be "traced";
471 original datasheets in books and other documents, showing the only reliable mutual conductance curves and a lot more;
experience with soldering;
a reasonably well-equipped workshop;
an innate awe for HV.
With all this in mind and trawling the Internet it will not take long before one hits on
www.dos4ever.com
, a splendidly illustrated and also comic website brought to you by Professor Ronald Dekker from Holland.
Ronald's extremely serious
µTracer 3+
is the subject of this short series of articles in Elektor e-zine that looks at how I get along building the kit. In four or five installments brought to you with 6-week intervals I intend to cover everything from ordering and unpacking of the kit right up to commissioning the µTracer 3+. So join me on
My Slow
Journey into Vacuum
(free after Jens Nickel's
My Journey into the Cloud
) or feel free to overtake me and get them filaments glowing before I do.
Ordering
Ronald and his spouse Marie-José run an efficient and well organized business from home, and consequently ordering your µTracer kit is a
breeze
. This is helped by R and MJ communicating swiftly and in excellent English barring of course the odd holiday period. The µTracer 3+ kit is currently priced at €215 including shipping worldwide (or €225 when paying by PayPal). Say what?
Worldwide.
I can confirm what Ronald writes on his web page: "
the kit comes in a flat box that fits into a regular letter box and it is shipped by regular mail. The kits are however fully insured for damage, and come with tracking information. Depending on the destination, most kits are delivered within a week or so, but for some countries it may take a bit longer. So far all 500+ kits supplied to customers all over the world have arrived safely!
" That "500+" is strictly correct but sheer modesty also — in fact there's 905 of them around at this day:
There is no bloatware here. My kit arrived four days after I completed my IBAN/BIC bank transfer. Admittedly I am in Holland.
related items