Apparently the name Arduino lends itself exceptionally well to word-crafting product names, as new "xyx" duino's appear on the launch platforms every day. Latest I was amused to see is
Plumduino
from Vancouver-based startup Plum Geek LLC. These folks already went skyrocket on Kickstarter last year with their two miniature Arduino robots with sensors and lighting effects. Now, they discovered the market potential of education, meaning they offer kids to "customize" the Plumduino by teaching them the programming basics.
To trigger kids to start coding at an early age, the Plumduino board comes with pre-programmed lighting effects that will work right out of the box but is easily customized through basic programming, with each of the eight LEDs individually controllable in both color and brightness.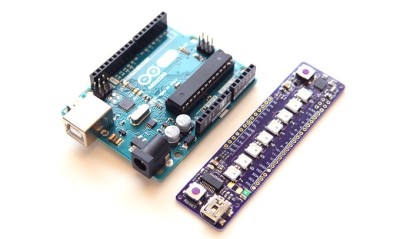 In its new
Kickstarter campaign
,
Plum Geek
also offers an expansion board that connects to the main Plumduino board while adding some extra capabilities. On-board are two potentiometer sliders to control the lights, create sound, a motion detector (with a range of about five feet) to activate the night light in a dark room, a piezo sound element to create tones, chirps, pings, and alarms, and a microphone to trigger lighting effects.