In Astana, the capital of Kazakhstan, the World Expo 2017 with the theme "Future Energy" is being staged from June 10 to September 10 2017. One of the goals of this exposition is to stimulate worldwide discussion between countries, non-governmental organizations (NGOs), companies and the public on the issue of how safe and sustainable energy can be supplied to everyone while at the same time reducing CO2 emissions. With the recent announcement that the United States will withdraw from the Paris Climate Agreement, this issue is more important than ever.
Potential options for future energy supply will be exhibited in large pavilions at the Expo, taking into account the many associated social, economic and environmental challenges. On the 25 hectare exposition grounds, 101 countries have erected a pavilion, including The Netherlands.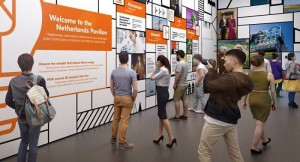 The Netherlands pavilion focuses on three topics: "Study Thinking" with an overview of creative and innovative Dutch solutions for future energy; "Feel Thinking" – a five-minute 3D light and laser show that gives visitors an impression of the Netherlands, from the Old Masters to modern art and from the famous windmills to modern wind turbines; and "Share Thinking" where visitors can obtain informational material. A bar and a souvenir shop are located at the pavilion exit.
Visitors from the Netherlands do not need a visa if they do not remain in Kazakhstan longer than 30 days (this rule is in any case valid until December 31, 2017). Naturally, the World Expo is accompanied by an extensive cultural program. To enjoy a small advance sample, visit here.