Elektor offers innovative information to professionals looking for education, entertainment and inspiration in the field of electronics, both within and beyond their professional activities. Every issue of Elektor magazine is loaded with up-to-date news and views, real-world lab tests and high quality DIY construction projects. You can rely on Elektor for solutions and insights to all your electronics challenges.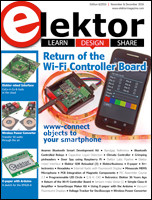 An Elektor GOLD Membership consists of:
• 6 Editions of Elektor Magazine (132 pages each) in print and digital format (PDF)
• Unrestricted access to the Elektor 1990 - present day
archive
• Access to Gerber files for over 1000 Elektor Magazine projects
• Full access to over 750
Elektor Labs
projects
• Elektor Annual DVD valued at €27.50
• At least 10% Member Discount in the
Elektor Store
• And lots more!
Claim your free GOLD Membership now. Enter your coupon code (as provided by Brightlands) below and join the Elektor Community!
After registration you will receive a confirmation email with further instructions, including your login details for all online services.