Hey, pro makers, electrical engineers, and innovators! Elektor is here to help you take your electronics projects to the next level.
Insert your coupon code below
to join Elektor's 200,000-member community of
curious
,
innovative
,
entrepreneurial
-- and even a little
crazy
-- electronics makers and electrical engineers. It's completely
FREE
(you save over $75)! You'll receive the following at no cost:
An ElektorLabs magazine (read a sample) subscription, along with exclusive access to 100s of electronics projects and schematics.
An online Elektor Labs account (see platform) with which you can work on design projects, view other makers' proejcts, and collaborate 24/7 with other innovators, as well as Elektor's in-house engineering team. Start bringing your products to market ASAP!
An Elektor webshop discount to purchase the best electronics boards, kits, books, and tools.
Elektor's widely read weekly e-zine.
Unrestricted access to the Elektor 1990 – present day archive
Free access to all PDF editions of Elektor Business magazine (learn more)
ElektorLabs Magazine
ElektorLabs
magazine (
click for sample
) covers key topics such as: rapid prototyping (Arduino, Raspberry Pi, and more), embedded systems design/programming, robotics, 3-D printing, IoT, wireless communications, and much more. Every edition is loaded with:
DIY Electronics Projects
;
Electronics Design/Coding Tips
;
Real-World Lab Tests
; and
Product News/Reviews
.
Elektor Labs Online Community & Platform
Elektor Labs is a growing international community of thousands of active electronics engineers and enthusiasts who are eager to learn, make, design and share innovative electronics. By signing up, you'll join the Elektor Labs community and have access to our awesome online platform (
see platform
) to:
Collaborate with electrical engineers, the ElektorLabs engineering team, and other makers
Propose electronics projects and products for the Elektor webshop
Learn, design, and share electronics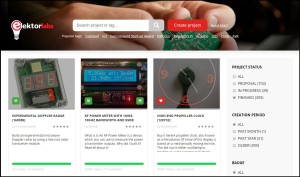 Your FREE Membership
What you get (during the term of your membership):
Claim Your FREE GREEN Membership today!
Enter your coupon code below and join the Elektor Community!
You will be redirected to the registration process where you can complete your order and immediately afterwards start enjoying the full benefits of your free Elektor GREEN Membership!
Please note:
This offer is only valid to new customers. Not to people who already have an Elektor Membership.
Get your FREE 1-year subscription to ElektorLabs magazine + free access to our online community!