Land, sea and air robots have gathered in Italy this week to compete in the
euRathlon 2015 Challenge
, the European emergency response robotics competition.
16 teams from 12 countries have converged in Piombino, Italy, on the 17th of September to participate in 9 days of robot challenges, performing search and rescue missions in a staged disaster scenario.
The 2000 square meter disaster zone includes land, beach and sea areas, the ruins of the Torre del Sale building and a thermal power plant. In this beautiful Italian coastal scenery the teams face three different types of challenges. Trials are single domain scenario's – land, air or sea – where robots have to complete one task. In the Sub-Challenges robots from two domains and their teams must work together to complete two tasks. The Grand Challenge includes all three domains.
The euRathlon Challenge was conceived of after the Fukushima Daiichi nuclear disaster when it became clear robotic systems are of critical importance in disaster management but aren't always up to the task yet. The Grand Challenge tests the robots and their teams for such an event. It plays out a scenario in which a nuclear facility is first hit with an earthquake and then a tsunami. The robots' primary mission is a search and rescue of two missing workers. But they must also check for damage, close off leaking pipes and prevent radioactive material from spilling in the sea.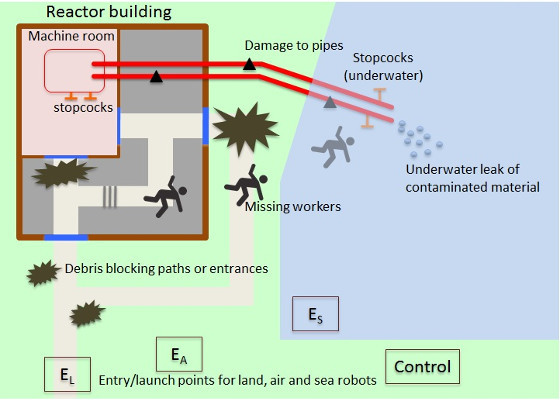 The aim of the euRathlon Challenge is not only to drive teams to build better robotic systems but also stimulate cooperation between the participating teams.
The euRathlon project is led by Alan Winfield who is a professor of Electronic Engineering of the University of the West of England. The project has received funding from the European Commission under the Seventh Framework Programme for Research.
euRathlon 2015 Challenge: Single-domain trials – Day One

euRathlon 2015 Challenge: Single Domain Trials – Day Two